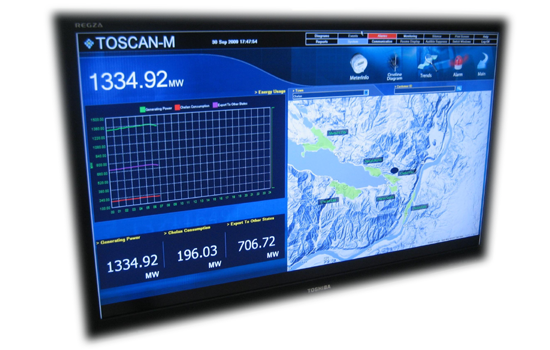 TTDA  is a total solution provider for power automation and a manufacturer of remote terminal units (RTU), distribution automation systems (DAS), substation automation systems (SAS), T&D protection relays and control relay panels (CRP) with a design capability of up to 500kV. TTDA offer products with complete control & automation solutions which fulfills compliance with IEC/ANSI standards and can be customized to be in compliance with any client's technical specifications. To further enquire more of our offered services in the power automation
In association with industrial partners and contractors, TTDA constantly seeks to expand its network of clients in the power control & automation solution and products to better serve our client's challenges. While we're expanding our range of products to serve the growing global market, we will continue to ensure that our power automation products will continue to provide our clients with the latest and most reliable technological solutions. TTDA being a manufacturer of power automation products and total solutions provider, is able to offer our clients with a full turnkey solution as an Engineering, Procurement, Construction & Commissioning (EPCC) contractor.
Network Control Systems
Control & Automation
In the field of power systems, Toshiba's advanced capabilities cover system monitoring, power transmission and distribution, and generating equipment, systems, and services in nuclear, thermal, and hydroelectric power generation.
Toshiba's popular TOSCAN-G 100 is a network control system utilizing high-performance computers to provide stable and efficient power system operation.
By operating your power systems efficiently, the TOSCAN-G100 handles power demands smoothly and saves you money. Efficient operation reduces the possibility of outages and helps to prevent damage to equipment. The TOSCAN-G100 is an intelligent system that reduces human error and improves performance.
Our TOSCAN-G100 systems provide supervisory control and data acquisition(SCADA), so you can monitor, record, control, and issue alarms to help you run your?system. The TOSCAN-Gl100 is easy to maintain and can be customized to fit your needs.
Advantages
Toshiba has supplied over 400 EMS/SCADA/DAS systems to domestic and overseas customers and has experience in energy management since 1965. Toshiba's SCADA system (TOSCAN-G100) provides intelligent SCADA functions that support system operator, in addition to the standard SCADA functions (monitoring and remote control). The TOSCAN-G100 sharply decreases human errors and improves the operation of electrical power systems.
One-line deagrams
A one-line diagram shows the analog values and field device statuses. Analog values change periodically to reflect actual values and change color when the values deviate from their limits. The shape and color of field device symbols also change to reflect the field device status.
A status summary, including errors occurring at substations, can also be displayed.
Alarm Display
Users can specify any status change as an alarm. Alarms can also be configured to send notification when analog values deviate from specified limits. When an alarm occurs on the TOSCAN-G100, a buzzer sounds and buttons blink on the display. Mail is also sent to a specified address and the alarm is listed to the "Alarm Summary" and "Alarm History" logs.
Data logs
Analog data be logged periodically and shown as daily, monthly, or yearly reports. Reports show maximum, minimum, and average values for each set of logged data and can be output as HTML or to Excel. Reports can also be viewed on-screen.
Web-based client
Our web-based client software utilizes Microsoft Internet Explorer which allows you to easily add clients and provides for secure access over the Internet.
User authentication
Security on this system is two-fold to help keep your system safe. First, administrators define operator roles and assign each specific functions to limit system access. Then, operators are authenticated with security tokens and/or biometrics.
Database maintenance
The TOSCAN-G100 utilizes Microsoft Access, allowing you to generate and maintain l/O databases. This means that you can configure your own limit values, scale factors, acquisition periods, data source names, and other elements to describe the properties of your system. The TOSCAN-G100 also includes its own drawing tool for generating and maintaining one-line diagrams. This gives you the flexibility to draw one-line diagrams on which you can feely arrange field device symbols, analog values, lines(transmission lines and buses), and the other indications. I/O databases generated by Microsoft Access are linked to device symbols on one-line diagrams to indicate the actual field device statuses and the actual analog values.
Analog trend graphs
You can view trend graphs that show the fluctuations in data as it is monitored in real time. This is a useful tool for managing energy systems on a continuous basis. Historical trend graphs, that illustrate how energy was used in the past, are valuable for evaluating performance and long term policy planning.
The statistics in the database can be mined for information that can positively effect your operations. The data display is flexible allowing a wide range of configurations to let you compare data in many useful formats.
Localization
The user interface including buttons, error messages, and user's guides can be translated to your language to suit your operating staff.
Note:
Microsoft Windows, Internet Explorer, Microsoft Excel, and Microsoft Access are either registered trademarks or trademarks of Microsoft Corporation in the United States and/or other countries.
The TOSCAN-G100 consists of RTUs connected via a network to SCADA servers, operator and maintenance clients, and web-based clients. The SCADA servers collect data from all field devices via the RTUs. The operator and maintenance clients operate electrical power systems and maintain the configuration of the whole system database. Operators can monitor and control the statuses of the field devices using a browser on any client.
Protection Relay
Protection Relays
Overview
Toshiba provides complete solutions for protection, control and automation of power networks at all transmission and distribution voltage levels. Our innovative designs and state-of-the-art technology give you cost-effective and user-friendly products, while our high-quality manufacturing facilities guarantee years of reliable and maintenance-free service.
The GR Series relays meet all your protection requirements for transmission and distribution power systems. The N-Series of low-cost, basic-function relays, and our range of protection-related accessories complete our offer of protection-related products.
Advance Metering Infrastructure (AMI)
MDMS (Meter Data Management System)
This system analyzes the data collected and sent by the Smart Meter to set electric power costs and to let consumers use energy efficiently. Collecting the metered data from consumers in real time makes it possible for electric power suppliers to understand how electricity is being used. Plus, it improves the efficiency of recovery work after natural disasters or accidents happen to the power grid itself. Consumers can use the data managed by MDMS to help them use electricity more efficiently.
Example of MDMS function
(1) Reading data at intervals for 15 minutes
Data is downloaded and saved (4 items) for 15 minutes every hour.
(2) Analysis of metered data
A. Load profile
Displayed in a bar graph or line graph.
The graphs can be switched to display kilowatt hours (kWh), cost ($), and CO2 (kg of CO2) for specified time frames (yearly, monthly, or daily).
B. Graphic display of trends in metered data
The trend graphs display one day of data.
The categories of information displayed include: Energy (cumulative value), Power (consumption per hour), and Line Status (instantaneous value).
(3) Power outage and power restoration alarms
Monitoring consumers' power outages and recoveries. Google maps are used to show areas affected by power outages.
(4) Remote disconnect/connect
Meters can be operated remotely so connections and disconnections can be managed.
(5) System maintenance
When new meters are connected, they can be automatically identified (mechanical information etc.) and registered.
(6) Data search function
Searching for different types of information can be done by entering a location or a keyword.
(7) Interface with other equipment
Linking with billing systems is possible. Interfacing with other equipment is flexible.
* Acquisition of metered data is compliant with the ANSI C12.19 and C12.22 protocols used for Advanced Metering Infrastructure (AMI).
Smart meter
photo of Smart meter
A smart meter is a high-performance system that collects data on power consumption and transmits the data to power utilities. It is able to collect data of consumption in buildings and houses in realtime, providing the data to power utilities through network. Also users can obtain the information for their power consumption charge. A smart meter is capable of two-way communication. When it receives demand from grid monitoring system to reduce the power demand, a smart meter will control power consumption of connected appliances to be reduced. Toshiba acquired Landis+Gyr AG (headquarters in Switzerland), which has the largest share in the global smart meter market, as a Toshiba Group company in July 2011, and is ready to expand its smart community business globally
Photovoltaic Systems
Energy Solution
TTDA's Solar Power Operations
Toshiba has a particularly distinguished record of achievement in the energy sector, supplying diverse technologies in the fields of system connections and system stabilization. Based on this fund of experience and trust, Toshiba photovoltaic systems are now available worldwide. Toshiba is contributing to society by creating a prosperous tomorrow through next-generation green energy. Harnessing the power of the sun and bringing it reliably and efficiently to homes and businesses is more than a matter of just hardware. Engineering know-how, expertise in system development and construction, and a seamless service network that spans the globe are crucial requisites. We have the experience and technology to make solar a successful strategy in a range of applications. TTDA is capable of devising the optimum photovoltaic power and energy solution for specific projects. TTDA is also working to build the smart communities for the future.
Sustainable Energy Solutions For The Future
As a responsible corporate citizen in today's challenging global environment; one has to appreciate what the demand side requires.
Together with our respective clients and partners, sustainable development is the goal. Applying TTDA's corporate philosophy with this goal, we are committed to introduce, develop and implement the appropriate technological solutions that would meet the needs for a sustainable society. This philosophy has given rise to a new area of service from TTDA.
TTDA's objective is to introduce, develop and implement alternative energy solutions whilst sustaining a cleaner environment. Responding to the paradigm shift of the energy industry transforming its focus globally in building a cleaner and sustainable future, the new vision shall be the one bringing innovative products that are both reliable and profitable to help the world and power of nature co-exist in harmony.
Renewable Energy For The Future
TTDA is committed to applying both cutting edge and appropriate technologies supported by engineering innovations that will contribute towards supporting the constant growing global demand for energy. Utilizing renewable energy and energy efficient technologies are methods of achieving our corporate objective.
Photovoltaic Power Generation
Toshiba Group will contribute to reducing CO2 emissions by providing photovoltaic power generation systems that achieve high levels of efficiency and long-term stability to a wide range of facilities, including power plants, factories and homes.
Mega Solar System Made Possible by Total Engineering
As more and more countries across the world show an interest in climate change, photovoltaic power generation, which uses clean solar energy and produces electricity without emitting CO2, attracts more attention as an efficient means of mitigating climate change. Plans to develop large-scale commercial and industrial systems for photovoltaic power generation have been announced both in Japan and overseas, and the size of the market for photovoltaic power generation is expected to continue to increase in the future.
In January 2009, Toshiba Group established a headquarters for the photovoltaic power generation system business in order to enhance its organizational structure. By using its comprehensive engineering skills acquired through the development of large-scale plants, Toshiba Group offers a full range of services, from installing solar battery modules to establishing connection to power supply networks, by total engineering that includes analysis, design and construction in order to provide mega solar systems that achieve the highest levels of efficiency and long-term stability.
A photovoltaic power generation system needs to convert DC electricity generated by sunlight into AC electricity. Therefore, it is of crucial importance to create an efficient system designed to minimize conversion loss. Toshiba provides a power conditioning system (for use in Japan; rated as having an output capacity of 500 kW) that achieves the industry's highest level of efficiency*, 97.7% (when used at 50% of its rated capacity), thereby improving power conversion efficiency.
*
According to our internal data as of June 2011
Mega Solar Systems for Electric Power Companies
figure of Mega Solar Systems for Electric Power Companies
We are striving to develop and commercialize high-efficiency power generation systems by using our skills in building solar battery modules in combination with related systems in accordance with purposes and usage environments. We also design an optimal layout of a large number of solar battery modules by analyzing various factors, including wind conditions during the installation of solar battery modules, the design of the base framework for solar panels, construction plans, transportation systems and construction methods, in order to minimize the construction costs of mega solar systems. In August 2009, Toshiba Corp. concluded a contract for the development of Chubu Electric Power Company's Taketoyo Mega Solar Power Plant. Including this contract, as of November 2010 we have seven contracts with electric power companies for mega solar systems (total output capacity approximately 25 MW). We have also delivered photovoltaic power generation equipment to more than 100 public and industrial facilities, thereby contributing to reducing CO2 emissions through our promotion of photovoltaic power for power supply and industrial use.
High Efficiency Solar Panels for Homes
Toshiba Corp. entered the residential solar photovoltaic power generation system business in April 2010. Since the release of its first model, Toshiba's solar battery modules for homes have increased module conversion efficiency to the highest level in the industry* (16.9%) by taking in sunlight efficiently even when placed on Japanese houses' small roofs and by maximizing power generation output. While conventional solar battery modules have electrodes on the cell surface, Toshiba adopted a back-contact method and placed all electrodes on the back of a panel so as to reduce the loss of light caused by reflection and to improve power generation efficiency. Toshiba's solar battery modules, which do not have electrodes on their surface, are also designed to be slim and have a sophisticated appearance. To expand our product lineup, we have also released a photovoltaic power generation system with storage batteries intended for new houses. We will further promote photovoltaic power generation with solar battery modules designed with even better conversion efficiency.
Building Management Systems
Large Building Management System
In a large factory or commercial building, the power substation, lighting, air-conditioning and generator system are centrally managed in the central monitoring room through Building Automation System (BA) to maintain a comfortable environment by suitably controlling the power supply, lighting and air-conditioning efficiently.
Medium and Small Building Management System
In a medium and small factory or commercial building, the power substation and other building facilities are centrally managed in the monitoring room through Building Automation System (BA) to monitor and control power supply
Airfield Lighting System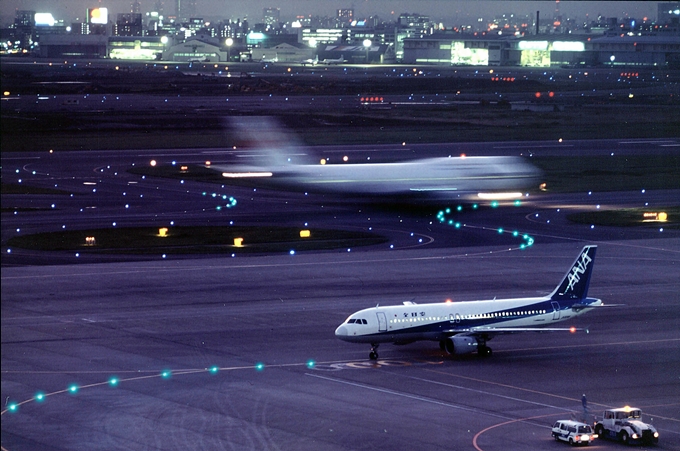 Toshiba provides airfield lighting, control & monitoring systems and stop bar lighting systems as a kind of Advanced Surface Movement Guidance & Control System (A-SMGCS) for domestic and international airports. Providing high quality and reliable airfield lighting systems for more than 40 years, Toshiba is regarded as a vital manufacturer for airfield lighting systems.
Toshiba is a leading manufacturer in Japan and has over a 90% market share of inset-type airfield lights and over a 70% market share of airfield lighting control and monitoring systems including Narita, Haneda and Kansai International Airport.
Airfield Lighting System Equipments:
Aerodome lighting
Constant Current Regulator (CCR)
Lighting monitoring and control systems
Stop bar lights control system
Surface Movement Guidance & Control (SMGC) System
System application:
Tower
Apron
Taxiway lights
Runway lights
Power Supply
Generator
System features:
Energy conservation technology (Energy Saving / Long Lasting)
High reliability (Automatic Switchover)
Optimum CCR Luminance Control (Dual Input)
Faster response
Extensibility
Lighting Power Monitoring:
Optimum CCR Luminance Control