Solenoid Valves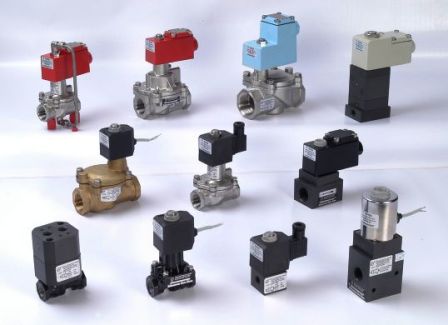 Rotex automation limited is a Leading Manufacturer & Exporters of Solenoid valve and air operated valves with ability to design and develop customizes solutions over 30 years of experience. Rotex products are designed to control the flow of air, gas, water, oil and steam. Rotex Solenoid valve are modular in construction facilitating the user to select valves for various application from wide range and different construction of Solenoids independently.
Rotex brand offers products have given application:
Port: 2,3,4, and 5 port
Solenoid Enclosure: weather proof And Explosion proof
Body Material: Aluminium, Brass and stainless steel
Orifice: up to 80 mm
Pressure : Vacuum to 400 bar
ROTEX provides valve products and valve systems to a number of different industries such as Cement, chemical, Dairy, Engineering, Fertilizer, Food processing, Glass, Pharmaceutical, Railway, Refinery, sugar, Thermal power plant, Automobile, Off shore, Nuclear power plant.
The solenoid is an electromagnetic part of a valve, comprised of a coil, core tube, core and enclosure. ROTEX offers wide range of 2-, 3- and 5-way solenoid valves, Sub Base mounted solenoid valve, Engineered valve, Customized product.
Pneumatic Power Cylinder – Pneumatic Regulating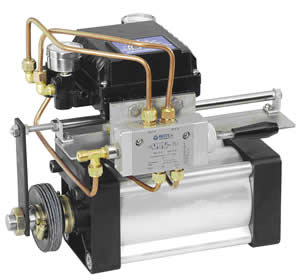 FEATURES :
Precision Linear Pneumatic Positioner is fitted with reversible cam which acts
as a position feed back. The Linear Positioner which is mounted on a subbase, converts an ON OFF linear cylinder to regulating. The power cylinder can be integrated with standard mountings and various accessories.The positioner is high quality, flapper nozzle type.
SPECIFICATIONS :
Accuracy ± 1%
Repeatability ± 0.5%
Hysteresis ± 0.2%
Dead band ± 0.1%
Input 3 – 15 psi
All specifications are related to full scale
Standard ISO 6431 (UPTO Ø160 mm)
Diameter Ø32 to Ø1100
Stroke 50 mm to 1800 mm
Max. Pressure 10 bar
LEVER FEED BACK :
As a standard ROTEX provides Lever Feed Back. The lever movement being sinusoidal. The percentage opening behaves in similar fashion. The correction can be done either at DCS level or by correcting the internal cam on the positioner.
LIST OF ACCESSORIES
Sr. No. Mountings
1. Fork `S`
2. Rodend `W`
3. Flexible Coupling `F`
4. Flange `MF1`
5. Rear Trunion `MP2`
6.
7. Clevis `LB2`
Trunion `MT5″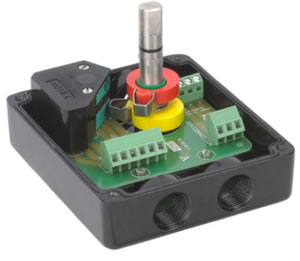 FEATURES:
Intrinsically safe.
Weather proof enclosure, IP67.
P&F flat type inductive proximity sensor (EExia).
Up to maximum 2 sensor elements.
Aluminum Die cast, Powder coated for superior corrosion
resistance, Polycarbonate Dome , Shatterproof.
Easily settable coloured coded cam.
Serrated cams locked together ensures adjusted settings
secured against any vibrations.
Special PCB eliminates all wiring from the switch element
to the terminals.
Protecion against short circuit.
Three cable entries provided as standards.
Cable entries M20x1.5, (3/4)" ET, (1/2)" NPT.
Complies to NAMUR mounting standards.
Solenoid termination inside the switch box possible.
Proximity switches available in NAMUR & NO/NC type
Customer can choose any flat V3 proximity swtich.
Additional mounting holes as per UNC .
Range of mounting Accessories having compatibility with
various actuator manufactures available.
Stainless steel Bracket available as option .
Switch box conforms to UL 508, UL file no. E249752.
Temperature range -20 OC to +80 OC.
Electro pneumatic Positioner

ROETX Manufacturing Control valve Accessories which includes Electro-Pneumatic Positioner, Pneumatic Positioner.
Every Positioner have Compact design, rugged construction
CE, UL Certified
IP66 Protection
Available in NPT/ BSP
Quick & precise response to change in signal pressure
Low friction
High repeatability and linearity
Gas Over Oil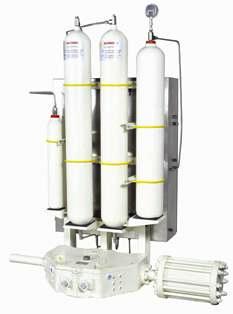 Gas driven system
Storage tank for manual override
Electrically or mechanically operated
Large range of operating system is available
GOV can be installed on DRS, DRV, HYV or any other nake of actuators
All pressure parts are as per PED and available with certification
Recommended oil Aero Shell Fluid 4 or equivalent
Sour Gas can be used for Gas Over Oil application
Gas pressure up to 2000 psi
Storage tank for extra operation
Secondary storage tanks permits up to 3 operations.
Manual valves and NRV are used for preventing gas to escape one of the line pressure
GOV panel can be completely Gas pressure based.In such cases the manual valves are used for controls
Solenoid operated GOV panel can be used for remote operations. SCADA connectivity available.
ROTEX GOV can also be used for linear actuator for rising stem valves.
ISO mounting for direct mounting available on the basis of model selected for actuator.
All parts are manufactured from approved material as per NACE ( MR-01-75 ) suitable for sour gas.
All valves are zero leak construction.We use high pressure PTFE sealing system, Poppet & spool construction for higher reliability
Related articles across the web