Keyence
                Sensor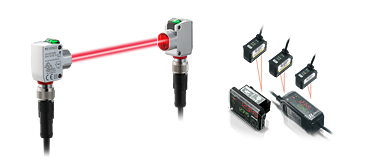 LR-T series:
FEATURES
The LR-T Series of reflective sensors represents a seamless fusion of innovative technology and robust functionality.
Superior Detection Capabilities
Easy to Use
Unmatched Versatility
Detection is often difficult with reflective sensors for a variety of reasons, including target color, material, surface finish, and environment. In order to solve these issues, the stability of a CMOS laser has been combined with the versatility of a self-contained sensor in a heavy duty metal body to create a more stable and user friendly general purpose sensor.
Best Detection Ability in its Class
Durable & Long Life
Simplified Operation
FU series:
Complete line of fiber units from Unbreakable Fiber, Long-distance and small spot. Select the type best suited to your application
Flexible Stainless Steel Jacket
Wide Area Detection
Hex-shaped Heads for Trouble-free Mounting
Heat resistant
Small Beam Spot
Thin-sleeve Thrubeams
FS-N series (FS-neo:
In addition to its MEGA power, the FS-N Series (FS-neo) introduces unprecedented setup ease with one click operation.
Just Released: Water Resistant IP66 Fiberoptic Amplifiers
Complete Setup with Just One Click
Automatic maintenance
High power reduces labor hours
World's Most Powerful Beam: 250x conventional Model
World's Most Accurate: Detects wire as small as ø0.6 μm
World's Highest Ambient-light Resistance: 30,000 lux
FS-V30 series:FEATURES
The new MEGA-Power, MEGA-Easy and MEGA-Stable FS-V30 digital fiber optic sensor. High power beam for stable detection in harsh environments.
World's Most Powerful Beam (64x conventional Model)
World's Highest Response speed of 33μs
World's First Automatic Value Tracking Function
World's First Power Booster Switch
Stable Detection over a Long Lifetime
FS-V20 series:
The FS-V20 dual display amplifier allows users to view both the Preset and Current Values. Function layout is simple and reliable
Industry's First Dual Digital Display
Industry's Most Powerful Beam
Industry's Highest Response speed of 50μs
FS-V10 series:
Current value (received light intensity)
Sensitivity margin display
FS-V/T/M series (FS01:
FS01 series fiber optic sensors and Tough-Flex optical fibers offer an extraordinary range of performance benefits.
Compact & simple operation
New 12-bit concurrent CPU
20-µs response speed
Multiple calibration methods
Wire-Saving 0-line or 1-line connection
FS series:FEATURES
Long-distance detection
8-turn trimmer
EV series:
Shorter, space saving sensor bodies with high detection sensitivity and long detection distances.
Compact sensor head
Visible output indicator built into sensor
Flexible cable joint
IP67-rated housing
EZ series:
Space-saving
Easy-to-see output indicator
EV-F series:
Spatter-resistant model
ET series:
Accurately detects nonferrous metals
New sensing technology does not detect iron
ED series:FEATURES
All metals detectable
Built-in stability and operation indicators
EM series:
Small, amplifier-in-cable sensor heads with built-in indicator LEDs and up to a 8-mm detecting distance.
Ultra-small sensor head
Amplifier and operation indicator built into cable.
Strong, flexible cable IP-67 waterproof housing
GT2 series:
The Scale Shot System in the GT2 Series improves upon the technology of conventional contact sensors and is now concentrated into a pencil-type sensor head.
Display resolution 0.1 μm 0.004 Mil
Accuracy 1 μm 0.04 Mil
NEMA Type 13/IP67G
100 million cycles detecting durability *GT2-P12K(F)/P12(F)
5 heads can connect to 1 amplifier unit
GV series:
The NEW GV Series Digital CMOS Laser Sensor provides unmatched performance, even on metal and black (rubber) targets. Multiple models available to meet all your laser
sensing needs.
Stable Detection of Metal Targets
Stable Detection of Black Targets (Rubber)
Ultra-Long Range up to 1m (39.37″)
Tough, Rugged: IP-67 Enclosure Rating
IA series:
Rugged, Reliable, Repeatable Laser Measurement Simplified. Keyence brings you an economical analog laser sensor.
High-Accuracy Measurement
Rugged Head Structure
Easy Installation
NU series:
Dramatic reduction in wiring and installation time. Only a single communication cable is required between the PC/PLC and the NU Series for wiring.
Reduced Wiring
Remote Access
Sensor Input Unit
DeviceNet™ Compatible Network Unit
DL series:
Reading judgment results and measurement values, control input, and changing tolerance values can be executed by connecting DL Series to connectable sensors to communicate with a PLC and PC