Cyber Test Lab Automation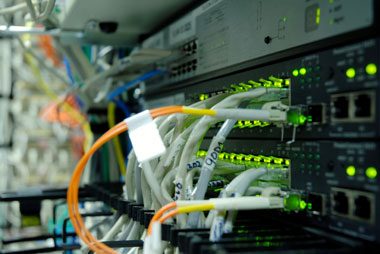 Since 2002, Glimmerglass Intelligent Optical Systems have been improving the productivity of some of the most sophisticated labs around the world.
The Challenge
Equipment manufacturing and R&D test labs are under pressure to reduce their True Cost of Test while meeting accelerated test schedules. For test lab directors, this means deploying equipment in a way that minimizes capital spending while maximizing the efficiency of man-hours spent in the lab.
The Solution
Glimmerglass Intelligent Optical Systems combine reliable and field-proven hardware with intuitive management software to create a dynamic optical layer for your test environment. This makes the breadth of lab resources easily accessible to technicians. With a minimal amount of training, anybody can use the system to reconfigure the test bed in seconds without needing to spend time and resources cleaning and inspecting the new optical connections. Furthermore, Glimmerglass Virtual Private Switch (VPS) enables technicians with administrative access to set user levels by port, thus preventing usage conflicts that can arise if independent test groups try to access each other's resources.

Rapid, Remote Reconfiguration. Reconfigure the optical layer of your test bed from anywhere, inside or outside of the lab, in seconds to spend less time setting up and more time testing.
Software Designed Specifically for Test. With Virtual Private Switch, an administrator can set user access on a per-port basis to prevent user conflicts within the lab.
Increase Efficiency and Lower Capital Expense. Make better use of equipment by sharing pooled resources across the test lab. An intelligent test infrastructure leads to a decreased Cost of Test.
Automated Test. With Glimmerglass, optical layer changes can be automated for overnight testing.
Simulate Live Traffic Scenarios on a Field-Proven System. Glimmerglass systems are the only pure photonic cross-connects to be deployed by service providers in live customer traffic environments, making them ideal for customer network simulations.
A Flexible Optical Test Bed. Glimmerglass technology reconfigures optical paths regardless of the signal rate or protocol. Any given port can carry any given single-mode signal without the need for a hardware or software upgrade.
Optical Transparency. Glimmerglass systems preserve all key aspects of the source signal, including frequency, wave form, signal dispersion, signal timing and more.
Cyber Security

The newest and perhaps most pernicious threat to nations and enterprises are cyber threats from organized crime, cyber terrorists, and other malicious actors. State sponsored and rogue cyber actors threaten banking systems, power grids, intellectual property, data centers and other critical assets. The great challenge is to protect domains at the boundary and the main, high-capacity cyber highways before they permeate a region, a city, or an enterprise facility.
Lawful Interception Diagram
The Solution
The Glimmerglass CyberSweep™ provides a centrally controlled end-to-end cyber security solution enabling the Selection of High Capacity electronic or optical signals along with the signal processing to enable Sapience Analytics to provide insight on known or suspected threats for nations and enterprises.
Insight Analytics – Discover known or suspected targets and depict the communication pattern among their associates. Discover the source and entity relationships from the raw data and addresses.
Selection – Remotely select high capacity optical signals for analysis on demand without disrupting traffic.
Central Management and Control – configuration, control, auditing, and alarms for all systems in the CyberSweep, end-to-end.
Fully Integrated System – CyberSweep is the only system to connect Layers 1 to 7 in a unified solution