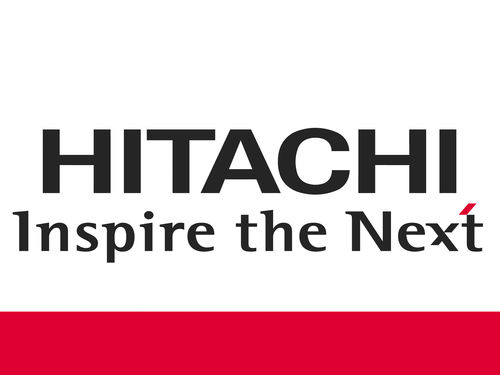 Hitachi
NE-S1

The Hitachi NE-S1 is our economical and simple to use inverter solution in the popular 0.2 kW to 4.0 kW. The NE-S1 is designed with both OEM's and System Integrators needs in mind with its ultra-compact design and out of the box integration in most applications.
Ultra-compact
PID, Logic and time delay functions built-in
RS-485 Modbus RTU standard
Quick reaction times
Optional door mounted operator display
Optional operator display
CE/UL/cUL/c-Tick approvals
Energy saving function standard
WJ200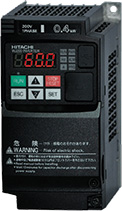 The Hitachi Industrial WJ200 Series range from 200-400VAC and single phase input to three phase output. The WJ200 frequency inverter comes with an integrated auto-tuning function for easy sensorless vector control that realizes high starting torque of 200% or greater, suitable for a variety of applications.
0.2 ~ 15 kW
Simplified auto-tuning procedure
Dynamic braking transistor in all models
Build in EasySequence PLC-like functionality
Dual rated for heavy/normal duty applications
New and more effective trip avoidance functions
Simple position control capability
RoHS Compliance
Side-by-Side installation
Global standards CE, UL, c-UL und c-Tick
Capable of driving permanent magnet as well as standard induction motors
Safe-Stop function
X200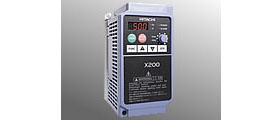 The economic drive solution for applications up to 7.5 kW. The X200 frequency inverters are suitable for pump and fan applications as well as for common tasks in machine construction. With the integrated EMC filter the inverter fullfills EN61800-3 standard and is complying with standards like CE, UL, cUL, c-Tick and RoHS.
product_inv-x200_center
0.2 ~ 7.5 kW
Integrated EMC Filter
Automatic Energy saving function
RS485 Interface with Modbus RTU on board
Network Options: Profibus, CanOpen
Micro-EHV+ Series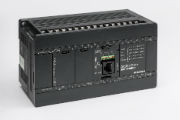 Hitachi's PLC series MICRO-EHV+ is an all-in-one type compact PLC, packed with powerful functions.
It offers easy start-up for users with no experience with PLC as well as for users of other manufactors or even high-level programming languages.
Thanks to full compliance to EHV-CODESYS Version 3.5, MICRO-EHV+ features full support of the 5 IEC 61131-3 program languages.
All models have USB, Ethernet and Serial communication ports as standard and additional communication ports can be realized by option boards.
The USB host port can be used to plug a standard USB memory stick for program download, data logging and web-visualization.
MV-A40DR-035 180x120px
Simple Motion Control
USB Memory Storage
Web Visualization
Modbus-TCP server
Modbus-RTU master/slave
Expandable
EtherCAT master
ICE61131-3 programming: LD, FBD, SFC, IL, ST
PWM and pulse train outputs
Interrupt inputs
High-Speed counter inputs
Analog data processing
EHV+ Series

Core of the new powerful general purpose EHV+ CPU series is the CoDeSys V3 runtime system. The result is an open and flexible system which is completed through utilising existing EH-150 modules.
Powerful general purpose PLC
Compatible with a variety of open networks through use of the onboard Ethernet interface.
Communication protocol CoDeSys V3
Modbus TCP Client / Modbus RTU Master
Programming languages according to IEC61131-3: LD, IL, FBD, ST, SFC, CFC
Easy and efficient – Flexible choice of editors and usage of library functions considerably decreases programming time
Fast and convenient debugging/testing during commissioning
Pro-H

Pro-H is the universally usable 32 bit Programming software for all Hitachi H-Series PLC. Flexible choice of editors considerably decreases programming time.
plc-pro-h
5 Program editors (LD, IL, FBD, SFC, ST)
Standard according to IEC 61131-3
Comfortable project management
System requirements Windows® 95/98/NT/2000/ME/XP
Additional special instructions for H-Series PLC
Function block library (Wizard)
Integrated virtual PLC
Numerous Online functions
Remote I/O

The EH-RIO series of Remote I/O modules allows you the flexibility to distribute I/O throughout your application. Using EH-RIO, you can precisely plan and expand your I/O and locate them right where they are needed: close to the sensors and activators. This solution benefits today's modular production processes and is especially advantageous when upgrading centralized automation systems.
product_plc-ehrio-compl
Fieldbus adapters for Profibus-DP and DeviceNet
Separation of electronic modules and wiring base
Super slim design: 8 I/O = 12 mm
Standard DIN rail mounting
"Hot Swapping": remove and exchange modules under power
Optional screw clamp or spring clamp terminals
Large selection of I/O modules