Schroeder Automatic Recirculation (ARC) Valves also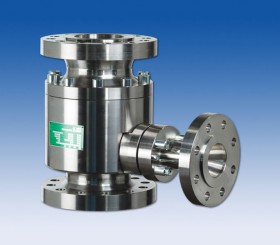 known as Leak Off Valves automatically protect high pressure multi-stage centrifugal pumps against overheating, wear, cavitation to total loss and severe damage, which can occur during dry running or during low-load / low-flow operation. Should the flow through the pump fall below the required minimum as specified by the pump manufacturer the bypass system opens and the process liquid is recirculated providing the required minimum flow protection for the pump. Schroeder valves have historically proven to provide exceptional reliability and low pressure loss over time. They are not susceptible to interference and require very low maintenance. In addition this purely mechanical device does not require external power or any kind of control unit, thus ensuring low operating costs and low Total Cost of Ownership (TCO). Eskom, Sasol, Sulzer, KSB, Weir, Flowserve and many others rely on Schroeder to protect their multi-stage boiler feedwater and process pumps.
Series
SSV
Design
Pump Minimum Flow Protection / Automatic Recirculation ARC Valve
Features
Max DP of 250bar
Self acting – controlled by medium (no external power)
Built in check valve
No special maintenance
Size Range
25mm to 600mm
1" to 24"
Pressure Rating
PN 10 – 400
ANSI 150 – 2500
Temperatures
-250°C to 400°C
End Connections
Flanged
Body Materials
Carbon steel / Stainless Steel Other materials on request
Seat Materials Forged stainless steel / Hardfaced / Stellited
Options & accessories
PTFE / KALREZ seals to suit media
Check in bypass line
Start up trim (during cleaning and plant start-up)
Warm up branch
Pressure gauge branch
Applications
Automatic recirculation valves are also known as leak off valves or pump protection units and are used to protect multi stage centrifugal pumps during minimum flow conditions by preventing overheating, excessive noise, instability and cavitation. Ideally suited for the protection of boiler feedwater pumps
Arca Artes – Injection Desuperheater for Steam Temperature Control
Artes Injection Desuperheaters also known as Attemperators with their rotary action are used to accurately control the temperature of superheated steam by regulating the number of injection nozzles required to meet varying steam loads. By injecting condensate or demineralised feedwater into the centre of the steam flow, the temperature is reduced. The rotary design with built in isolation ball valve provides double isolation eliminating dripping into the steam line that leads to stress cracks, a common problem experienced with linear piston designs. Fitted with a rotary actuator the height requirements are less than with linear designs that require conventional diaphragm actuators. Being a constant pressure device no additional control valve is required. This perfect combination of rotary movement, nozzle design and accurate nozzle control with very fine atomisation ensures reliable and precise cooling under all steam loads.
Arca-Artes 

Injection Desuperheater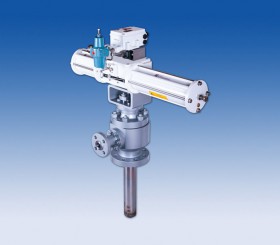 Tight shut-off in closed position – Dripping not possible
Constant differential pressure – No separate control valve needed
High cooling water Kv 16
Precise control of steam to within 1 deg.c of setpoint
Controllability up to 50 : 1
Inlet flange DN25 (1")
Mounting flange DN80 (3")
Line sizes from DN150 (6″) to DN1500 (60″)
Up to PN400 / ANSI 2500
Up to 620 deg.c
Forged DIN and ASTM to suit application
Plug Materials Forged DIN and ASTM to suit application
Seat Materials Forged DIN and ASTM to suit application
Pneumatic, electric or hydraulic actuators
Steam temperature reduction and control in Power Generation, Oil Refining, Chemical, Pulp & Paper and Sugar industries Schroedahl