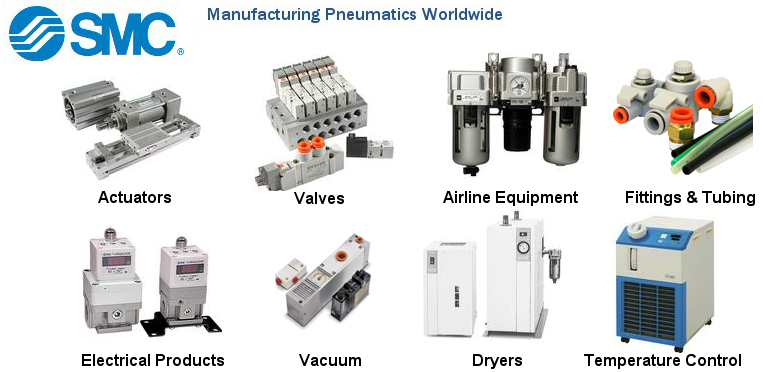 SMC Corporation of America provides a broad range of pneumatic and electric automation equipment to various industry segments, and is recognized as the global leader in the automation industry. Our product ranges include air cylinders, grippers, slide tables, solenoid valves, fittings, tubing, air preparation equipment, dryers, and high purity products. In fact, our product catalog includes 17 volumes. As a global company, we can support you wherever you are.
Products…:
Actuators & Air Cylinders
Actuator and air cylinder designs from SMC offer innovative pneumatic cylinder design features for the automation industry. Engineers trust SMC actuators to provide long life, and reliable service. SMC products are specified in all major industrial markets. SMC actuators are created to provide you with the largest array of choices.
Air Cylinder Features
Our standard air cylinder features include:
a wide range of bore sizes, with 16 'inch' bore sizes and 18 'metric' bore sizes
multiple mounting configurations and
auto switch capability as a standard on most series.
SMC products are designed for precision performance and reliability. Our global production facilities provide product availability from all industrialized countries around the world. Pneumatic and electric actuator products from SMC are available in a wide variety of styles, including linear, guided, rodless air cylinders, rotary, gripper, and specialty air cylinders. Whether pneumatic or electric actuators, each series comes with a full complement of standard options and related products.
Basic Air Cylinder, Air Linear Actuator, Double Rod Air Cylinder, Single Acting Air Cylinder, and Double Acting
Linear: Basic Air Cylinder
Basic linear cylinders are used to provide straight-line, in/out linear movement for a variety of applications. Available as single acting (spring extend or spring return) and double acting styles with single rod or double rod configurations, non-rotating, and precision non-rotating models.
Body styles include crimped, round, or tie rod. Single acting cylinders develop thrust in one direction and have lower air consumption compared with the equivalent size of double acting cylinders. With a double acting air cylinder, air pressure may be alternately applied to provide force in both directions.
Series: CQ2-Z, NCQ2-Z, NCM, NCJ2, NCG, NCA1, CJ2, CM2, CG1, MB, CS1, CS2, C85, C96
Compact Actuators and Compact Air Cylinders
Linear: Compact Cylinders
A compact cylinder functions in the same manner as a basic cylinder with both single acting and double acting, single or double rod, and non-rotating models. However, SMC compact cylinders minimize space requirements allowing for precise, direct mounting in the least amount of space possible.
Series: CQ2-Z, NCQ2-Z, NCQ8, CQS, CQM, CVQ, RQ, CLQ
Rodless Actuators, Rodless Air Cylinder
Linear: Rodless Air Cylinder
A rodless air cylinder differs from a basic air cylinder in that no piston rod extends outside the cylinder body. Instead, the internal piston is connected to an external carriage, by means of a magnetic or mechanical coupling system.
SMC's rodless air cylinders are ideal for long stroke applications because they are unaffected by rod overhang, bending, piston binding, and uneven seal wear, and for use in confined areas where space is a premium.
Series: CY, REA, MY1, MY2, MY3
guidedGroup_sml
Guided Air Cylinders
Guided cylinders utilize guide rods mounted parallel to the piston rod to provide stable, non-rotating, high side load performance. SMC offers dual rod, heavy duty and precision models. Like rodless cylinders, SMC guide rod cylinders reduce rod bending, piston bending and uneven seal wear. Low profile guided actuator series are available for restrictive space limitations.
Series: CXS, MGP, MGQ, MGG, MGC, MGF, MTS
Slide Table
Slide Table Actuators
SMC guided actuators are utilized in applications that call for high rigidity and high accuracy. Typically, an air cylinder and a precision guide are required to meet these needs; however the MX series integrates the guide table and air cylinder into one precisely machined component. MXQ series endless track linear guide produces a table cylinder having excellent rigidity, linearity and non-rotating accuracy.
The MX series provides approximately twice the force output of a conventional cylinder through the engineering of a twin piston design.
Series: MXS, MXQ, MXH, MXF, MXW, MXJ, MXP, MXY
Rotary Actuator, Pneumatic Rotary Actuator
Rotary Actuators
SMC manufactures both Rack and Pinion and Vane style pneumatic rotary actuator products. Combination rotary models combine compact linear cylinders and rotational capability. Combinations are also available that include rotary gripper capabilities. When the application calls for rotational motion less than one revolution, rotary cylinders can mount right at the equipment joint without taking up space with long stroke lengths, which would be required to do the same job with a linear cylinder. SMC's pneumatic rotary actuator units can achieve arc lengths of 90°, 180°, 190°, or even 270°, depending on the configuration. SMC offers both electric and pneumatic rotary actuator products.
Series: MSU, CRB1, MSQ, NCRQ, NCRA1, MK-Z, MRQ, MHRQ
Grippers, Pneumatic Gripper, Air Gripper, Gripper Cylinder, and Pneumatic Rotary Gripper
Air Grippers
SMC offers one of the most extensive lines of pneumatic grippers (air grippers) in the industry today. The series include pneumatic rotary grippers, two, three and four finger parallel styles that are ideal for gripping and centering; a wide opening parallel model, designed to accommodate many different sized parts; a heavy duty style, suitable for a wide range of applications; an angular model, speed adjustment built in; a toggle to give reliable gripping support; a low-contamination style, equipped with a protective boot; and electric models.
Series: MHZ, MHK, MHL, MHR, MHS, MHQ, MHF, MHC, MHY, MHW, MHT, MHRQ
Specialty Actuator, combination linear and Rotary actuator, pneumatic rotary actuator
Specialty & Engineered Cylinder Designs
When your application requires that a task be performed that can not be completed with standard air cylinders, SMC can help you find the solution. SMC offers a variety of specialty air cylinders including Sine (smooth acceleration), Load Stopping, and Clamp to name a few. For example, the transportation of delicate items often requires greater control of cylinder speed, acceleration and deceleration than is afforded by traditional pneumatic cylinders. For this reason, SMC has developed a RE series of sine cylinders. These cylinders facilitate high-speed transportation of work but have very smooth actuation (similar to sine wave).
For your demanding applications our large engineering department can customize a product solution for you. Need a special variation on our standard pneumatic rotary actuator? No problem. We can create a three-stop rotary unit to meet your custom needs.
Series: REC, REA, RS, CKZ2N, CK, MK
Electric Actuator, Electric Rotary Actuator
Electric Actuators
Electric actuators offer distinct advantages over their pneumatic counterparts. Acceleration and speed are controlled and predictable. Multiple positions are possible with high precision and repeatability. Pushing forces can be programmed. With no need for compressed air, infrastructure and energy costs are lower. LE is SMC's current line of electric actuators, designed with a focus on easy setup and operation. Function parameters come preset, plus an "Easy Mode" setting option allows you to be operational quickly. The LE line is available in a variety of types including: sliders, rod and guided rod, slide tables, rotary, grippers, and miniature. Accessories include actuator controllers, and gateways.
Series: LEFS, LEFB, LEY, LES, LEH, LER, LEP, LEL, LEM, LEC
AC Servo Sliders, AC Servo Rod
hydraulicActuators_sml
Hydraulic Cylinders
SMC hydraulic cylinders offer a wide choice of operating pressures, tube bore sizes, and standardized strokes. Available in lightweight, compact aluminum body. Direct mounting style provides space savings.
Series: CH2, CH
actuatorsAccessories_sml
Accessories
SMC also offers a large selection of accessory products, to further compliment our abundant line of cylinder products. These include rod clevises, mounting brackets and alignment couplers, for attachment. Positioning feedback is provided by the largest selection of auto switches available from any pneumatic manufacturer. To control speed we offer shock absorbers, quick exhausts and flow controls in a wide variety of sizes and configurations.
Directional Control Valves
Directional Control Valve & Manifold, Serial Interface, and Media Valve – Innovation from SMC
Solenoid Valve, High Speed Solenoid Valve, and Valve Manifold, Pneumatic Valve
Solenoid Valves and Valve Manifolds
SMC solenoid valves and manifolds feature low power consumption, high flow rates, quick response times and clean aesthetic designs. SMC solenoid valves are used extensively in the semi conductor, automotive, packaging, medical, specialty machine, and machine tool industries. Whatever your application is, we have a dependable solenoid valve series that will accommodate your most demanding application.
Solenoid Valve Series: SY, VQC, VQZ, SV, SJ, VP, VT307
Serial Interface Valves, Solenoid Valves, and Manifold
Fieldbus Solution
The advantage of a fieldbus system is the amount of flexibility and control it gives you in addition to the significant labor savings. SMC's latest innovations in fieldbus technology give you the power of decentralized communication and the flexibility needed for your control design. SMC supports wide variety of open fieldbus protocols to suit your networking needs including EtherNet/IP, PROFINET, EtherCAT, DeviceNet, Profibus DP and many more.
Series: EX250, EX500, EX260, EX600
VXS-A-F2-06
Fluid Process Valves for Air, Water, Steam, and Oil
Standard design and dimensions make the media valve series a simple replacement valve. SMC's direct operated 2-port solenoid valves have improved durability and double their service life due to the unique construction. Built-in wave rectifier results in a quiet operating series of valves that is suitable for a wide variety of applications.
Fluid Types: Air & Water, Oil, Steam, Chemical & Pure Water, Coolant
Chemical and Liquid Valves including liquid isolation valve design
Chemical & Liquid Valves
SMC's chemical & liquid valves include several different lines of high purity valves that are ideal for many high purity applications.
Series: LVA, LVC, LVQ, LVR
VM100-A-M2-05
Mechanical, Manual and Air Pilot Valves
SMC mechanical valves have been designed to meet general industry standards and are capable of long, trouble-free life under stringent operating conditions. The simple construction, utilizing corrosion resistant aluminum die cast bodies with optional heavy duty actuators and Buna N seal design, ensure positive operation and media control.
Series: VHS, VM
Airline Equipment
Pressure Regulators, Filters, Filter Regulator Units, and Pressure Sensors with Energy Efficient Designs
SMC's airline equipment provides unsurpassed sensing, regulation and filtration performance for your pneumatic system. With our large range of pneumatic preparation products, we can provide the clean dry air necessary to achieve the peak performance required by your fluid power system. Our connectors simplify the plumbing of all your components. SMC's innovative one-touch and uni-thread one touch fitting technology provides dramatic time savings during the installation of both air fittings and pneumatic flow controls. We offer many variations and sizes to suit any application. Tubing is made in several sizes and packaged in a variety of lengths.
Air regulator, pneumatic filter, air filter regulator, and Lubricator units
Air Filters, Pressure Regulators, Air Filter Regulator, and Air Filter-Regulator-Lubricator (FRL) Combined Units
SMC's air preparation (FRL) products offer a wide variety of filter, regulator, and lubricator units. Combination units include air filter regulator, air filter regulator mist separator, as well as ambient dryers, booster regulators, precision regulators, mist separators, and a wide range of accessories. Obtain energy savings, with higher air flow rates and eight size options to ensure optimum performance for every application. Cleaner environment with small Micron Filtration as standard to meet every application need. Reduced downtime with simple assembly and maintenance. Integrate electronic pressure switches, lock out valves and "soft starts" for complete control over your pneumatic supply.
Series: AC, AW, AMG, AWD, AWM, AF, AFM, AR, ARX20, AL, IR, ARP
electronic pressure regulators and pneumatic pressure sensor units
Electronic Regulators
SMC's electro-pneumatic regulators provides stepless control of air pressure to an electrical signal. They have an easy to read digital pressure displays and low power consumption.
Series: ITV, ITVX
ISE40A
Sensors & Switches
To further compliment an abundant line of air preparation and connector equipment, SMC offers a selection of electronic sensors including digital pressure switches, vacuum switches, and flow switches.
Series: ISE, ZSE, PFMB
Air Preparation Equipment
Air Dryers, Air Preparation Filters, Aftercoolers, Auto Drain Valves
SMC's air preparation equipment protects downstream components and helps keep them operating at peak efficiency. These products are designed to handle harsh industrial environments while effectively removing water, oil, and other contaminants from your compressed air. The end result is clean, cool, dry air that is optimal for your pneumatic system.
Air Dryers
Refrigerated Dryers, Membrane Dryers, Desiccant Dryers
Moisture is the enemy of pneumatic systems, and SMC has a wide array of air dryers to keep moisture out of your systems. A wide range of sizes are available to meet flow ranges from 10~1000 liters per minute (ANR) and dew points from -15 to -60 degrees C.
Air Preparation Filters
Air Preparation Filters, Mist & Water Separators
SMC's upstream air preparation filters separate and remove mist and particles in compressed air that is difficult to remove with standard air filters. Depending on the unit, removal of contaminants down to 0.01 micron is possible. Large capacity filters and centrifugal water separators are also available.
Aftercoolers
Aftercoolers
SMC offers both air-cooled and water-cooled type aftercoolers. They are able to cool high temperature compressed air down to 40 °C or less while efficiently removing moisture from the system.
Auto Drain Valves
Auto Drain Valves
SMC's line auto drain valves reliably discharges even viscous drainage without requiring a human operator. There are several variants including air operated, motor operated, and heavy duty float style.
Connectors
Pneumatic Tube Fittings, One Touch Tube Fittings, Air Cylinder Speed Controls, PTFE Fittings and Tubing
The SMC connector line includes inch and metric one touch fittings, fitting manifolds, and pneumatic tubing available in multiple colors, sizes, and materials:
Comprehensive line of inch or metric sized fittings, speed controllers, and tubing
Includes clean room options and a broad set of specialized fitting and pneumatic tubing options
Integrates one-touch fitting technology in both pneumatic fittings and speed controls
Provides stainless steel fitting and brass fitting options
Improves energy consumption, by providing lower pressure return stroke options
Air cylinder speed control is critical to the longevity of your machine operation
SMC is your single source option for all of your pneumatic fitting, tubing, and air cylinder speed control needs.
One Touch Tube Fittings
KQ2 one touch fittings, and quick connect fittings, tube fitting
General Purpose Tube Fittings
SMC One-touch tube fittings come in metric and inch size fittings and are available in a wide variety of sizes, body styles and thread types. The specially designed packing provides positive sealing under pressure without the reduced flow common with compression fittings. SMC offers one touch tube fittings in a number of special environments such as anti-static, flame resistant, clean room and food service fittings.
Series: KQ2, KJ, KA, KE, KG, KP, KR
For cross over part number assistance between legacy KQ2 and the "NEW KQ2" visit /newkq2.
rotary or swivel fittings, and clean room fittings
Specialty Pneumatic Fittings
Specially designed one touch fittings are available for use in demanding pneumatic application environments. Fluoropolymer fittings are available for use in clean room environments and swivel fittings can be used for rotary applications. Spark resistant fittings are appropriate for use in welding operations.
Series: H/DL/L/LL, KF, KK, KS, KW, KX
KQB2 Stainless and Brass Fittings
Stainless Steel and Brass Fittings
The SMC brass fittings and stainless steel one touch fitting series are compact and lightweight. These two options offer even more configuration variations of one touch fitting designs and tube sizes than the earlier KQG series. These brass and stainless steel fittings are versatile working with the following tubing: FEP, PFA, nylon, soft nylon, polyurethane, and polyolefin.
Series: KQB2, KQG2
Fitting manifolds allow multiple tubing assemblies to be connected
Manifolds
Manifolds allow multiple tubes to be connected or disconnected in a one touch operation without tube connection errors. The time required for connection and disconnection is substantially reduced.
Series: DM, KB, KC, KDM, KM, KRM, M
Controllers
Flow controls, air cylinder speed control units allow reduced air cylinder speed
Air Cylinder Speed Control
SMC speed controllers have a broad range of applications and specialty focus such as air cylinder speed control use at low speed, and with residual pressure. Further options within the series include a built in one-touch fitting, an integrated pilot check valve, a meter-in and meter-out dual flow control, a stainless steel option. With the ASR series, the environmentally conscious consumer can reduce air consumption by 25% through the inclusion of a quick supply exhaust valve. Air cylinder speed control is easy with our comprehensive line of products.
Series: AS, ASR, ASD, ASP, ASV, ASN2, AK, AQ
Tubing Designed for Use with SMC One Touch Fittings
Nylon tubing, PTFE fluro-resin tubing, polyester tubing, metric polyurethane tubing
Tubing
SMC manufactures Fluoro-resin tubing for use in environments involving high temperatures and/or corrosive fluids. Pneumatic tubing is also available in a number of other materials both with and without reinforcement for use in standard applications. SMC fittings incorporate a positive tube seal while the fitting is under pressure which allows polyurethane tubing to be used.
Tubing is available in sizes of 1/8″, 5/32″, 3/16″, 1/4″, 5/16″, 3/8″, and 1/2″. Metric tubing sizes of 3.2, 4, 6, 8, 10, 12, and 16mm are available.
Tubing Series:
Polyurethane Tubing: TAU, TCU, TFU, TIUB, TU
Nylon Tubing: T, TAS, TIA, TISA, TRS, TS
Spark Resistant Tubing: TRB, TRTU
Coaxial Tubing: TW
Polyolefin Tubing: TP
Moisture Control Tubing: IDK
High Purity Fittings and Tubing
TIL High purity tubing created from flouropolymer materials
High Purity PTFE Tubing
Utilizing high grade, high purity fluoropolymer for its extrusion (see SMC for details) SMC's TIL Series tubing meets the most stringent industry standards for cleanliness, including SEMI F57. The internal surface finish and overall manufacturing quality set the standard.
Series: TIL, TL
LQ3 fittings for copper sulfate and DI Water applications
High Purity Fittings
SMC's flagship fluoropolymer fitting, Series LQ3 is now the default standard at the world's largest semiconductor OEM and end user customers. The robust, leak-free mechanical structure and high purity swept flow characteristics make LQ3 the new industry standard in critical fluid management. LQ3 is suitable for a wide range of applications including semiconductor, automotive, genetic engineering, textile, hydrogen fuel cells, and many others
Sliders
Ball Screw Drive
An LEFS slider, or rodless, type electric actuator features a load mounting platform situated above a ball screw drive. A flexible seal band permits platform movement while preventing grease and foreign matter from entering the drive. Advantages include a low profile height, shorter overall length than rod types, and better positioning repeatability than belt drives.
Belt Drive
An LEFB slider, or rodless, type electric actuator features a load mounting platform situated above a belt drive. A flexible seal band permits platform movement while preventing grease and foreign matter from entering the drive. Advantages include shorter overall length than rod types, plus longer strokes and higher speeds than ball screw drives.
Belt Drive with Guide Rod
An LEL slider type electric actuator features a load mounting carriage that travels on guide rails. The parallel belt drive and horizontally mounted motor offer a surface height lower than comparable LEF models. The belt drive offers higher speeds than a ball screw drive, while the construction offers the lowest cost.
Belt Drive Low Profile
The LEM electric actuator family features the lowest table height of all sliders, 40mm or less. Four series are available, including basic, cam follower guide, and single or double axis linear guides. Belt drives permit longer strokes and higher speeds than ball screw sliders. Guided types permit higher workloads than the LEFB or LEL.
Electrical Products
Including Electronic Pressure Regulators, Vacuum Flow Switches and Pressure Sensors
SMC provides multiple options for pneumatic solutions such as electronic regulators, pressure switches, flow switches, and vacuum flow switches.
electronics_ITV
Featuring a lightweight design, the ITV electronic pressure regulator uses an electronic input signal and provides precise air pressure control proportional to the electrical input signal. It also incorporates in analog or switched output for feedback as well as in easy to read LED display. Two sizes are currently available to meet different flow requirements.
Series: ITV
Pneumatic Pressure Switches, Digital Pressure Switch
Pressure Switches
The SMC digital pressure switch series has been designed to meet the diverse needs of our customer base. Various options include IP65 protection, 2 color display, fluid switch, stainless construction, and high purity options. A compact size option also exists. Applications for digital pressure switches include areas such as positioning, leakage testing, and supply pressure verification.
Series: ISE10, ISE30A, ISE40A, ISE70/75, ISE80, ISE3, ISE1, ISE2, PS1, IS10/10M/10E, IS3000, ISG
Click here to access Digital Pressure Switch Setting System Tool.
electronics_vacuum, vacuum flow switch, vacuum switch
Vacuum Flow Switches
Vacuum Flow switches are widely used for automatic vacuum control for air and inert gases. SMC vacuum flow switches can be used for small electrical loads such as relays and programmable controllers. Other vacuum flow switch features include easy electrical wiring, wide calibration range, high frequency operation and long life.
Series: ZSE10, ZSE30A, ZSE40A, ZSE80, ZSE3, ZSE1, ZSE32, ZSM1
electronics_flow
Flow Switches
The SMC series of flow switches are applicable with a wide range of fluids including water, deionized water, and wetted metal parts materials such as copper, alloy, and stainless steel. Some features across the series include integrated flow adjustment valve and temperature sensor, 3 color display, and optional compact sizes.
Series: PF2, IF, IFW
Click here to access Digital Pressure Switch Setting Help Software.
Vacuum
Vacuum Generators, Vacuum Suction Cups, Vacuum Sensor Switches, and Vacuum Regulators from SMC
SMC vacuum products offer comprehensive options for vacuum applications. Compact, lightweight air vacuum generators are available in a wide range of sizes and performance ranges.
Vacuum regulator units, vacuum cups, vacuum buffers, vacuum sensor switches, fittings and vacuum instrumentation solutions allow the broadest utilization of technology and performance to meet your design specifications. Most options are modular allowing you to add only those that are relevant to your application. SMC vacuum cups are available in many different materials, sizes and shapes, and include options like stroke buffers to ensure that a perfect fit is made for each application. The diverse performance characteristics of SMC vacuum products allow utilization in a wide array of applications from manufacturing, packaging, assembly, to material handling. Precision combined with performance and a full line of accessories offers a comprehensive engineering solution to meet your specific need.
ZK2 Small
Generators
SMC Vacuum Generators use compressed air to generate vacuum using a venturi. Vacuum levels down to -25 inHG (-85kPa) is obtained from single and multi stage units with suction flow greater than 7 SCFM (200 l/min.) SMC's air vacuum generators can be connected via a manifold or used individually. These compact devices can also be customized to integrate suction filters, vacuum sensor switches, and supply/release valves onto the generator. Additionally, SMC's generators can be configured to manage distribution of vacuum from a external vacuum source.
Series: ZK2, NZX, NZM, ZH, ZU, ZX, ZR, ZL, ZM
vacuumCups_sml
Vacuum Pads
SMC vacuum cups are designed in a range of 19 diameters from 2mm to 200mm for use in delicate or heavy applications. SMC vacuum cups are available to fit many unusual shapes and are constructed from a variety of premium materials such as Silicon, NBR, Urethane, Fluorine etc. Installation options can be specified on either spring loaded buffers or threaded stems. Special application cups are also available such as check valve, porous material, annulus area etc.
Series: ZP, ZP2. ZP3, ZPT, ZPR, ZPX, ZPY
vacuumSwitch_sml, vacuum sensor switch, sensor switch
Switches
SMC vacuum sensor switches provide a completely integrated, digital solution designed to monitor vacuum status. Vacuum sensor and switch outputs are integrated into ultra-compact, lightweight units. Easy push button calibration eliminates the need for tools. Available in either easy-to-read LCD with backlit or LED readouts which display current measured value as well as set points and output mode information. Vacuum sensor switch outputs are digital NPN or PNP and analog, with simple programming and multiple application features such as failure prediction and window comparator. Vacuum sensor switches can be integrated directly onto many vacuum generators.
Series: ZSE
vacuumRegulator_sml
Vacuum Regulators
SMC vacuum regulator products offer a variety of options including compact and lightweight design, and front or rear mounting of the vacuum pressure gauge. These vacuum regulators also offer standard panel mounting capability, adjustment resolution within 0.13kPa, and 1/8″ to 1/2″ threaded connection port sizes available.
Series: IRV
ZFC Small
Vacuum Filters
Air suction filters that prevent trouble in vacuum equipment caused by contaminants in the air. They are light weight and compact. Filter elements are easily replaced without tools.
Series: ZF
General Purpose Air & Water
Compact Direct Solenoid Valve, Ports M5 ~ 1/8 inch
The VDW series is a compact direct operated 2/3 port solenoid valve for air, water and medium vacuum. Available body materials include resin, brass or stainless steel. Resin body is offered with one touch fitting to reduce installation time. It is suitable for applications that requires a small footprint and flow of less than Cv of 0.30.
2 Port Direct Solenoid Valve, Ports 1/8 ~ 1/2 inch
The VX2 series is 2 Port direct solenoid valve for general purpose air, medium vacuum and water. Available body materials include resin, aluminum, brass or stainless steel with port size up to 1/2 inch. Resin body is offered with one touch fitting to reduce installation time. It is also available as a manifold to reduce piping.
2 Port Direct Solenoid Valve, Interchangeable Mounting, Ports 1/8 ~ 1/2 inch
Series VXN is a direct operated 2 port solenoid valve that has interchangeable port to port dimensions with other 2 port valves in the market. It comes in two body materials, C37 (brass) and SUS (stainless steel). Flow rate ranges from Cv of 0.06 to 0.88.
2 Port Pilot Solenoid Valve, Ports 1/4 ~ 1 inch
The VXZ series is a 2 port, pilot operated solenoid valve capable of operating at higher differential pressure by maintaining a zero pressure differential pressure on the valve seat. It is compatible with wide range of fluid. Flow rate ranges from Cv of 1.7 to 10.2.
2 Port Pilot Solenoid Valve, Ports 1/4 ~ 1 inch, Flange 32A ~ 50A
The updated VXD series is a pilot operated, 2 port solenoid valve. The new VXD is not only smaller, but uses less power compared to the previous version. Available in brass and stainless steel, the VXD series also offers low concentration ozone resistant and oil free options. Flow rate ranges from Cv of 1.9 to 49.
3 Port Pilot Solenoid Valve, Ports 1/8 ~ 3/8 inch
The VX3 series is a direct operated, 3-port solenoid valve, for use with a wide variety of fluids. It has an IP65 enclosure rating and with its special construction metal noise is reduced (DC specification). The series is also flame resistant and conforms with standard UL94V-0.
2/3 Port Pilot Solenoid Valve, for 5.0 MPa Compressed Air
Series VCH series is a pilot operated solenoid valve for high pressure applications. Designed for use with air or inert gas, the VCH valve can operate up to a maximum pressure of 5.0MPa. Reduction in the overall volume of the pilot chamber means the VCH's responsiveness can now be measured in just milliseconds. Non-collision armature construction, rubber buffers and a urethane diaphragm give the VCH series an expected service life of 10 million cycles.
2 Port Pilot Solenoid Valve, One Touch Fitting
The VQ20/30 series is a pilot operated, two port multi-media valve. The series is compact and lightweight with a large flow capacity. The VQ20/30's long life, high speed coil (up to 20 million cycles at 100cps for pneumatic use) along with its all plastic construction, make it an excellent choice for those who want high performance at a lower cost. Available as single unit and manifold.
Air Operated Valve
The direct air operated 2 and 3 port valve series VXA can be used with a wide variety of fluids. The manifold for the VXA21/22 series is available in a common SUP style or individual SUP style (for vacuum use). The VXA31/32 series manifold is individually ported. Valves for both are easily replaced without changing existing piping.
Static Control
Bar Ionizers
Rapidly eliminate static electricity from plastic films, injection molds, and packaging materials. Bar ionizers direct ionized air particles toward the work zone with compressed air. Low maintenance electrode needle cartridges minimize contamination and are replaceable. Available sensors optimize ion balance or reversed polarity to reduce elimination time. Protect sensitive electronics with the low-amplitude Dual AC type.
Nozzle Ionizers
IZN10 nozzle ionizer, was designed to meet the requirements for a more compact product with better ion balance than the IZS31. With a 16mm body thickness, the IZN10 can be installed in narrow spaces. The IZN series is suitable for high precision static electricity removal on light electrical work pieces, and spot static electricity removal on small work pieces. It is also appropriate for dust removal on injection-molded component parts.
Fan Ionizers
The IZF10 is SMC's compact fan ionizer. The fan ionizer emits static eliminating ions using ambient air, suitable for when an air supply is inconvenient or unavailable. Treatment area can be up to 1200mm / 47 in away. The fan is operated by a power switch, with an ion balance adjustment trimmer in the back. Available with a low noise or rapid static elimination fan.
Sensors
In addition to products for treating static electricity, SMC offers products for detecting static in your applications.If you have numerous areas that are prone to generating static, the IZH10 handheld electrostatic meter is a useful tool to diagnose the presence and intensity of electrostatic fields before solutions are implemented. Once ionizers have been deployed, this mobile device can also be used to monitor their success and watch for maintenance opportunities. If a permanent installation is desired, the IZD10 electrostatic sensor can be paired with the IZE11 sensor monitor for ongoing observation in a fixed location. The IZE11 monitor translates the IZD10 sensor's output into an LED display of the static level, as well as two user definable switch outputs and ananalog output. These outputs can trigger maintenance alarms or operation signals for the bar and nozzle ionizers.
Temperature Control Equipment
SMC's line of temperature control equipment utilizes best-in-class technologies to accomplish the exact temperature ranges and stability desired by our customers. Our chillers and thermo-control units have proven performance in a wide range of applications.
General Purpose Compact Chiller
HRS Chiller HRS compact recirculating chillers operate in cooling capacity range of 1.3 to 11 kW. These portable chillers include both the coolant and refrigeration circuits. Extracted heat can be air or water cooled. The operations interface includes an input keypad and digital display, an angled fluid supply port with level check, and tool-less filter replacement (air cooled model). Power supplies are available in both 200 and 400VAC 3-phase, and function in both 50 and 60Hz environments for global compatibility. 35 alarms report on a variety of circuit and equipment conditions to preserve optimal operation. HRS chillers can control thermal requirements of machine tools, lasers and photonics, and analytical instruments. Other suitable environments include life sciences, food and packaging, and printing.
Additional features include: Timer Operation, Low Level in Tank Detection, Power Failure Auto-restart, Anti-freezing Function, and Self Diagnosis.
Model Cooling Capacity
(at 60Hz) Temp.
Setting Temp.
Stability Cooling
Method Circulating
Fluid
HRS 100VAC 1.3~1.7 kW 5~40°C ±0.1°C
Air or Water Tap Water
15% Ethylene Glycol
HRS 200VAC 1.3~5.9 kW 5~40°C ±0.1°C
HRSE 100VAC 1.2~1.6 kW 10~30°C ±2°C
Air Tap Water
HRSE 200VAC 1.2~2.2 kW 10~30°C ±2°C
HRSH 200VAC 9.5~11 kW 5~40°C ±0.1°C
Air or Water Tap/Deionized Water
General Purpose High Capacity Chiller
HRSH HRSH recirculating chillers offer a cooling capacity range of 10 to 25 kW. Coolant and refrigeration circuits are included in a compact and lightweight package. Extracted heat can be air or water cooled. An inverter provides demand-based rotation control for the compressor, pump and fan (air cooled model), offering substantial energy savings. Electric options ensure global power supply compatibility.
Additional features include: Heating Function, Low Maintenance Seal-less Immersion Pump, and IPX4 Rating for Outdoor Installation.
Model Cooling
Capacity Temp.
HRSH-A 200VAC 10.5~25 kW 5~35°C ±0.1°C
Air Tap/Deionized Water
HRSH-W 200VAC 11.5~24 kW 5~35°C ±0.1°C
Water Tap/Deinonized Water
HRSH-A 400VAC 10.5~25 kW 5~35°C ±0.1°C
HRSH-W 400VAC 11.5~24 kW 5~35°C ±0.1°C
Water Tap/Deionized Water
High Performance Heat Exchanger
HRW1 HRW heat exchangers are refrigerant free and use no compressor. This energy efficient design saves further by using an inverter pump for demand-based rotation control. Four models offer cooling capacities from 2 to 30 kW. The HRW is rated for high performance temperature stability of ±0.3°C through a set range of 20 to 90°C. The operation panel includes an input keypad and multi-line LCD display. 23 alarms report on a variety of circuit and equipment conditions to facilitate optimal operation. In addition to standard I/O and RS-485 serial communications, analog and DeviceNet™ communications are optional.
Standards include: UL, CE, SEMI (S2-0703, S8-1103, F47-0200), SEMATECH (S2-93, S8-95)
HRW 200VAC 2~30 kW 20~90°C ±0.3°C
Water Clear/Deionized Water
Flourinated Fluid
60% Ethylene Glycol
High Performance Specialty Chiller
HRZ1 HRZ recirculating chillers are especially suited for semiconductor and other high technology sectors by conforming to SEMI equipment standards for safety, environment and health, ergonomics, and voltage sag immunity. Cooling capacities range from 1 to 10 kW. A double inverter option is available, featuring a DC inverter compressor and inverter pump, to save power and reduce the facility water demand. The HRZ has a wide temperature setting range and compatibility with several coolant fluid types.
HRZ 200VAC 1~8 kW -20~90°C ±0.1°C
Water Flourinated Fluid
HRZ-1 200VAC 1~8 kW -20~90°C ±0.1°C
Water Ethylene Glycol
HRZ-2 200VAC 1~8 kW 10~40°C ±0.1°C
HRZ-S 200VAC
(Double Inverter) 10 kW -20~90°C ±0.1°C
Economy High Capacity Chiller
HRG Chiller HRG recirculating chillers include air or water cooled refrigeration, cooling capacities from 9.5 to 16.5 kW, and a useful temperature stability of ±1°C for a reasonable price. Ventilation paths for the air cooled models permit installation against a rear wall for space savings. Convenient features include a simple operation panel, front maintenance access and I/O signals for startup, shutdown, and alarms.
Additional features include: IPX3 Rainproof Enclosure, Efficient Refrigerator ON/OFF Control.
HRG 200VAC 9.5~14.5 kW Air
11~16.5 kW Water 5~35°C ±1°C
Air or Water Clear/Deionized Water
Circulating Bath
HEB1 The HEB is a thermoelectric circulating bath comprised of a controller and liquid tank. Cooling is performed by a refrigerant-free peltier element, with extracted heat removed via facility water connection. Temperature can be set from -15.0 to 60.0°C (fluid dependent), achieving a distribution of ±0.2°C in the bath. Abnormal heating and temperature sensor errors can be detected and reported. Overall dimensions and power requirements are suitable for laboratory benchtop service.
Standards include: CE, UL
HEB 100~240VAC 140W -15~60°C Flourinated
5~60°C Water ±0.01°C
Clear Water
Benchtop Precision Chiller
HEC1 HEC recirculating chillers satisfy low capacity temperature control demand in the range of 140 to 1200 watts. A refrigerant-free, thermoelectric peltier element controls temperature from 10.0 to 60.0°C, with precision of ±0.1°C under stable load conditions. Extracted heat can be air or water cooled. 15 alarms support functional troubleshooting, and can be observed on the LCD display or over serial communication. Low noise and vibration, compact dimensions and flexible power requirements are suitable for laboratory benchtop service.
Standards include: CE, UL, RoHS
Capacities Temp.
HEC-A 100~240VAC 230 W
600 W 10~60°C ±0.01°C
Air Clear Water
HEC-W5 100~240VAC 140 W
320 W 10~60°C ±0.01°C
Water Clear Water
20% Ethylene Glycol
HEC-W2 200VAC 600 W
1200 W 10~60°C ±0.01°C
Benchtop Chemical Chiller
HED1 The HED is a specialty recirculating chiller designed for direct temperature control of chemical liquids in the 300 to 750 watt capacity range. The device consists of a controller and separate fluororesin heat exchanger. An external circulation pump must be customer supplied. Typical compatible fluids include hydrofluoric and sulfuric acid, copper sulfate solution, ammonia hydrogen peroxide, sodium hydroxide, and deionized or ozonated water. A refrigerant-free, thermoelectric peltier element controls temperature from 10.0 to 60.0°C, with precision of ±0.1°C. Extracted heat can be removed via facility water connection. 17 failure diagnostics can be displayed on the LCD display or read out over serial communication.
Standards include: CE, SEMI S2-0706, F47-0706, RoHS
HED 180~242VAC 300W
500W
750W 10~60°C ±0.1°C
Water Deionized Water
Hydroflouric & Sulfuric Acid
Ammonia Hydrogen Peroxide
Others – See Catalog