SICK
              Intelligence Sensor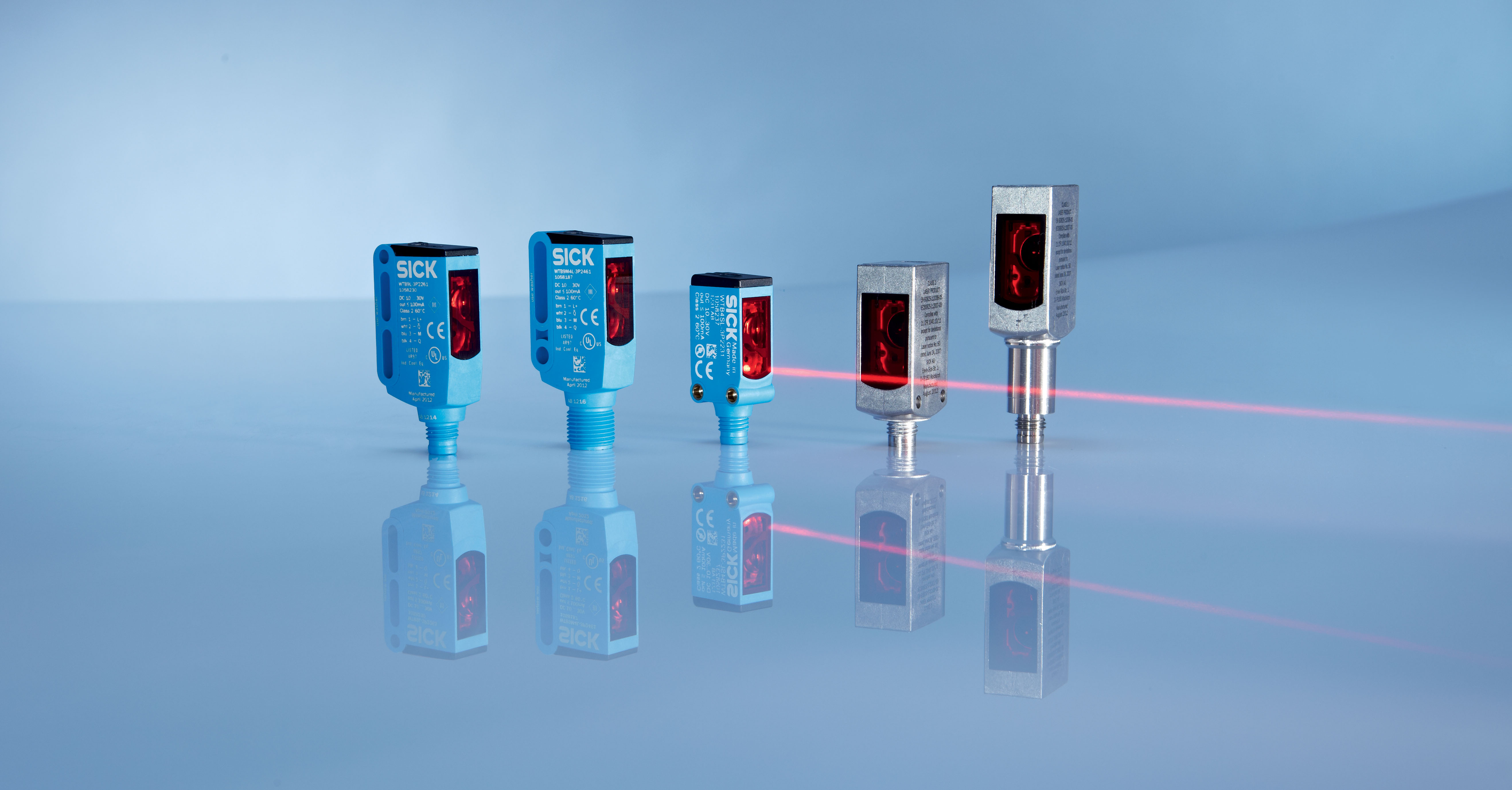 Electronic Sensors & Scanners
Photoelectric%20Sensors
We are involved in offering Photoelectric Sensors. By using the latest ASIC and LED technologies, these sensors offer the highest level of operational reliability regardless of any conceivable interference factors. Additional sensor information can be used to simplify modern production processes. The extensive range of photoelectric sensors is used effectively and efficiently in many automation applications around the world.
Laser Scanners
Laser%20Scanners
We are involved in offering Laser Scanners, can be used for a wide range of applications. These devices detect both 2D and multi-dimensional contour data and can process information either externally or in the sensor itself. They are ideal for indoor and outdoor applications, including anti-collision in harbors, classification in traffic, detection in building automation, or position evaluation in navigation.
Optical Cables
Fiber%20Optic%20Cables
We are engaged in offering Fiber Optic Cables. The starting point of an application-oriented sensor solution is the selection of a suitable fiber-optic cable and its specific design. We, the broad range of fiber-optic cables made from plastic and glass fibers permits optimal automation solutions. These are typically individually coated with plastic layers and contained in a protective tube suitable for the environment where the cable will be deployed.
Proximity Sensors
Inductive Proximity Sensors
Inductive%20Proximity%20Sensors
Our clients can avail from us Inductive Proximity Sensors. Millions of inductive sensors are currently in use in virtually all industries. They detect metal objects without contact, and are characterized by a long service life and extreme ruggedness. With the latest ASIC technology, our sensors offer the ultimate in precision and reliability. We can provide the right solution to meet your requirements every time – from cylindrical or rectangular standard sensors with single, double or triple operating distance, to special sensors for explosive zones and harsh environments. Our sensors are the intelligent, reliable route to implementing industry-specific and customized solutions to any task involving automation.
Capacitive Proximity Sensors
Capacitive%20Proximity%20Sensors
We are involved in offering Capacitive Proximity Sensors. Level and feed monitoring is one example of an application for capacitive proximity sensors. From solid materials like paper or wood, to granules or liquids, the status of the product can be reliably detected during the production process and on final inspection. A proximity sensor often emits an electromagnetic field or a beam of electromagnetic radiation (infrared, for instance), and looks for changes in the field or return signal. The object being sensed is often referred to as the proximity sensor's target. Different proximity sensor targets demand different sensors.
Magnetic Proximity Sensors
Magnetic%20Proximity%20Sensors
We are instrumental in offering Magnetic Proximity Sensors in cylindrical (MM) and rectangular (MQ) designs. The sensors are available with large operating distances and the advanced series offers an extended operating distance, with entirely new application options opened up due to the smaller magnets. The NAMUR version of the MM sensors completes this comprehensive series. MQ sensors offer all the advantages of a magnetic proximity sensor in a compact plastic housing. Magnetic proximity sensors are specially designed for harsh environments, being resistant to dust, heat and vibration. Typical applications include situations beyond the technological limitations of other sensors.
Magnetic Cylinder Sensors
Magnetic%20Cylinder%20Sensors
We are instrumental in offering Magnetic Cylinder Sensors. Detecting, measuring, positioning, quality control – all crucial tasks in industrial automation. The devices involved are becoming ever smaller yet still offering unprecedented performance levels such as innovative cylinder sensors, developed for faster and more accurate detection of piston positions in compact pneumatic cylinders. This results in broader fields of application for pneumatic cylinders plus new potential for machinery and production plants. And with our huge range of magnetic cylinder sensors to choose from, we can meet your every need.
Features:
Ease of handling
The option of an analog output
Optimum switching characteristics
Suitability for use in the food and beverage industry
Support for the latest IO-Link technology, and universal mounting options with our comprehensive range of adapters
Magnetic cylinder sensors from us are equipped for all installation locations and conditions
Registration Sensors
Contrast Sensors
Contrast%20Sensors
We are instrumental in offering Contrast Sensors. These are primarily used in packaging/printing machines for the detection of printed or control marks. It detects even the smallest contrasts at the highest speeds, such as print marks on foils or packaging. They detect minute gray scale variations between the mark and the background on matte, shiny or transparent surfaces. A variety of device types with different contrast resolution methods and teach-in versions are available to meet wide-ranging requirements.
Markless Sensors
Markless%20Sensors
We are involved in offering Markless Sensors. The markless sensor is based on a pattern recognition principle. A taught-in image is used as a reference for the detection of a recurring contrast pattern. A stable switching signal is generated at high speed thanks to new technology without print marks. The markless sensor is ideal for applications in the packaging industry. User-friendly configuration is offered via the sensor's control panel or by using our SOPAS software via Ethernet.
Specifications:
Max. movement speed 7 m/s Switching mode PNP
Repeatability 0.6 mm Data interface Ethernet (TCP/IP)
Sensing distance 20 mm
Results:
Model Name Part No. Sensing distance Repeatability Max. movement speed Data interface Switching mode
ML20M-P1211 1044675 20 mm 0.6 mm 7 m/s Ethernet (TCP/IP) PNP
Color Sensors
Color%20Sensors
We are engaged in offering Color Sensors. It detect the color of a surface. The sensors cast light (red, green, and blue LEDs) on the objects to be tested, calculate the chromaticity coordinates from the reflected radiation and compare them with previously stored reference colors. If the color values are within the set tolerance range, a switching output is activated.
Model Name Part No. Sensing distance Switching frequency Switching mode Light spot size
CS81-N1112 1028228 12.5 mm 1 kHz, 3 kHz, 6 kHz NPN 2 mm x 4 mm
CS81-N3612 1028229 60 mm 1 kHz, 3 kHz, 6 kHz NPN 13 mm x 13 mm
CS81-P1112 1028224 12.5 mm 1 kHz, 3 kHz, 6 kHz PNP 2 mm x 4 mm
CS81-P3612 1028225 60 mm 1 kHz, 3 kHz, 6 kHz PNP 13 mm x 13 mm
CS84-N1112 1028230 12.5 mm 0.5 kHz, 1 kHz, 3.5 kHz NPN 2 mm x 4 mm
CS84-N3612 1028231 60 mm 0.5 kHz, 1 kHz, 3.5 kHz NPN 13 mm x 13 mm
CS84-P1112 1028226 12.5 mm 0.5 kHz, 1 kHz, 3.5 kHz PNP 2 mm x 4 mm
CS84-P3612 1028227 60 mm 0.5 kHz, 1 kHz, 3.5 kHz PNP 13 mm x 13 mm
CSM1-N1114 1018514 12.5 mm 1.5 kHz NPN 1.5 mm x 6.5 mm
CSM1-P1114 1022569 12.5 mm 1.5 kHz PNP 1.5 mm x 6.5 mm
Luminescence Sensors
Luminescence%20Sensors
Our clients can avail from us Luminescence Sensors. Luminescence sensors detect visible and non-visible marks that illuminate when using ultraviolet (UV) light. Fluorescent material and marks are reliably detected independently of their pattern, colors or surface conditions on any material. Luminescence sensors emit UV light with a wave length of approximately 375 nm. Fluorescent substances convert the UV light into long-wave visible light, which is then received and evaluated by the luminescence sensor.
Fork Sensors
Fork%20Sensors
We are engaged in offering Fork sensors, which operate using a through-beam design, combine the sender and receiver in a single housing. As a result, alignment is no longer time-consuming. Even very slight differences in light attenuation are detected due to highly focused light emission and high detection accuracy. Easy installation, high immunity to ambient light, and a wide range of fork widths are some of the many advantages that SICK fork sensors offer. Applications include detecting labels or parts on conveyors.
Array Sensors
Array%20Sensors
We are offering Array sensors, use closely spaced beams of light to detect even the slightest differences in gray scale between the target and the background within their field-of-view. They are ideal for edge and diameter detection as well as detecting widths and gaps. It offer industry-leading reproducibility, in addition to compact, rugged metal housings for use in highly restricted or harsh environments.
Model Name Part No. Sensing distance Measuring range Repeatability
AL20E-NM111 1046460 25 mm 20 mm 0.03 mm
AL20E-NM331 1046461 100 mm 30 mm 0.05 mm
AL20E-PM111 1046463 25 mm 20 mm 0.03 mm
AL20E-PM331 1046462 100 mm 30 mm 0.05 mm
AT20D-NM111 1046466 25 mm 20 mm 0.03 mm
AT20D-NM331 1046467 100 mm 30 mm 0.05 mm
AT20D-PM111 1046464 25 mm 20 mm 0.03 mm
AT20D-PM331 1046465 100 mm 30 mm 0.05 mm
AT20E-NM111 1046458 25 mm 20 mm 0.03 mm
AT20E-NM331 1046459 100 mm 30 mm 0.05 mm
AT20E-PM111 1044484 25 mm 20 mm 0.03 mm
AT20E-PM331 1045990 100 mm 30 mm 0.05 mm
Distance Sensors
Short Range Distance Sensors
Short%20Range%20Distance%20Sensors
We are offering Short Range Distance Sensors. These are laser sensors, which provide accurate distance measurements for applications that require a high degree of precision. They have a measurement range of up to 1,000 mm. Due to their accuracy, they are especially suited for controlling, sorting and inspection tasks used in quality control processes. Common applications include measuring dimension, position and shape and machining tolerances. Using SICK short range distance sensors can improve the quality of your end product while reducing material and downtime costs.
Mid Range Distance Sensors
Mid%20Range%20Distance%20Sensors
We are engaged in offering Mid Range Distance Sensors. It provide sensing ranges from 50 mm up to 50,000 mm, enabling them to be used in a wide range of applications. Due to their highly reliable measurements on objects of different colors and textures, process reliability can be improved. Plus, all sensors have easy-to-understand setup and programming, ensuring they can be commissioned quickly. The perfect combination of range, reliability, precision and price.
Long Range Distance Sensors
Long%20Range%20Distance%20Sensors
We are involved in offering Long Range Distance Sensors. These combine highly precise measurement results with great reliability and a wide measuring range. Long range distance sensors use time-of-flight measurement technology for linear positioning and can be used to measure a distance or to indicate a switching threshhold. Due to their large measuring range, the sensors are suitable for a variety of industries and applications.
Linear Measurement Sensors
Linear%20Measurement%20Sensors
We are offering Linear Measurement Sensors. It determines its current position using a bar code tape mounted along the length of travel – up to 10 km. The bar code tape can be placed along a curve, free roaming path, incline/decline or straight line. The OLM measures the right positions every time with an excellent repeatability of up to 0.15 mm – even if multiple vehicles are on the same track.
Optical Data Transmission
Optical%20Data%20Transmission
We are involved in offering Optical Data Transmission. The ISD infrared data transmission system enables wireless communication. Typical uses are on stacker cranes in storage and conveyer systems for wireless communication from the vehicle to the control unit. The system consists of an optically aligned pair of sender and receiver which can communicate bidirectional over long distances. This is a wear-free, cost-effective and highly reliable alternative to trailing cables.
Automation Light Grids
Advanced Automation Light Grids
Advanced%20Automation%20Light%20Grids
We are offering Advanced Automation Light Grids. These are ideal for more complex applications. They come in several different beam spacing options, a range of detection heights and output configurations. These light grids can be used for material handling on conveyors, automated storage and retrieval system applications, order fulfilment, and more. For example, in pallet verification applications, maximum height and pallet overhang can be measured without additional photoelectric sensors. This data can be forwarded to the PLC via bus systems.
Standard Automation Light Grids
Standard%20Automation%20Light%20Grids
We are engaged in offering Standard Automation Light Grids. This can be used in a number of solutions, such as detecting and counting of irregularly shaped objects, checking for presence and protrusions of pallet loads. This offer multiple ranges, heights, sizes, orientations, and resolutions. All processing is integrated in the light grids for fast setup with no external controller needed. The detection height between a light grid and a photoelectric retro-reflective sensor can be covered with different versions of the Reflex Array Sensor.
Smart Light Grids
Smart%20Light%20Grids
We are engaged in offering Smart Light Grids. The smart light grid family includes smart area sensors, smart gate sensors and smart pick-to-light sensors. At only 8 x 25 mm, they fit nearly anywhere and can be embedded inside walls, doors, conveyors, and machines. Slim and flat versions are available. They can be ordered in 120 to 1,400 mm lengths in a plastic or aluminum housing. Auto-muting, auto-teach and an alignment aid provide more uptime. They are ideal for order-picking, automatic doors, counting objects and other applications.
Identification Solutions
Bar Code Scanners
Bar%20Code%20Scanners
We are instrumental in offering Bar Code Scanners. Their excellent reading performance ensures continuous process flow – even with poor quality or damaged bar codes. A high scanning frequency permits high process speeds, and simple networking improves operational efficiency. Plus, compact connection devices save space and reduce costs. The SICK bar code product portfolio offers the right solution for nearly any task.
Hand Held Scanners
Hand%20Held%20Scanners
We are offering Hand Held Scanners. It provide fast, flexible code reading capabilities for a wide range of applications. Unlike manual solutions, hand-held scanners make it possible to automatically detect data at high speeds – with nearly no errors. They are ergonomically designed, speed up processes and help eliminate sources of error.
RFID (Radio Frequency Identification)
RFID%20%28Radio%20Frequency%20Identification%29
We are involved in offering RFID (Radio Frequency Identification). Radio-based RFID technologies in the HF (high frequency) and UHF (ultra high frequency) ranges supplement SICK's industrial automation portfolio. In applications where process-relevant data is modified remotely, RFID makes it possible to store data on writable and rewritable media. And, in contrast to optical solutions, RFID provides reliable identification of all objects – despite dirt and everyday wear.
Fluid Sensors
Level Sensors
Level%20Sensors
We are engaged in offering Level Sensors. We offers a wide range of solutions for process engineering, storage and protection. Depending on the installation, characteristics of the liquid or solid, and ambient conditions, we provides a comprehensive product portfolio and a high level of expertise for more efficient processing.
Flow Sensors
Flow%20Sensors
We provides Flow Sensors, innovative sensor solutions for flow measurement technology which combine flexible measuring methods and robust equipment design with cost-efficient connection concepts for higher-order systems. Whether you need to detect the current flow rate using analog values or find the quantity using pulse detection – our flow sensors are always reliable and safe, for a wide range of media and under difficult process and ambient conditions.
Pressure Sensors
Pressure%20Sensors
We are offering Pressure Sensors, can be optimally adapted to individual customer's requests thanks to its intelligent and versatile configuration possibilities. Typical of all solutions from SICK is the use of high-quality materials, robustness and precise measurement technology, in addition to being easy to operate and install.
Temperature Sensors
Temperature%20Sensors
We are offering Temperature Sensors. With its product portfolio of screw in and insertion thermometers as well as temperature switches we offers high-quality solutions for contact temperature measurement in liquids and gases. The devices can optimally be adapted to meet individual requirements through its various insertion lengths and the flexible mechanical configuration possibilities.
Safety Switches
Electro Mechanical Safety Switches
Electro%20Mechanical%20Safety%20Switches
We are instrumental in offering Electro Mechanical Safety Switches. These are economically and reliably monitor movable guards. Our portfolio of electro-mechanical safety switches contains four product groups: safety position switches, safety hinge switches, safety switches with separate actuator and safety locking devices. This enables users to choose the appropriate solution for a variety of different applications.
Magnetic Safety Switches
Magnetic%20Safety%20Switches
We are engaged in offering Magnetic Safety Switches. These are equipped with complementary-switching or equivalent-switching contacts that use coded magnetic actuators. Magnetic safety switches can be used in areas where a high level of contamination occurs. The devices are easy to clean, making them suitable for contaminated areas or environments with strict hygiene standards. Their operating principle enables greater tolerances, making them ideal for applications where precise guidance of guards is difficult.