Phoenix Cantact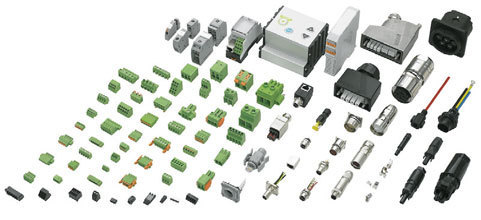 PHOENIX CONTACT ,SMPS, POWER SUPPY
Phoenix Contact
Phoenix%20Contact
ALL TYPE OF
1.SMPS
2.PLC SPARE / RELAY
3.CONNECTOR
4.POWER SUPPY
PHOENIX CONTACT
Product Code: SMPS
Phoenix Power Supply
Phoenix%20Power%20Supply
WE ARE AVELEBLE SMPS
1 5A / 10A /20A
I.P-230 VAC & O.P 24V DC
I.P-415VAC & O.P-240 VAC
THANKS & REGARDS./
SHIV TRADING CO.SHOP NO-104,G.R COMPLEX
KHOTHARI POLE,GANDHI ROADAHMEDABAD- 380 001
Embedded Controllers
We are one of the reputed Manufacturer and supplier of Embedded Controllers.
Phoenix Contact Controller
Phoenix Contact ControllerClick to Zoom
With our vast industry experience, we have established ourselves as the prominent manufacturer, trader, exporter and supplier of sophisticated Phoenix Contact Controller. Gives control solutions for both centralized and distributed automation solutions, our contact controllers are properly examined by our quality experts upon various parameters with the set industrial norms. Apart from this, our flawless contact controllers are provided in different sizes, specifications.
Features:
Dimensional accuracy
Robust construction
Excellent-finish
Power Supply
Phoenix Contact Power Supply, Phoenix SMPS Power Supply
Phoenix%20Contact%20Power%20Supply%2C%20Phoenix%20SMPS%20Power%20Supply
Delve Power is offering you one of the leading brand Phoenix Contact Power Supply. We are Distributor, Dealer, Supplier and Trader of Phoenix Contact Quint Power Supply, Trio Power Supply, UNO Power Supply, Mini Power Power Supply and Step Power Supply Models. Phoenix Contact Power Supply to meet the requirements of all types of process automation machinery and for many industrial products. We are dealing and supplying in all range of phoenix contact switch mode power supply like,
QUINT POWER – power supplies with maximum functionality
AC or DC input: single-phase, 3-phase
DC output: power up to 1000 W
Voltages: 12, 24, 48 V DC
TRIO POWER – power supplies with standard functionality
AC input: single-phase, 3-phase
UNO POWER – power supplies with basic functionality
AC input: single-phase
DC output: power up to 240 W
Voltages: 5, 12, 15, 24, 48 V DC
MINI POWER – power supplies for measurement and control technology
AC or DC input: single-phase
DC output: power up to 100 W
Voltages: 5, 10 – 15, 24, ±15 V DC
STEP POWER – power supplies for installation distributors and flat control panels
Phoenix Contact are one of the leading manufacturers of electrical connection, electronic interface and industrial automation technologies. The Phoenix electrical connections are manufactured using quality raw material to ensure international quality standards. These Phoenix electronic interfaces are widely used for various industrial purposes. Being the market leader, phoenix technologies, India ensure clients with superior grade products at the cost effective prices.
Phoenix contact is a prominent organization which deals with wide range of electrical and electronic component and instruments that are manufactured with quality grade raw material and are inspected at our quality unit before supplying to our esteemed clients. These products are widely appreciated by our valuable clients throughout the world for their unique quality and long lasting performance.
For our reputed clients, we avail the following products from them:
Terminal Blocks
Modular Blocks
PCB Terminal Blocks
Rail Mounted Terminals
Ground Terminals
Multi Connection Terminals
Lighting & Surge
Protection
Phoenix Contact- Clipline
Phoenix%20Contact-%20Clipline
From the modular terminal block to the assembly material and tools and through to the complete PC-aided project planning and marking system, the Clipline has everything that you need for perfect control cabinet wiring.
Pluscon
The Pluscon section documents industrial connectors for data, signal and power cables, as well as for fiber optics. The complete offer for the sensor/actuator cabling makes this catalog a standard for field wirin
Combicon PCB Terminal Blocks
Combicon%20PCB%20Terminal%20Blocks
Combicon provides a complete range of PCB terminal blocks and connectors for the PCB . Electronic housings, plug-in card blocks and din socket strips make this catalog a standard for every developer.
Interface
With interface modules for binary, serial and analog signals, power supply units, PLC system cabling and system cabling and electronic load relays, the INTERFACE section provides all components around the industriasl control.
Programmable Controllers for Industrial Applications and IT Connectivitiy
Easy Automation video
The new ILC 1×1 compact controllers are at the heart of the Easy Automation system. They are the smallest and newest members of the Phoenix Contact controller technology family. As is the case with all controllers from Phoenix Contact, they are already web capable and equipped with modern automation and IT technology.
For applications with high data throughput and connection to IT networks, the ILC 100 series are built to be integrated seamlessly with capabilities ranging from SNTP, SNMP, and SQL clients. For remote stations, logging data onto the FTP server in a CSV file to be opened in Excel is a simple function block away.
Common areas of use include:
A simple ILC 131 in a remote pump station in Water/Wastewater
An advanced ILC 191 doing flow calculations in process control
The built for speed ILC 191 Machine Edition in machine control
Pulling information from the factory automation system and into the office IT system
For more examples, check out our Case Studies section!
Bring your control system to the next level
For the first time, the new ILC 1×1 controllers include an integrated MODBUS TCP driver. The direct implementation of the MODBUS TCP protocol into the firmware allows for faster processing and easier control software configuration.
All components of the Easy Automation system are perfectly matched to one another, including the free PC WORX Express development environment, utilizing IEC 61131. The possibilities for creating your individual automation solution are virtually unlimited.
Training classes are offered for free online, simply follow the 'Training' link below and find the class suited to you!