LSIS: LS, LG,PLC, Inverter, VFD
we are an authorized dealer for LS PLC Inverter. We offer various options to our clients by providing services for precision manufactured plc. These are available in xgb and xbm models. Both are highly compact models that have powerful functions and performance. Plc offers suitable user interface with various network diagnosis and monitoring functions & back-up function.
DRIVES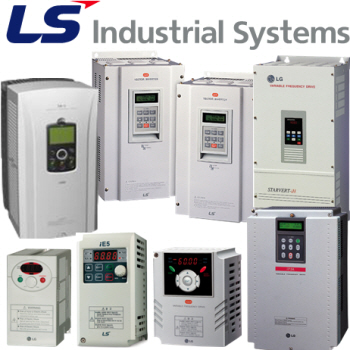 PLC Systems (K200S)
K200S Features
• Small- and medium-scale control with 384 points
• High-speed processing (0.5§Á/step)
• On-line editing
• Change I/O value by force
• Small- and medium-sized manufacture line control by network
• Various special modules: analog, HSC, positioning, etc
• Built-in flash memory
K300S Features
• Small- and medium-scale control with 1,024 points
• High-speed processing: 0.2§Á/step
• Downsizing and high performance
• Various special modules: analog, HSC, PID, positioning, etc
PLC's
K120S Features
High-performance and various block type
• Economic type: 10/14/20/30 points (10/14 points: 2points built-in Analog Timer)
• Standard type: 20/30/40/60 points
• Various expansion modules: input, output, mixed modules
• P area extended for SMART I/O application (P000~P63F)
• High-speed processing speed: 0.1§Á/step (standard type)
• Battery-less backup
¡¤ Program backup: EEPROM backup while online editing
¡¤ Data backup: Super capacitor
• Various input handing: Input filter, pulse catch
Enhanced communication functions
• Built-in RS-232C (Ch0) and RS-485 (Ch1) support *1)
• Transmitting data monitoring support: KGLWIN
• Various option modules
i – Cnet (RS-232C, RS-422) Fnet/Rnet (master module)
ii -Profibus-DP/DeviceNet (slave module)
Powerful built-in functions
• High-speed counter: 32-bit signed operation
i – Counter range: -2,147,483,648 ~ 2,147,483,647
ii – Function: ring counter, latch counter, comparison (equal/zone/task), RPM
• Positioning function (DRT/DT type)
i – Control axis: 2 axes (100kHz)
ii – Operation method: single, repeat
iii – Operation mode: end, keep, continuous
iv – Additional functions: return to origin, JOG operation, PWM output
• PID operation function
I – Relay/PRC auto-tuning, SV ramp, delta MV, PWM output, position/velocity algorithm
Various expansion modules
• 7 Digital I/O modules: G7E-DR(08/10/20)A, G7E-TR10A, G7E-DC08A, G7E-RY(08/16)A
• 9 Analog I/O modules: G7F-ADHA(B/C), G7F-AD2A(B), G7F-DA2I(V), G7F-AT2A, G7F-RD2A
• 6 Comm. modules: G7L-CUEB(C), G7L-DBEA, G7L-PBEA, G7L-FUEA, G7L-RUEA
• 2 Option modules: G7E-RTCA, G7M-M256B
Automation Systems (83ns/step)
• 83ns/step processing speed and floating-point arithmetic with
on-board CPU
• Max. 10 expansion modules, Max. 704* I/O point control:
PLC systems for Small- and medium-scale applications
• Max. 5-ch Communication with built-in functions and expansion
modules
* With 64-point I/O modules (due in 2009)
Variable Frequency Drive (IG5)
We offer a wide variety of functionally viable Drives. These are known for their robust manufacturing and are made with high quality materials. The IG5 drives offered by use come with a variety of standard and optional features making them suitable for all our customers. These features are:
IG5:
Space Vector PWM technology
0.75~1.5kW 1 Phase 200V Class
0.75~3.7kW , 3 Phase 200 / 400 Voltage Class
Conformity to global Standard : CE, UL, cUL
Digital MMI, Trip-free operation
Optimal acceleration and deceleration
150% Torque at 0.5Hz
Enclosure: IP00 – IP20
Much smaller size compared to the previous model
multi-function, stable operation
Built-in RS485
Built-in PID control
Built-in ModBus-RTU
DIN rail base for easy installation (Option)
Cable for Remote Keypad Operation (Option)
8 preset speeds
3 Multifunctional Inputs, 1 Multifunctional Output
Manual/Auto torque boost
1 to 10kHz carrier frequency
Variable Frequency Drive (IG5A)
IG5A
Standard Features
• Selectable V/f, sensorless vector control
• Motor parameter Auto-tuning
• Powerful torque at overall speed range
• 0.1 ~ 400Hz frequency output
• -15% ~ +10% input voltage margin
• Fault history: Last 5 faults
• 0~10Vdc / -10 ~ +10Vdc analog input
• IP20 enclosure, UL Type 1 (Option)
• Selectable manual/automatic torque boost
• Selectable PNP/NPN input signal
• 2nd motor control and parameter setting
• Built-in Dynamic braking transistor as standard
• Enhanced process PID control
• Built-in RS485 (LS Bus / Modbus RTU) communication
• Cooling fan On/Off control & Easy change
• Remote control using external keypad * RJ45 cable(Optional)
• Upgraded functions: Sleep & Wake-up (Energy savings)
KEB(Kinetic Energy Buffering) protection
Low leakage PWM algorism
• Monitoring & commissioning PC based software tool (Drive View)
Variable Frequency Drive (IC5)
IC5
• Sensorless vector control
The iC5 adopts sensorless vector control algorithm, and it improves not only the torque control characteristics, but the speed controlability in an uncertain condition caused by the load variation as well.
• Auto Tuning
The auto tuning algorithm in the iC5 sets the motor factors automatically that brings the traditional commissioning difficulties mainly in low speed by the load variation and the low torque generation to a settlement.
• Highly efficient DSP chip
The iC5 adopts highly efficient DSP(Digital Signal Processing) chip to improve processing speed, flexibility, stability and etc.
• PNP, NPN Dual Control Signal
The iC5 provides PNP and NPN signals for outside controllers.
It works with 24Vdc regardless of the type of PLC or control signals.
• Communication interface, Modbus-RTU
The iC5 provides the most popular communication interface, ModBus-RTU for remote control by PLC or other devices.
• PID Control
PID process control is used in iC5 to make speed corrections quickly with a minimal amount of overshoot and oscillation for the control of flow, temperature, pressure and etc.
Variable Frequency Drive (IS5)
IS5
kW/Voltage Ratings:
• 0.75 ~ 55kW, 3 phase, 200 ~ 230VAC
• 0.75 ~ 75kW, 3 phase, 380 ~ 480VAC
• Selectable V/f, Sensorless vector, Sensored vector control (Optional)
• Built-in process PID control
• Optimum acceleration & deceleration for a maximum torque
• APP parameter group for special operations;
Traverse, Multi Motor Control, DRAW
• Multi-function I/O terminal:
Input: 27 functions / Output: 21 functions
• Multi Motor Control (Up to 4 motors: Optional)
• Parameter Read/Write function using a detachable LCD Keypad
• 8 Preset speedsl
• Extension I/O boards (Optional) : Sub-A, Sub-B,l Sub-C
• Communication options:
Modbus RTU, Profibus-DP, DeviceNet, RS485(LS Bus), Fnet(LS PLC link)
• Built-in Dynamic braking transistor (Up to 7.5kW [10HP])
Variable Frequency Drive (IP5A)
IP5A
• Dual PID
When additional PID control or Cascade PID control is required, Dual PID provides users various uses of the system with only iP5A.
• Multi Motor Control
The built-in algebra control function enables an inverter to control many motors without a controller so that user can take advantage of energy-saving and cost-down.
• Sleep and Wake-Up
The built-in energy saving function makes inverter stop automatically when the capacity is very low.
• Pre Heater
The pre heater function is built-in to prevent motor damage and inverter break-down caused from humidity.
• Flying Start
When the inverter drives many ventilators or when the fan in a big load system turns due to a natural convection, iP5A operates the motor by searching the motor speed automatically.
• Auto energy saving
iP5A provides the auto energy saving function by the optimal flux control which minimizes an energy loss caused by a change of the load.
• Improved Management from Instant Power-off and Power Dip Generation
During the power Dip or instant power-off, which is generated by lightening, ground fault and power-failure, loads still keep the mechanical energy and this energy flows back to inverter by regeneration. The power-failure guarantee time is extended by using this electrical character of inverter.
• Constant and Stable Performancel (24 hours 365 days)
Regardless of outside alteration such as input voltage variation by load change or weather effect, iP5A can handle moter and load with best performance.
• Safety Stop
When unexpected power-failure blocks power supply, inverter stops motor by using inertia energy of load that prevents unexpected second accident (Parameter setting is required).
Variable Frequency Drive V/F Control
V/F control
0.1 ~ 200hz frequency output
1-10 khz carrier frequency
IP 20 enclosure
RS 485(L.s bus/MODBUS RTU) communication (built-in option)
PI control
updown and three wire operation
automatic restart after instantaneous power failure
built-in potentio meter
self cooled
Variable Frequency Drive
selectable V/F,V/F PG, sensor less vector, sensored vector
constant torque/variable torque dual rating
150% torque @ 0.1hz
1:1000 speed control range with encoder
speed/torque control selectable
150MIPS high speed DSP
droop control ( automatic torque balance)
kinectic energy buffering protection
ride through protection
PMSM sensor less vector function
power brake & flux brake function
easy to control. easy start mode, user and macro group
multi function key
second motor sensor less control and parameter setting
available IP 54 enclosure (0.75~22KW[1~30HP]) as built-in option
built-in RS 485(LSBUS/MODBUS RTU) communication
built-in dynamic braking transistor
wide graphic LCD( 128*64 pixel) keypad
PLC board(optional): master-k platform:14max.inputs and 7max.outputs
extension I/O boards(optional):11max.inputs 6max outputs
communication boards (optional):profibus- DP, devicenet, modbus TCP, RNET lonworks, CAN open
flux vector closed loop control
advanced speed and torque control
precise speed and position synchronization operation
static/rotation type motor parameter auto tuning
draw/droop/process PID control
specialized functions for various applications
load balanced function
dameter calculation / taper function
splicing inertia compensation function
quick stop function
2 line. 32 character detachable LCD keypad
extension I/O boards
EL I/O( for elevator application)
encoder divison( open collector)
synchronisation option ( speed/positon control)
sincos encoder
communication board
RS 485(LSBUS/MODBUS RTU)
profibus:DP
device net
Variable Frequency Drive (PWM)
constant torque/variable torque dul rating
precise torque calculation through current control( high troque performance)
built-in process PI control
150 % starting torque
2 ~ 10khz carrier frequency
recovery from momentary power failure ( flying start)
PLC
we offer various options to our clients by providing services for precision manufactured plc. These are available in xgb and xbm models. Both are highly compact models that have powerful functions and performance. Plc offers suitable user interface with various network diagnosis and monitoring functions & back-up function. The key features and technical specifications are as follows:
xbg
with its high-speed processing and system capability, xgb offers utmost efficiency xbc (h-type)
83ns/step processing speed and floating-point arithmetic with on-board cpu
max. 10 expansion modules, max. 704 i/o point control: plc systems for small- and medium-scale applications
max. 5-ch communication with built-in functions and expansion modules, with 64-point i/o modules (due in 2009)
xbm (s-type)
160ns/step processing speed and floating-point arithmetic with on-board cpu
max. 7 expansion modules, max. 480* i/o point control
plc system small- and medium-scale applications
max. 5-ch communication with built-in functions and expansion modules
with 64-point i/o modules (due in 2009)
Xgr:redundancy system
cpu processing speed:42ns/step
i/o point:max. 23,808(131,072 with remote i/o)
total memory:32 mbswitching overtime:min. 4. 3ms/max. 22ms
built-in 256 pid loops
max 12 ch. Communication
PLC XGC Series
XBC:block Therma type
Programming language:Ladder,IEC standard,SFC
cpu prossing speed :120NS/step
32/64 points main unit
program capacity :15K steps
floating point arithmatic
expantion Cnet, ethernet
download port :serial,USB
max 5 ch communication
LS, LG,PLC, Inverter, VFD