e.series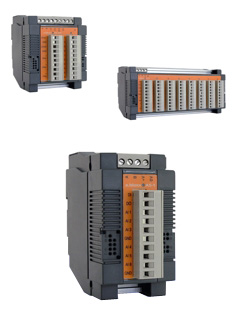 The distributed modules acquire all established analog and digital measurement signals and process signals in industrial area.
e.bloxx
Remote controlled but precisely synchronized data acquisition in a setup of many different modules.
Measuring rate at multifunctional inputs 5000/1000 Hz, at multichannel inputs up to 100 Hz.
High accuracy specially at temperature and strain gauge bridge measurement, ADC 24 bit (real used 19 bit).
On board signal conditioning like linearization, scaling, digital filter, averaging, min/max storage, limits/alarms
Serial field bus interface each module – Profibus-DP, Modbus-RTU, ASCII and a binary high speed protocol for the connection to a Test Controller.
Robust and non-sensitive regarding disturbance signals due to industrial design, galvanic isolation, and a wide temperature range of use.
With the Test controllers e.gate and e.pac it´s possible to connect the modules very efficient to the interfaces like Ethernet, EtherCAT, Profibus-DP and CANopen.
Portable Systems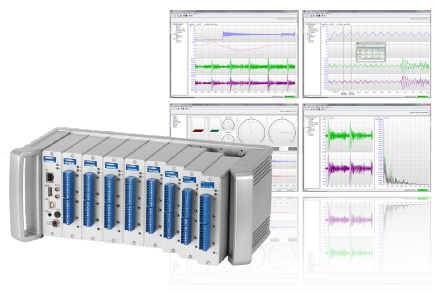 The portable measuring system Q.brixx is well designed for changing assignments. Separate measuring systems in sturdy aluminum housings can be designed for stationary and mobile use with complete flexibility based on the Q.series functions.
Up to 16 slide-in modules, for example, offer users 24 parallel universal channels plus 16 inputs for thermocouples plus 8 carrier frequency channels plus 8 counters in one housing. The modular design and infinite combination possibilities of all Q.series functions ensure extremely high system capability. In addition, the 'Hot Swap' feature is also available for the Q.brixx system.
A Q.brixx system is always equipped with a Test Controller Q.gate that provides an Ethernet TCP/IP interface. With the Test Controllers PAC functionality advanced calculations, PID, sequence functions, Boolean combinations etc., can be defined and will run independent from a PC.
Because of the modular concept, the high flexibility and the advanced functionality very dense and powerful systems can be configured.
Q.bloxx EC Module
The product line Q.series-EC has been designed for demanding measurements found in todays most industrial measuring and testing environments. The range and flexibility of the modules allows an optimized solution for each single task.
Data exchange with the automation level takes place via EtherCAT interface.
EtherCAT is a real-time Ethernet interface with an IEC-Standard IEC61158 open protocol.
In measurement and automation technology it is suited for accurate hard and soft real-time requirements. Short cycle times (≤100 µs) and low Jitter for accurate synchronization
(≤1 µs) are features of the interface
EtherCAT also enables transmitting of very high data rates at low bus cycle by over sampling.
In this case, a higher number of values of one channel per PDO transmitted so as to reduce protocol overhead.
Example:
bus cycle 1 kHz, 100 times over sampling 100 values are transferred per bus cycle RMS 100 kHz sample rate
→ 100 100 values are transferred per bus cycle
→ Effective sample rate 100 kHz
DC (Distributed Clock) for data synchronization (ETG.1020.0)
FoE (File access over EtherCAT) according to ETG.1000.5
CoE (CAN over EtherCAT) according to Modular Device Profile (ETG.5001.1)
XFC technology for oversampling cycle times 1ms up to 0.1 ms, oversampling ≤100
Configurable PDO Mapping to optimize the data throughput
Module configuration via SDO or FoE and alternative via configuration software ICP100
Q.series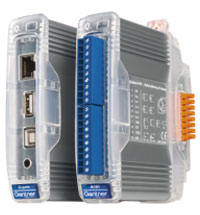 The Q.series has been designed for the high speed, high accuracy measurements found in today's most demanding performance testing environments. The scalability of product range makes it the ideal choice – whether using a single setup for stand alone control or several hundred modules in a large distributed and synchronized measurement system, Data exchange between the measurement modules, the controller, and the automation system can be accomplished in a number of different ways from a simple serial interface (e.g. Modbus), Ethernet TCP/IP or UDP, or a number of industrial fieldbus systems (e.g. EtherCAT, Profibus DP, CANopen).
Q.bloxx Q.gateThe flexibility of this approach ensures that the Q.series will always be able to adapt to current and future communication interface requirements. The modular concept of the Q.series allows the design of a system that exactly meets the needs of the application at hand. Q.bloxx modules can be selected based on individual sensor measurement requirements including acquisition rate (from 100 Hz to 100 kHz per channel), input/output type (dedicated, universal, multifunction, ICP and IEPE sensor support, TEDS support, etc.).
All modules are 'Hot Swappable' with auto-loading configurations and addressing, making system scalability and serviceability extremely efficient and effective – at system start up or several years down the road.
Wind power
Wind powerThe e.series provides the basis for measuring mechanical loads on wind turbines (IEC 61400-13). The capability of distributed location of the measuring modules, the ability to capture all signals present, including mechanical signals (DMS), meteorological, electrical and position values, and the connection of the modules to the controller using fiber optical cable, satisfy all significant criteria required for wind turbines.
The e.pac DL, high performance test controllers, also allow PC-independent positioning. In this case the controller captures the signals from the modules, calculates statistical data such as the minimum and maximum, standard deviation and mean (vector averaging for wind direction), and saves the dynamic (100 Hz) as well as slow (1Hz) values and the statistical data (10 min) in a USB storage device. If required the controller can also monitor key values such as turbulence and send emails on any events to desired addresses.
Wind powerSystems with an integrated PC can also be laid out very efficiently with this solution. In this case the controller provides only the unprocessed values on the test.node server solution installed on the PC. Here the statistical data is calculated, the alarm management and other conditioning test.nodes create a data directory on a desired drive in the network, e.g. on a virtual server and save the data in sorted form in the usual formats (e.g. FAMOS). A test.viewer is used for visualization.