Output Modules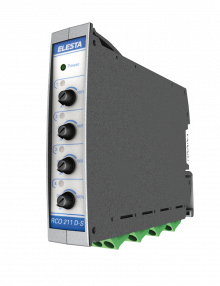 The fine modular Input/Output design with its individual modules offers an optimal coverage of the demanded input and output configurations. The integration of the manual override into the output modules leads to a reduction of equipment variety and the wiring efforts. The output module with integrated manual override, allows direct interventions on the connected field devices. This is independent from the functionality of the bus or the master controller. The automatic feedback via the bus is of course integrated, both for the control signals as well as for the manual override mode.
The output modules are avaiable with or without manual override ability.
Your benefit:
Reduction of the variant variety. Same modules can be used for DIN-rail mounting and panel door mounting
Automatic feedback of the control signals as well as for the manual override mode.
Reduced wiring efforts by the use of T-bus connectors for the power and bus connection and the integrated manual override
230V/4A outputs of the digital output module
Modular, scalable System
Minimum size requirements through small dimension
Simple Plug-in-mounting
Good accessibility for wiring and commissioning through pluggable 45° clamps
Signalisation through 2 coloured LED's per output
RCO-view
Controlesta RCO-view
RCO-view is a web based Building Management Software designed on the modern Microsoft. Net-Framework technology. The client server architecture provides the simultaneous access for different users (multi-user) to an installation. The software offers an intuitive freely configurable graphic user interface for the operation and monitoring of technical installations with the building automation system Controlesta RCO D. The Web server of the Controlesta RCO-view allows the password-protected user access over Intranet and Internet from any PC in the network, respectively from any PC, notebook or PDA with internet access.
Your benefits:
License free access as client
Central access management for user and user-groups
Multi-User capable
Log-files (Alarms, User scope, value changes, etc.)
Standard Browser (Firefox,IE) as user interface
Low hardware requirements and costs for clients
No installation of software on the web clients necessary
Integrated engineering
Free configurable user interface
Comprehensive Widget-Library for dynamic animations, animated graphics, etc. in 2D and 3D
Support of numerous graphic formats (GIF, JPEG, PNG)
Executable on Windows XP Professional or Windows Vista Business Edition
Heating controller RDO131A106 with digital weekly times switch

Heating controller with digital time switch with daily and weekly program for boiler temperature regulation according to outdoor and/or room temperature. Direct control of a 1-step burner, a direct boiler-heating and a mixing valve-heating circuit and the hot water loading.
Applicable as:
Boiler control 1 stage with ON-OFF output for burner control and
Mixing circuit tri-state control
Mixing circuit ON-OFF and
Demand dependent pump control
Connection for a remote control
Sensors
Sensors – Overview
Elesta offers a wide range of temperature sensors in NTC, KTY81-110 (PTC) and Pt1000 execution. Additionally air quality sensors, combined humidity/temperature sensors, room temperature sensors, sensors and air flow sensors. On request also CO, CO2 and NO2 sensors can be offered.
Permissible electric two-conductor connection for quick and reliable installation
Simple mounting
High time-stability
Zone-/Compact valves + act.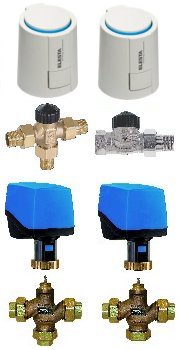 Zone-/Compact-Valves – Overview
The zone valves in combination with the thermal or modulating actuators offers application optimized room or zone control as control valves in heating zones, AHU's, convectors, etc.
They create comfort and together with the Controlesta RCO system they support the energy-efficient execution of new building or modernization projects.
The compact valves together with the actuators find their application as control valves in heating, ventilation and air conditioning applications with hot or chilled water up to max. 100°C medium temperature.
Complementary product portfolio
Products with high control accuracy
Thermal actuators universally applicable also for other valve types