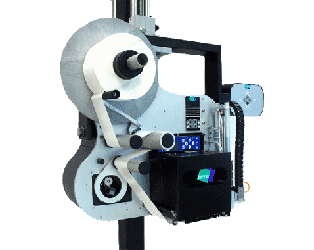 Arca Light
 
For applying 1 label on a product, providing all the reliability of the simplest solutions.
Complete Systems Light
Systems equipped with:
Horizontal and vertical labeler position using handwheels and millimetered scales, for fine settings and effortless format changeovers. All operative adjustments and format changeovers are performed without tools.
Flat lying labelers (for lateral labeling) can be positioned during the installation phase, even angled on 2 axes.
Variable height conveyors aligning to worktops.
Base features adjustable support feet for easy setup.
SYNCHRO-SPEED: Operating speeds for all product handling devices (spacers, chain aligners, lateral and upper stabilizers, wrapping units, adapters) are automatically synchronized to the master speed set for the conveyor.
A coordinated start command is available for controlling all devices on the system. Independent start and speed end settings are also possible for each utility.
Featuring integrated control panels for total protection of electrical systems from impacts and electromagnetic disturbances. Electrical system boxes, for a maximum of 6 electric units, are equipped with a key-protected control panel switch (photo shows a box for just one electrical unit).
Request a Quote
Arca LIGHT SYSTEMS – TECHNICAL SPECIFICATIONS
for standard and variable versions, depending on specific system configurations
Single phase voltage supply 120V – 60 Hz or 220/230V – 50 Hz
other voltages available on request
Power supply max 1.6 KVA
Compressed air (systems equipped with pneumatic units)
pressure min 87 psi (6 bar)
consumption max 18.5 gal/min (70 l/min)
Maximum overall dimensions for systems equipped with Labelers with ø15" (380 mm) reel holder
width max 51" (1300 mm) (with "flat-lying" labeler for applications 10/11)
length max 80" (2000 mm) (except if using longer conveyors)
height max 82" (2100 mm) (with top labeler for applications 12/13)
Working height with rubber belt adjustable from 31" (800 mm) to 35" (900 mm)
Working height with Delrin chain adjustable from 33" (850 mm) to 37" (950 mm)
Wheels increase working height (min and max) 2.75" (70 mm)
Working height can be further increased using fixed spacers
Protection class NEMA 13 (IP54)
Operating temperature min 41° F/ max 104° F (min 5° C / max 40° C)
Weight max 550 lbs (250 Kg)
Solid
A strong base for applying 2 labels on a product, with all the reliability of the simplest solutions.
Arca ETIC Solid Labeler FBPA Solid Labeler
SOLID SYSTEMS – TECHNICAL SPECIFICATIONS
for standard versions
(may vary in relation to the specific system configuration)
Power supply max 2.2 KVA
Maximum overall dimensions systems equipped with Labelers with ø15" (380 mm) reel holder and standard conveyors 5" x 79" (135 x 2000 mm)
Solid 12+14 Solid 20
width 35" (900 mm) 59" (1520 mm)
length 86" (2200 mm) 79" (2000 mm)
height 86" (2200 mm) 63" (1600 mm)
Working height with rubber belt Solid 12+14
adjustable from 35" (900 mm) to 43" (1100 mm)
Solid 20
adjustable from 31" (800 mm) to 35" (900 mm)
Working height with Delrin chain Solid 20
adjustable from 33" (850 mm) to 37" (950 mm)
Wheels increase working height (min. and max) 2.75" (70 mm)
Operating temperature min 41°F / max 104°F (min 5°C / max 40°C)
SkyTech
Strong expandable systems for applying from 1 to 4 labels.
Arca SkyTech Labeler
All the advantages of Light systems, and more:
Double control panel for enhanced operation on both sides of the system.
Raised electrical system enclosure, featuring enhanced protection and closer to power supply.
Cabling integrated inside the structure.
Pneumatic components (if present) are contained in a dedicated enclosure.
Can be equipped with PLC, and cabin-encased accident-protection system.
Skytech systems are also available in "COMBI" and "NO-STOP" configurations.
Arca Additional Features:
Arca PLC Controller
 
Advanced Graphical Interface
Elevated metal cabinets, with ergonomically positioned control panels. Key-lock main control panel switch (operator side) and centralized double emergency stop (with remote) even for pneumatic units.
Additional control panel on secondary side.
Electronics include alarm management functions with a buzzer, 3 – light warning device, and start timer for starting up the system in complete safety.
Cabin encased accident-protection system.
Siemens S7-300 PLC with Simatic Touch Screen Panel.
Arca SKYTECH SYSTEMS
– TECHNICAL SPECIFICATIONS
for standard versions (variable depending on specific system configurations)
Single phase voltage supply 120V – 60 Hz 220/230V – 50 Hz
Power supply max 2.9 KVA with 3 Labelers
Compressed air (systems equipped with pneumatic units)
Maximum overall dimensions for Systems equipped with Labelers (with ø15″ (380 mm) reel holder)
width with 2 lateral labelers max 81" (2050 mm)
with 1 lateral labeler max 60" (1520 mm)
length min 79" (2000 mm)
max 118" (3000 mm)
height depending on the configuration
max 79" (2000 mm)
with top labeler: max 83" (2100 mm)
Worktop height adjustable from 31" (800 mm) to 35" (1000 mm)
with casters from 34" (870 mm) to 42" (1070 mm)
other heights available on request
Operating temperature min 41° F / max 104° F (min 5° C / max 40° C)
Weight max 882 lbs (400 Kg)
A complete range of in-line systems for labeling parallelepiped and elliptical or round based containers (cylindrical and conical).
Reduced dimensions and all the flexibility of the self-adhesive. No glue to feed, to heat, to clean. And above all, extremely fast set up, no need to substitute mechanical parts (size change), typical of rotative movements.
Working adjustments and size changes which can be performed without tools.
Advanced technical solutions to increase productivity.
High quality and simple design components to increase reliability and reduce operational costs.
All systems are customized for your specific requirements and can be equipped with label applicators and Print & Apply machines.
Arca OPEN STRUCTURE
The open structure of these systems eliminate restrictive paneling and allows for easy cleaning and maintanence.
Made of steel, AISI 304 stainless steel or Fe360B coated with oxidation resistant epoxide powder varnish. Both versions include an anti-scratch finishing.
A careful study of weights, and center of gravity, guarantees the greatest stability in all industrial settings. The total absence of vibrations is fundamental for the most accurate labeling!
All systems are equipped with adjustable feet to verify they are in an optimal position.
AS Open Frame
Compact, end of line labeling solution for applying labels and barcodes onto formed cartons.
AS VIGNETTES Open Frame
Compact base, with reduced clearance requirements, guaranteeing improved operating performance. Built in AISI 304 stainless steel square sectioned tubing, with a shot-blasted finish.
All photocells (fibre optic and direct reading) are positioned between the belts and do not hinder the operating area.
Stabilizer comprising two opposing belts accompanying the carton laterally during the application phase, contributing to labeling accuracy and favoring the handling of imperfectly closed cartons.
Independently driven, electrically controlled spacer and stabilizer. No mechanically derived handling, thereby increasing accuracy while cutting down on wear and noise emissions.
Adjustments provided by handwheels and re-circulating ball screws, complete with numerical position indictors.
Air-blow ejector (up to 400 pcs/min.) or with pneumatic cylinder (up to 300 pcs/min.).
Stainless steel collection bin for ejected products, featuring a transparent polycarbonate shutter with key-lock opening and access-proof latches.
Adjustable support feet (max. 4" (100 mm)) with a supple rubber base reducing vibrations; ready for boring holes for floor fastening.
Electrical system box set inside a stainless steel cabinet, easily accessible from the back of the system.
Control panel ergonomically positioned for the operator, illustrated with simple intuitive icons.
Synchro speed for simultaneously varying the speed of all product handling devices (using a single gain switch).
Labeler Automatic Speed Control adapts the labeling speed to the system's operating speed.
Quick set-up, thanks to labeling programs allowing for the memorization of all application settings.
AS VIGNETTE – TECHNICAL SPECIFICATIONS
Label product sizes
width length
min 2.6" (65 mm) 1.2" (30 mm)
max 9.8" (250 mm) 4.7" (120 mm)
Maximum productivity 400 pcs/min.
Labelers available for installation EVOLUTION
WIND
Single-phase voltage supply 120V – 60 Hz or 220/230V – 50 Hz
Power supply max 1.1 KVA
Compressed air
Maximum overall dimensions for Systems equipped with Labelers (with ø15" (380 mm) reel holder)
OPEN FRAME BLOCK
width max
39" (1000 mm) max
40" (1020 mm)
length max
24-39" (600/1000 mm) max
35-39" (880/1000 mm)
height max
83" (2100 mm) max
83" (2100 mm)
Worktop height adjustable from 31" (800 mm) to 35" (900 mm)
customized heights available on request
Weight max 600 lbs (270 Kg)
(1) the correct operation of ejection devices should be checked at maximum speeds according to the size of the products to be used
(2) prospective product dimensional tolerances should be taken into account in addition to the declared accuracy
AS Block
Integrates all features of the open frame system, with the addition of protective paneling and integral safety guards.
AS VIGNETTES Block
Stainless steel base paneling protecting the lower section of the machine housing the electric motors and pneumatic components (no motors or kinematic mechanisms on operating area.
Integral safety guards in transparent polycarbonate, featuring a top dustproof cover and safety microswitch. Vertical door opening does not obstruct surrounding area.
Ergonomically positioned removable housing for quick reel changes (equipped with a motorized pre-unwinder) up to 15″ (380 mm) diameter.
Reel housing and all adjustments are accessible from the operator side; no need to open the machine safety guards.
Length of Block base 28.7″ (730 mm) (conveyor 34.6″ (880 mm) or 39.4″ (1000 mm) with disk spacer); width 37″ (940 mm) (40.2″ (1020 mm) at ejected product bin protrusion point).
Single-phase voltage supply 120V – 60 Hz or 220/230V – 50 Hz
24-39"
(600/1000 mm) max
35-39"
(880/1000 mm)
AS Cardboards
High speed labeling system for flat lying cartons and similar products.
The system is suitable for both jointed or still expanded cartons and is also available in a version for labeling credit cards, telephone cards and garment tags.
Available in Iron version with an epoxy powder scratch-proof finish, or Steel version in a shot-blasted AISI 304 stainless steel finish.
AS Cardboards AS Cardboards in Steel version, complete with ejector, collection bin and PLUS graphic interface with Inspector functions for correct labeling control and code readability on cartons and vignettes.
Vertical loading hopper, adjustable for labeling products of various formats.
The feeder has a belt driven continuous dispenser for thin products whose thickness is comprised between .01 and .20" (0.4 and 6 mm)
All devices are equipped with a minimum load alarm check.
Ejector (high speed) for non-labeled products, non-readable or non-conforming barcode.
Ejected products collection bin fitted with a transparent polycarbonate shutter.
High-grip four band rubber conveyor with suction holes and vacuum partialization for improved product adherence regardless of its width.
Vacuum pump, protected by paneling internally lined with non-toxic sound-absorbing fireproof material.
Labeled products collection device with horizontal accumulation (products partially overlapping), using independent variable-speed rubber belts.
Possibility of IQ/OQ validation according to GAMP standards.
AS CARDBOARDS – TECHNICAL SPECIFICATIONS
Label products sizes
thickness width length
min 0.02" (.4 mm) 3" (68 mm) 1" (30 mm)
max 0.24" (6 mm) 10" (250 mm) 6" (150 mm)
Maximum productivity and Labeling accuracy up to 400 pcs/min (1) +/- 0.04 " (1 mm)(2)
Labelers available for installation EVOLUTION, WIND, FLASH
POWERKIT, VALUE, AIR
Power supply max 2.6 KVA
Maximum overall dimensions for Systems equipped with Labelers (with ø15" (380 mm) reel holder
width max 39" (1000 mm)
length max 110" (2800 mm)
heigth max 75" (1900 mm)
Worktop height adjustable from 39" to 41" (1000 to 1050 mm)
Rotary Vial Labeling and Inspection System
The function of our innovative, multi-purpose Rotary Vial Labeling and Inspection System is not only to Print and Apply labels onto vials, but also to perform multi-point inspections that verify 100% accuracy of the product. The process begins with vials being fed into the machine from trays or from an infeed conveyor. An Arca Labeling System prints a product lot number and expiration date on the label. A vision system then inspects the label for accuracy of the printed data as well as the accuracy of the pre-printed bar code or data matrix. The label is then applied and immediately re-inspected for label presence as well as color band or cap. Any rejected vials are unloaded into a locked reject bin, while accepted vials are loaded into trays to a predetermined count or in the case of continuous flow, sent downstream to the next process.
Features of our Rotary Vial Labeling and Inspection Systems:
Injet Printer Close Up
Handles vials / ampoules ranging from 1ml (~6.5mm dia) to 150 mL (~55mm dia) and up to 100mm high.
Up to 200 vials per minute depending on vial size.
100% accurate count system.
Servo driven rotary indexer.
Compact machine footprint.
Quick changeover for different sized vials.
Print engine for date and lot code can be specified by customer for in-house compatibility.
Inspection system for 100% good product only.
Vision inspection system verifies:
Pre-printed 1D & 2D bar code
Date and lot code
Label presence
Color cap / color band
Allen Bradley Compact Logix PLC platform.
Allen Bradley PanelView Plus HMI.
Lockable reject bin.
Operator assisted tray-in, tray-out systems.
Automatic inline systems for constant flow.
Single operator for tray type systems – no operator for inline systems.
All FDA compliant materials.
Can input to serialization data collection system.
Entirely customizable per your specific requirements.
EasyLiner Print & Apply
Easyliner EasyLiner
Our most cost-effective Print & Apply System, the EasyLiner is built around the concept of simplicity. The robust Print & Apply is a compact machine that is based on Arca Automation's very successful Easy Label Applicator and is designed for applications that do not require high speed or LINERLESS capabilities.
It features the proven Sato LT408 digital print module and basic machine controls which ensure ease of operation. EasyLiner is versatile and can be equipped with two applicator options; an HPS 200/400 Tamp Applicator (pictured left) or EASYJET Blow Applicator (pictured right) based on your specific application.
Its small footprint makes it perfect for applications with limited available space and it is suitable for all industrial settings.
Main Characteristics:
• Label Reel Housing Diameter: External Reel Max: 9.8in (250mm), Core: 1.77in (45mm) or 3in (75mm)
• Max Paper Width: 4.48in (114mm)
• Minimum Label Dimension: .51 x .59in (13 x 15mm)
• Maximum Printing Area: 4.09 x 49.17in (104 x 1,249mm)
• Power Supply: 120 V – 60 Hz
The Machine Frame Includes:
A mechanical hook mandrel and mechanical un winder
A luminous switch for resetting alarms
A CPU (electronic logic PNP) with a 32 MHz processor and firmware on programmable Flash Memory
Preset for installation of end-of-reel optical control (optional) and output signal connector.
Sato LT408 Printer Specifications:
MODEL LT408 OEM Print Engine
PRINTING SPECIFICATION
Print Method Direct Thermal/Thermal Transfer
Print Resolution 203 dpi (8 dpmm)
Print Speed 2 to 6 ips (50 to 150mm/s)
Max. Print Area 4.09″ (104mm) W x 49.2″ (1,249mm) L
MEDIA SPECIFICATION
Sensor Type Reflective Sensor (for use with pre-printed marks)
Adjustable See-Through Sensor (for die-cut label with gap
Media Type Die-Cut Labels, Waste Removed, Roll, 0.125″ gap
Media Size Width 1.125″ – 4.52″ (28.6mm – 115mm)
Length 0.6″ – 49.2″ (15mm – 1,249mm)
Thickness 0.003″ – 0.010″ (0.08mm – 0.26mm)
Outer Diameter Max. 12″ (305mm) Unwind Roll – Applicator Specification
Ribbon
(CSI/CSO) Width 0.98″ – 4.37″ (25mm – 111mm)
Length Up to 1476′ (450 m)
MEMORY
Processor 32-bit RISC
Memory 4MB Flash ROM / 16MB SDRAM
Receive Buffer Max. 2.95MB
FONT / SYMBOLOGIES
Internal Fonts Standard Fonts XU, XS, XM, XB, XL, Outline, OCR-A, OCR-B
TrueType Fonts CG Times (Serif), CG Triumvirate (San Serif)
Barcode Symbologies Linear UPC-A/E, EAN-8, EAN-13, Code 39, Code 93, Code 128, Codabar, MSI, Bookland, Industrial 2/5, Interleaved 2/5, Matrix 2/5, Postnet™, GS1-128, GS1-DataBar™, Intelligent Mail® Barcode (IMB)
2-Dimensional PDF417, Micro PDF417, Truncated PDF417, Maxicode™, Data Matrix, QR Code, Composite Symbology
INTERFACE CHARACTERISTICS
Standard (choose one) IEEE1284 (Parallel); RS232C Serial (25-pin); USB, LAN (10BaseT/100BaseTX auto-switching)
Interface Options Wireless LAN (802.11g), RS422/485
EXT Port (Applicator Interface) 14-Pin Centronics style connector
OPERATING CHARACTERISTICS
Power Requirments 100 – 240 VAC (+/- 10%); 50/60 Hz; Auto-Switching
Environment Operating 41° – 104°F (5° – 40°C); 15% – 85% RH, non-condensing
Storage 0° – 140°F (-20° – 60°C); 15% – 85% RH, non-condensing
Regulatory Approvals FCC Class B, MET (UL60950-1/CSA60950-1), CE
Dimensions 13″ (330mm) W x 10.7″ (271mm) D x 10.6″ (270mm) H
Weight: 21.4 lbs. (9.7Kg) Standard Configuration
LinerPlus Print & Apply
LINERLESS Logo
LinerPlus Value LinerPlus Advanced
Arca Print & Apply machines are robust, efficient and extremely easy to use. They integrate Sato or Zebra digital printing modules, the worldwide standard of excellence in thermal transfer technology. They are suitable for any industrial environment, even the most extreme conditions.
LinerPlus App
LinerPlus can be modified to suit your specific application and labeling needs. The above images show the variety of options that can be applied to the LinerPlus.
A wide range of pneumatic applicators guarantee maximum flexibility and "real time" printing (last label printed is first applied). LinerPlus can be equipped with various control units including our advanced independent control unit.
This machine is for traditional pressure-sensitive labels. For information on our LINERLESS print & apply solution, click here.
AVAILABLE WITH:
APPLICATORS
HPS Applicator
HPS
PVT Applicator
PVT
Seal L Applicator
Seal L
Seal U Applicator
Seal U
Dual Action-R Box Applicator
Dual Action-R Box
Dual Action-R Pallet Applicator
Dual Action-R Pallet
Dual Action-One Stop Pallet Applicator
Dual Action-One Stop Pallet
LINERLESS Print & Apply
LINERLESS: The environmentally friendly solution to the labeling industry!
Linerless Video
Easy Labeler
LINERLESS labels are drawn from a self-adhesive continuous band wound over itself, exactly like adhesive tape, and "cut" to a desired length at the moment of application.
Self-adhesive LINERLESS labels are ideal for all logistical uses, whether they are applied on boxes, bundles or pallets, providing multiple advantages compared to traditional self-adhesive labels.
These machines can be readily equipped with a digital module for thermal transfer or direct thermo label printing and a pneumatic applicator.
Our LINERLESS Print & Apply Labeling System helps to preserve the environment while saving you MONEY!!!
Advantages of LINERLESS Labeling Systems
NO LABEL WASTE – With standard linered label construction, over half of the input material never appears on the package. With LINERLESS there is ZERO LABEL WASTE.
REDUCED RECYCLING COST – By eliminating ever increasing label liner recycling costs (since you cannot simply throw your release liner in a bin and drag it to the curb).
REDUCED FREIGHT COSTS.
REDUCED PACKAGING COSTS.
REDUCED INVENTORY COSTS.
INCREASED UPTIME – Up to 64% more labels per roll.
CHANGE LABEL LENGTH WITH A KEYSTROKE – No need to inventory multiple label sizes as the label length can be easily and quickly changed with a "Keystroke".
REDUCED OPERATOR INTERVENTION – Label roll changes are easy and fast due to labeling system's simple single directional web path.
IMPROVED SAFETY – Silicone release liners are slippery. Eliminating discarded release liner from the work environment greatly reduces the chance of slip and fall injuries.
IMPROVE YOUR "PACKAGING SCORECARD" with large retailers.
FEATURES
ø14" (360 mm) Reel holder.
Central mandrel prevents the deformation of reels and facilitates loading.
An optional optical control can be installed that alerts an end-of-label reel.
Unidirectional drive unit facilitates reel loading.
"U" shaped arm supports and adjusts the position of the machine (horizontally or vertically).
7.2" (183 mm) max paper width.
Minimum and maximum size of printing area on labels depends on the specific digital print module and vacuum pad installed.
CONTROL UNIT
The independent control unit, usually mounted on the machine's "U" arm, features four leds to signal alarms or machine status and four soft keys to manage dispensing start, stand-by, alarm reset and single manual label application.
The control unit is connected to the machine by die-cast cable and sealed to an industrial connector (CSA-UL).
The label position on the product is mechanically determined, by adjusting the product detection photocell along its support.
Inkjet Print & Apply
Inkjet Print & Apply machine
Developed in conjunction with Document Data Solutions (DDS), we are pleased to introduce the innovative Inkjet Print & Apply system. Utilizing HP technology, this system allows for high performance Print & Apply labeling, without the limitations of standard thermal transfer print modules. The Inkjet Print & Apply allows for faster labeling, higher resolution graphics and the elimination of thermal transfer ribbon consumables.
Reasons to choose Inkjet over traditional Print & Apply solutions:
SPEED: Capable of meeting production speed, Inkjet allows for label dispense rates of up to 2,000 inches per minute on the standard Evolution machine. Higher speeds are available utilizing our Wind or Flash models.
Print Flexibility: Inkjet has the capability to print all formats of barcode, data matrix and QR codes along with text.
Serialization at Production Speed: Inkjet provides the opportunity for Print & Apply serialization.
Greater Print Width Options: Print widths of ½ inch and 1½ inches and from 2 inches to 8 inches in 2 inch increments.
Print Quality and Color Options: Inkjet produces better print quality compared to traditional print modules and allows printing in a variety of colors.
Longer Run Time Between Consumable Changes: Ink application options to extend time between cartridge refills. Also, there is no longer a need for costly and bothersome thermal transfer printer ribbon.
Easy
We named it "Easy" for a reason! This labeler features an operator friendly control interface that is integrated into the machine frame and is conveniently located on a single panel. The simple machine adjustments are made by three multi-turn potentiometers (with locking device) that adjust:
Dispensing speed.
Label position on the peeler (pre-dispensing).
Labeling point (application delay) to avoid the need for manual movement of the product detection sensor.
In addition, a luminous button is available for "single shot" dispensing and alarm reset. Like all Arca labelers, EASY can work with an application start signal (trigger), by input from a product detection sensor or from an external PC/PLC.
These machines are designed and manufactured with the end user in mind for maximum simplicity and usability.
RIGID PEELER
ARTICULATED
SPRING PEELER
Articulated Spring Peeler
CONCORDE PEELER
Evolution
Evolution Labeler
With a labeling frequency of up to 800 labels per minute, this machine is capable of serving many of our customers' applications. Its robust structure makes it suitable in practically any industrial environment.
Our flagship labeler is also our most versatile! The Evolution revolutionizes the concept of "print & apply". Two worlds of labelers and print & apply have always been separate. However, thanks to an innovative concept of integration, the POWERKIT option, you can have the best of both worlds! This guarantees total flexibility and the possibility of upgrading the machine at any time.
The Evolution can be equipped with Sato or Zebra digital printing modules for full "print & apply" capabilities. When not required, the print module can be easily deactivated so that the labeler works as a normal high performance labeler. The Evolution's versatility is unmatched!
When not required, the print module can be easily deactivated so that the labeler works as a normal high performance labeler.
To read more about the POWERKIT click here.
The Evolution in action!
Available with a variety of peelers and applicators including:
PEELERS
Micro Applicator
MICRO
Articulated Pneumatic Peeler
Air Jet Applicator
AIR JET
POWERKIT
Power Kit Labeler
Using POWERKIT, a normal Evolution labeler can be equipped with a Sato or Zebra digital print module to provide full print & apply capabilities. When not required, the print module can easily be deactivated so that the machine works as a normal high performance labeler. POWERKIT and the print module can be installed at any time, even after purchase of the Evolution labeler.
Compared to conventional print & apply systems with pneumatic applicator, POWERKIT offers the following advantages:
Extremely high production output. The absence of pneumatic actuators eliminates the pneumatic cylinder's transfer downtime. In addition, thanks to the "label queue" provided by the POWERKIT, the print module operates continuously, both during labeling and during the time between the arrival of one product and the next.
Up to 6 outputs per second in short runs with medium-sized labels 4" x 4" (100×100 mm). The maximum frequency per minute is determined by the print engine selected.
Use of the print module at a lower speed.
Ideal for wrapping labeling.
Allows for the use of labels with largely different formats without the need to change the label plate.
Maximum dispensing precision (+/- .031" on peeler).
Wind Labeler
With a maximum dispensing speed of 328 feet per minute, the Wind is one of the industry's highest performing labelers. Designed for speed and accuracy, its components are specifically designed to reduce friction and optimize traction.
The control system features the latest generation of microprocessors and state-of-the-art firmware (developed by Arca), ensures extraordinary performance and unique results.
To get an idea of the speed of this labeler, see the below video:
RIGID
Rigid for Narrow Peeler
RIGID for "NARROW"
ARTICULATED SPRING