Siemens Automation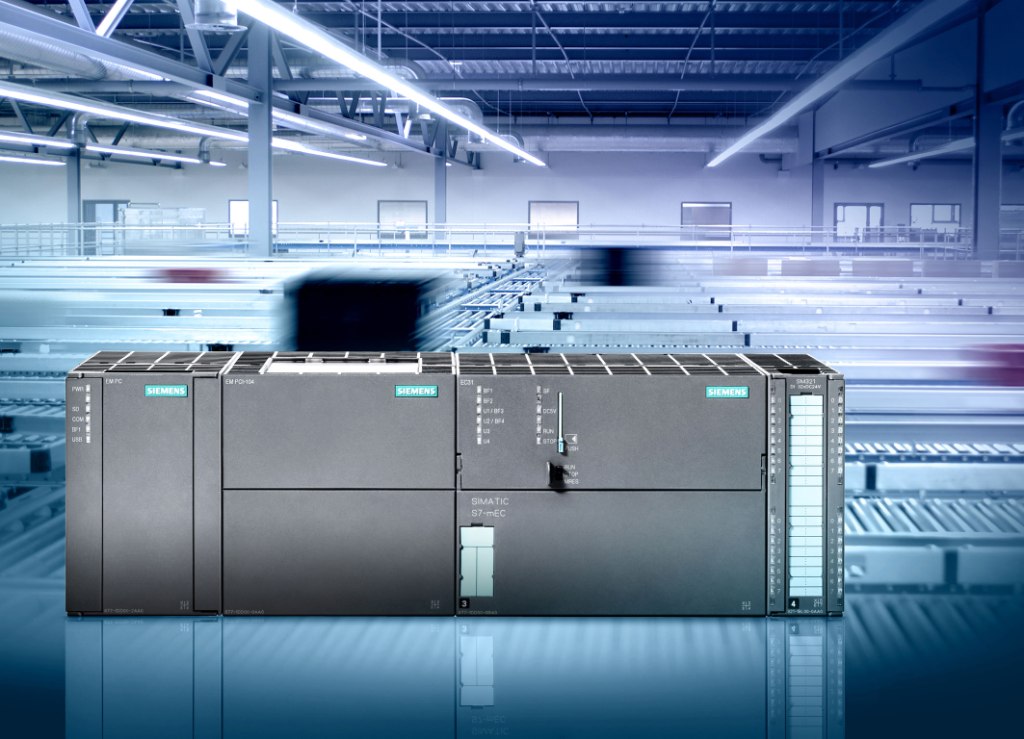 We are the Leading Traders and supplier of Siemens PLC, our journey stretches over several years of untiring endeavours highlighting constant Innovations as well as Commitment to Quality.
Siemens PLC S7 300
Item Code: S7-300
We offer wide range of Siemens PLC S7 300. We ensure the complete range conforms to international quality standards and accomplishes the complete requirement of the customers.These are available at very reasonable prices and are known for their superior features, like excellent performance, high efficiency, simple installation, easy maintenance and long service life.
The product range comprises 7 standard CPUs,
7 compact CPUs, 5 fail-safe CPUs and 3 technology CPUs.
The CPUs are available from a width of only 40 mm
S7-300 is used in the following industries:
Automobile industry
General mechanical engineering
Building of special machines
Series mechanical engineering, OEM
Plastics processing
Packaging industry
Food and Beverage industry
Process engineering
Fast counting/fairs with direct access on the hardware counters
Simply positioning with direct control the MICROMASTER frequency static frequency changers
PID-Regulation with integrated functional module
Siemens PLC S7 1200
Item Code: S7-1200
We have excellent range of Siemens PLC S7 1200 which have an excellent designs and they provide a high quality of integration between the controllers and provide an effective performance to the clients. It offers very accurate and precise carrying out of the automation tasks.
Features:
Scalable and flexible designs
Reasonable price
Reliable
Integrated Profinet System
PID Functionality for close looped systems
Specifications:
The SIMATIC S7-1200 system is available in five models, CPU 1211C, CPU 1212C, CPU 1214C, CPU 1215C and CPU 1217C. Each can be extended to meet any machine's requirement. The digital and analog I/Os can easily be expanded without affecting the physical size of the controller by installing a signal board inside the front of the CPUs. Connecting signal modules at the right side of the CPU increases the digital and analog I/O capacity even further. CPU 1212C can accommodate two, and CPU 1214C, CPU 1215C and CPU 1217C up to eight signal modules. All SIMATIC S7-1200 CPUs can be equipped with up to three communication modules on their left side for point-to-point serial communication, PROFIBUS Master/Slave, GPRS communication, AS-i and more Fieldbus systems.
Siemens PLC S7 200
Item Code: S7-200
Our company is well known in the industry for the manufacture and treading of an excellent range of automation products which are high on demand in the market.The SIMATIC S7-200 Micro PLC has a consistently modular design – for customized solutions which are not too large for the present but open-ended enough to be expanded anytime in the future. All this makes the SIMATIC S7-200 Micro PLC a highly effective and economical solution for automated control in the compact performance range.
Benefits
SIMATIC S7-200 delivers consistently economical solutions. The entire system family features
powerful performance,
optimum modularity and
open communications.
Weltweit bewährt sich die S7-200 durch ihre Fülle an herausragenden Eigenschaften in Anwendungen über alle Branchen:
Small and compact – ideal for any applications where space is tight
Basic and advanced functionality in all CPU models
Large program and data memory
Outstanding real-time response – being in total command of the entire process at any time means increased quality, efficiency and safety
Easy-to-use STEP 7-Micro/WIN engineering software – ideal for both beginners and experts
Integrated R-S 485-interface or use as system bus
Extremely fast and precise operational sequence and process control
Complete control of time-critical processes by time interrupts
CPU 221
Compact CPU for simple automation tasks – The best compact device if you want to change to an effective solution that performs simple automation tasks very economically. Also available with an extended temperature range.
CPU 222
Expandable compact CPU for more complex tasks – The capable, compact package for more complex machines and small system solutions.
CPU 224
CPU for higher communication and computing requirements – The high-performance CPU for complex tasks that require speed and special communication capabilities.
CPU 224 XP
CPU for simple drive tasks – The CPU 224 version for convenient implementation of simple drive tasks – with two interfaces, two analog inputs and one analog output, as well as two 100-kHz pulse outputs and two high-speed 200-kHz counters.
CPU 226
High-performance CPU for larger technical tasks – The versatile high-performance CPU for complex automation tasks with expanded inputs and outputs as well as two RS485 interfaces.
Siemens PLC S7 400
Item Code: S7-400
We offer wide range of Siemens PLC S7 400. It offers very accurate and precise carrying out of the automation tasks. This product can easily carry out both complex as well as simple tasks and provide an excellent performance to the customers, hence they are high on demand. All CPUs control large quantity structures; several CPUs can work together in a multicomputing configuration to boost performance. Thanks to their high processing speed and deterministic response times, the CPUs enable short machine cycle times.
Applications
The S7-400 is especially suitable for data-intensive tasks in the process industry. High processing speeds and deterministic response times guarantee short machine cycle times on high-speed machines in the manufacturing industry.
The S7-400 is used preferably to coordinate overall plants and to control lower-level systems. This is guaranteed by the high communication power and the integral interfaces.
S7-400 finds successful application here:
Automotive industry
Standard mechanical equipment manufacture incl. custom mechanical equipment manufacture
Warehousing systems
Building engineering
Steel industry
Power generation and distribution
Paper and printing industries
Woodworking
Textile manufacture
Pharmaceuticals
Food and beverages industries
Process engineering, e.g. water and wastewater utilities
Chemical industry and petrochemicals
Siemens S5 PLC
Item Code: S5PLC
We offer wide range of Used Siemens S5 PLC.The S5 PLC is used preferably to coordinate overall plants and to control lower-level systems. This product is made for meeting the automation demands of industrial processes such as control of machinery on factory assembly lines.
Siemens Logo PLC
We are the leading traders and suppliers of Siemens Logo PLC. Our products are made from high quality of raw materials and latest technology.
Siemens Logo PLC
We are offering wide range of Siemens Logo PLC. These are made from high quality raw material. These are used to display of message texts, setpoint and actual values as well as direct modification of the values on the display.
Voltage: 115 v
Max. Temp.: 80oc
Min. Temp: -40oc
Area of applications:
Motor, pump and valve controls
Air compressors
Exhaust and filtering systems
Water-treatment plants
Woodworking machinery
Etching and purification plants
Transport facilities:
Conveyor systems
Hoisting platforms
Elevators
Silo facilities
Livestock feed delivery
Operational monitoring systems:
Access control
Vehicle control monitoring
Alarm systems
Level limit monitoring
Traffic light control systems
Baggage handling
We offer wide range of Siemens LOGO PLC. These are made from high quality raw material. with the option of selecting 38 integrated functions and linking them with up to 200 blocks. Operator control and monitoring are made extremely user-friendly by means of a backlit display with 4 lines and a maximum of 32 characters per line.
Power: 6 kw
Voltage: 34 v
Power Supply Sitop
We are manufacturer and supplier of Power Supply Sitop. Our range of products include Power Supply Sitop such as Sitop Smart, Sitop Modular, Sitop Lite, Sitop Compact and Logo Power.
Sitop Smart
Sitop Smart
We offer to our valuable clients Sitop Smart.This has compact dimensions, a strong performance, and a favourable price and it has an outstanding overload withstand capability. So much so even large loads can be switched on without any problems. These are made from high quality raw material.
Output voltage: 24/48 VDC
Output Current: 24 mA
Sitop Modular
Sitop Modular
We are leading supplier of Sitop Modular Power Supply. This allows a connection to almost any electrical power system worldwide and ensures a high degree of safety even if there are large voltage fluctuations. The highlight is the modular design comprising a basic unit which can be supplemented by add-on modules with further functions.
Output Power: 24 VDC
Output current rated value: 40A
Sitop Lite
Sitop Lite
We offer wide range of Sitop Lite. The wide-range input with manual switchover supports connection to a wide range of 1-phase supply systems. Thanks to the narrow width, the primary switched-mode regulators require little space on the DIN rail and can be easily integrated.
Input current: <27 A
Voltage: 24 VDC
Sitop Compact
Sitop Compact
We present wide range of Sitop Compact. The power supplies are characterized by their low power loss over the entire load range. Power loss is extremely low even during no-load operation, which is why they are ideal, for example, for the efficient supply of machinery and equipment that are often in stand-by mode.
Operating temperature: 20oc to 70oc
Logo Power
We offer to our valuable clients Logo Power. The new miniature power supply units offer great performance in the smallest space. The high efficiency over the complete load range and the low power loss during idle time guarantee efficient operation. The wide input voltage range now also allows the connection of DC voltage, the switch-on response has been optimized for capacitive loads, and the operating.
Size: 16 x 17 x 18 cm
Power: 5 kw
Human Machine Interface
We are the Leading traders and service providers of Human Machine Interface. Our journey stretches over several years of untiring endeavours highlighting constant Innovations as well as Commitment to Quality.
Human Machine Interface
We are profound manufacture and supplier of Human Machine Interface (HMI). These HMI are made using latest technology. The product is well known among the clients for the high level of durability, excellent performance and the reliability which the product offers to the clients. This product is very easy to install and one of its best qualities is that it has a very simple configuration and is easy to operate. These are made from high quality raw material.
Efficient performance
Latest technology
Cost effective
Display type: 6.5″
Nand flash Rom: 2 gb