PLC Programming Cable for PC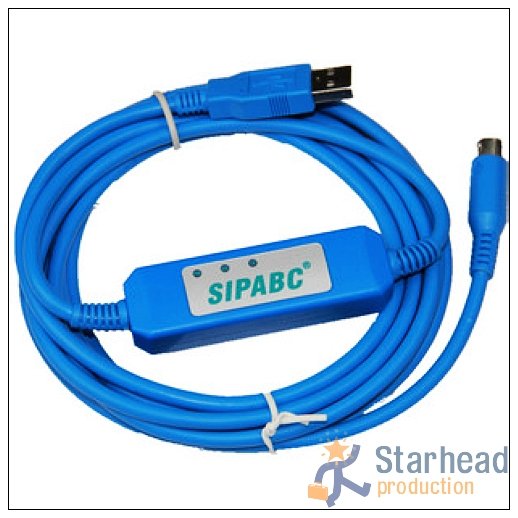 We are renowned as the most popular enterprises in this industry, offering a wide gamut of PLC Programming Cable such as PC-TTY Siemens Cable For S5 PLC, CQM1-CIF02 OMRON, Cable Allen Bredly 1761-CBL-PM02, SC09 Programming Cable Mitsubishi and many more items.
PC-TTY Siemens PLC Cable For S5 PLC
PC-TTY Siemens PLC Cable For S5 PLC
Item Code: Simatic
These cables are used to communicate and program S5 Siemens PLC
Specifications:
Programming Cable for S5 Siemens PLC
Software and USB version also Available
Al types of S5 Siemens Spares also Available
S5-95U
S5-115
CPU100
CPU101
CPU102
CPU103
PLC basics,PLC Training,prorammable controller,PLC Software,PLC cable,SCADA,Training PLC,micrologix,mitsubishi PLC programming Cable,Siemens PLC cable,Omron PLC Cable,Schneider PLC cable,telemecanique PLC cable,Modicon PLC Cable,HMI Cable,Delta PLC Cable,PPI cable,MPI Cable,SC09 cable,TSX Cable
Other Information
Minimum Order Quantity: 1 Set
Omron PLC Cable CQM1-CIF02
Omron PLC programming interface RS232 OR USB cable,
RS232 / peripheral port,
CPM1, CPM1A/2A, CQM1,
C200HS, C200HX/HG/HE
and SRM1 Series
USB VERSION ALSO AVAILABLE
Cable Allen Bradley 1761-CBL-PM02
Item Code: micrologix
PLC programming cable for Allen Bredly make Micrologix PLC
Micrologix 1000
Micrologix 1100
micrologix 1200
micrologix 1400
Siemens PLC cable MPI
Item Code: PCMPI
PC-MPI cable or USB-MPI cable.
For Siemens s-300/400 PLC
For s7-200/300/400 special version also available
Siemens PLC cable PPI
Item Code: PPI
For S7-200 PLC make Siemens
USB version of PPI cable also available
S7-200CN
SC09 Programming Cable Mitsubishi
SC09 Programming Cable Mitsubishi
Item Code: SC09_Mitsubishi
Mitsubishi PLC Programming Cable
Melsec PLC programming Cable
PLC cable
PLC programming Cable Mitsubishi PLC for:
FX1S Series
FX1N Series
FX2N Series
FX3U Series
A Series
Q Series (Big size Module)
Remark: USB version of SC09 cable also available OR separate USB converter Also Available
We Keep all types of PLC programing Cables and HMI Communication cables in Stock
USB-SC09 Programming Cable
PLC Programming Cable Mitsubishi QC30R2
Item Code: QC30R2
Q series mitsubishi plc programming cable
Model : QC30R2
Delivery : ex stock
Warranty : 6 months
Omron PLC Programming Cable CN226 CQm1H
Omron PLC Programming Cable CN226 CQm1H
Item Code: CN226
PLC programming cable for Omron make PLC for PLC model : CQM1H, CJ, CS, CPM2C
Cable Model : CS1W-CN226
NAIS PLC Programming Cable
Item Code: Panasonic_Nais
PLC programming cable for NAIS PLC suitable for PLC model NAIS FP1/FP3/FP5:
Model : USB-8551
NAIS PLC Programming Cable AFC8513
Item Code: panasonic
PLC programming cable for NAIS PLC suitable for PLC Model: NAIS FP0/FP2/FP-M Series PLC
Model : USB-AFC8513
Warranty : 06 months
Panasonic Cable
Schneider PLC Cable TSX
Item Code: modicon
Schneider Modicon PLC Cable For Twido Micro Model TSX PCX 3030/TSX PCX 1030
PLC programming cable for PLC make Schneider/Telemecanique/Modicon:
Twido
Micro
Premium
With USB adapter and driver
RS232 to USB Converter
Item Code: USB
A perfect Solution for RS232 to USB conversion to communicate with PLC and Laptop, as today's laptop are not having serial port (RS232).
This is Well tested adapter for ALL PLCs and HMI. Some People Choose to buy the Chinese adapter which is available from 200 to 300 rs, But these can work for One PLC and Not for another, also sometimes it is observed that sometimes these Chinese adapter works and sometime it does not work.
Plz buy with confidence with one year warranty.
Allen Bradley PLC Cable 1747-PIC
Item Code: RSlogix
Description:
This is a direct replacement cable for Allen Bradley Programming Cable 1747-PIC SLC5/00-5/03 necessary for communication/programming the SLC 5/00, 5/01, 5/02 or 5/03
Siemens Logo Programming Cable
Item Code: Logo_cable
PLC programming Cable for Siemens PLC LOGO version
Siemens PLC cable
Logo Cable
Siemens Programming Unit 605U For S5 PLC
Item Code: Simatic_S5
This is hend held unit to program S5 PLC
Buy with confidence
USB to RS485 Converter
USB to RS485 Converter
Item Code: RS485
RS232 to RS485 and RS232 to RS422 Converter
Item Code: RS422
RS-232 to RS422/RS485 Converter Make Hexin
USB To RJ45 Ethernet Converter LAN Adapter
Item Code: RJ45
Features:
Integrated Fast Ethernet MAC, Physical Chip and transceiver in one chip.
Supports 10 Mb/s and 100 Mb/s N-Way Auto-negotiation operation.
Compliant to USB interface Version 1.0/1.1/2.0.
Full-Speed(480 Mb/s) USB Device.
Support all USB standard command.
Support Suspend/Resume detection logic.
Supports 4 endpoints: 1.1 control endpoint with maximum 8-byte packet; 2.1 bulk in endpoint with 64 bytes/packet; 3.1 bulk Out endpoint with 64 bytes/packet; 4.1 interrupt in endpoint with 8 bytes/packet.
18k bytes SRAM built in. (2K bytes for Tx buffer, and 16k bytes for Rx buffer)
Uses 24C02 to store resource configuration, ID parameter, etc.
Half/Full duplex 10/100 Mbps operation.
Supports Full Duplex Flow Control (IEEE 802.3x).
System Requirement:
Windows 98/ME/2000/XP
Package:
1 x USB 1.1 LAN adapter
1 x Driver CD
Moxa Converter USB to Serial Converter RS422 RS485 Converter
Item Code: Uport1110
USB Interface
Compliance USB 1.0/1.1 compliant, USB 2.0 compatible
Connector USB type A
Speed 12 Mbps (Full-Speed USB)
• Serial Interface
Number of Ports 1
Serial Standards UPort 1110: RS-232
UPort 1130/1130I: RS-422/485
UPort 1150: RS-232/422/485
Connector DB9 male
• Serial Line Protection
ESD Protection 15 KV embedded
Optical Isolation 2 KV (UPort 1130I only)
• Performance
Baudrate 50 bps to 921.6 Kbps
• Serial Communication Parameters
Data Bits 5, 6, 7, 8
Stop Bits 1, 1.5, 2
Parity None, Even, Odd, Space, Mark
Flow Control RTS/CTS, XON/XOFF
FIFO 64 bytes
• Serial Signals
RS-232 TxD, RxD, RTS, CTS, DTR, DSR, DCD, GND
RS-422 TxD+(B), TxD-(A), RxD+(B), RxD-(A), GND
RS-485-4w TxD+(B), TxD-(A), RxD+(B), RxD-(A), GND
RS-485-2w Data+(B), Data-(A), GND
RS-485 Data Direction ADDC® (Automatic Data Direction Control)
• Driver Support
Operating Systems Windows 9X/ME/2000, Windows XP/2003/Vista/2008/7 x86/x64, WinCE 5.0/6.0, Linux 2.4.x, 2.6.x, 3.0.x
• Physical Characteristics
Housing ABS + PC
Weight Product only: 65 g (0.14 lb)
Packaged: 200 g (0.44 lb)
Dimensions 38.4 x 60 x 20 mm (1.51 x 2.36 x 0.79 in)
• Environmental Limits
Operating Temperature 0 to 55°C (32 to 131°F)
Storage Temperature -20 to 70°C (-4 to 158°F)
Ambient Relative Humidity 5 to 95% (non-condensing)
• Standards and Certifications
EMC CE, FCC
EMI EN 55022 Class B, EN 61000-3-2, EN 61000-3-3, FCC Part 15 Subpart B Class B
EMS EN 55024, IEC 61000-4-2, IEC 61000-4-3, IEC 61000-4-4, IEC 61000-4-5, IEC-61000-4-6, IEC 61000-4-8, IEC-61000-4-11
Green Product RoHS, CRoHS, WEEE
• Power Requirements
Power Consumption UPort 1110: 30 mA @ 5 VDC
UPort 1130: 60 mA @ 5 VDC
UPort 1130I: 65 mA @ 5 VDC
UPort 1150: 77 mA @ 5 VDC
• MTBF (Mean Time Between Failures)
Time 1,949,025 hrs
Database Telcordia (Bellcore), GB
• Warranty
Warranty Period 1 years
Uport1130
USB to RS232 converter
RS232 to USB converter
USB to RS422 converter
RS422 to USB converter
RS485 to USB converter
Parker Programming Cable
Parker Programming Cable
Item Code: PQDXXA
We have New Parker programming Cable to seel packed in new packing.
Parker Hannifin
Part no : PQDXXA-KABEL serial cable
Programmier kabel clinch – seriell
Omron PLC cable Interface LK201
Omron PLC cable Interface LK201
Item Code: 3G2A6-LK201-E
Programing cable with adapter available for sale
Second hand used item
Omron programming cable available on rent also
Omron programming adapter available on rent also
Mitsubishi PLC interface Cable
Mitsubishi PLC interface Cable
Item Code: f2-20gf1
Mitsubishi Interface Unit F2-20gf1 Available In Box Brand New Condition With Memory Cassete Also
Mitsubishi Programming Cable Available On Rent Also
Mitsubishi Interface Unit Cable Available On Rent Also
Siemens USB-MPI Cable 6ES79720CB200XA0
Siemens USB-MPI Cable 6ES79720CB200XA0
Item Code: siemens_Cable
Siemens PLC Cable
Siemens PLC programming cable S7-300 and S7-400
Allen Bredley Programming Cable 1747-C10
Allen Bredley Programming Cable 1747-C10
Item Code: 1747C10
Allen Bradley PLC Programming Cable
SLC500 PLC cable
Allen Bredly SLC500 1747-PIC
Item Code: PLC_Cable
Unit available second hand without cable
Allen Bredly PLC programming cable available on rent also
Allne Bradley PLC
Allen Bradley Programming Cable
Allen Bradley SLC500 PLC Cable
PLC Communication cable
PLC programming
PLC Programming Cable
Item Code: SR2USB01
This cable well works with Schneider/Telemecanique make zelio PLC, which is the Smallest PLC.
Facon Fatek PLC Programming Cable
Item Code: FBS
Facon FBS-232-P0-9F PLC Program Cable FATEK FBS
These cables are being used to communicate and program the Facon fatek series PLC
We have Ready stock avaialble.
Keyence PLC Cable PC-KV KV PLC
Item Code: keyence_PLC
Keyence PLC Cable
Model PC-KV
The Keyence PLC programming Cable is used for Keyence KV PLC and Keyence KZ PLC
Programming Cable Wenview Easyview USB-MT500
Item Code: MT500
HMI cable
HMI programming Cable
Weinview HMI programming cable
Weintek HMI Programming cable
HMI Communication cable
direct replacement cable for wenview touch panel data communication, USB version.
With adapter and LED indicator.
It is the direct replacement of the expensive version out there, has all the exact same functions. This is all you need to communicate between PLC and PC. Only a fraction of the cost for the industrial product you want. This is professional made cable directly from zss international, not the home made version. We sell a lot of this cable on and offline, the quality is guaranteed.
PLC basics,PLC Training,prorammable controller,PLC Software,PLC cable,SCADA,Training PLC,micrologix,mitsubishi PLC programming Cable,Siemens PLC cable,Omron PLC Cable,Schneider PLC cable,telemecanique PLC cable,Modicon PLC Cable,HMI Cable,Delta PLC Cable,PPI cable,MPI Cable,SC09 cable,TSX Cable
Hakko HMI Programming Cable
Hakko HMI Programming Cable
Item Code: HAKKO_ZSS
ZSS International Keep Stock of
Hakko HMI Programming V series Cable V6-CP 3M