El-O-Matic Pneumatic & Electric Actuators
System Compatible Products for Worldwide Flow Control
A message from El-O-Matic International, Inc.
We are a customer obsessed company that provides system compatible flow control products to process valve manufacturers and users. This obsession is evident in the highly efficient products we design, manufacture, and distribute to provide industry with wide ranging, cost effective valve automation solutions.
It is further evident through our aggressive approach to product development and ongoing commitment to penetrating new markets that meet the ever increasing product and applications needs of our valve automation customers.
Direct customer accessibility to EL-O-MATIC design, engineering, and applications knowledge is backed by strong, worldwide distribution to provide off-the-shelf product availability for demanding valve automation projects in the chemical, chemical processing, pharmaceutical, petroleum, offshore, mining, HVAC, pulp and paper, power, pollution, gas transmission, and petroleum markets.
At EL-0-MATIC we have earned our reputation for excellence by providing the right technologies, highest quality, and total customer satisfaction at all levels of operation. By fully understanding the needs and requirements of our customers, we are able to develop valve control and monitoring products which meet today's rapidly changing technology needs while keeping us focused on our primary goal
ELQ Actuators by El-O-Matic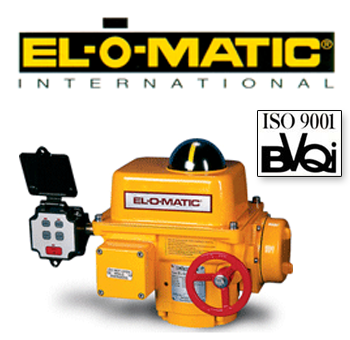 Series ELQ electric actuators are powerful, ¼ turn units with five sizes covering the torque range from 900 in/lbs to 7100 in/lbs. They incorporate High Ration Drive (HRD) gearing which provides a compact backflash free reduction gear ideal suited for both tight positional control and long trouble free ON/OFF operation. Universal power control allows direct connection to all the usual voltages.
The aluminum alloy housing contains the motor, gear reduction and the Electronic Control Unit (ECU). Electronic control enables precise control of the actuators internal functions and a ready interface to a wide range of control options. Electronic torque control is included as a standard feature. Modular construction is used throughout and allow for a wide range of "kit" and "factory" options.
The manual override handwheel is constantly engaged, it is non-rotating and arranged so that at no time can be back driven by the motor. The handwheel is equipped with a spinner and so it can be easily removed. The mounting/drive is to ISO 5211.
Pneumatic Rack and Pinion Rotary
Actuators by El-O-Matic
EL-O-MATIC Spring Return or Double Acting Rotary Valve Actuators are compact, simply designed control devices quality engineered to provide high torque outputs (to 40,000 in. lb..) and a high cycle, trouble-free life. A compact, dual opposed rack and pinion design and guide band suspension system combine to produce a symmetrically balanced, center mount actuator with a short powerful stroke, rapid response, and fully concentric operating load capability for optimum performance.
Available manual override, the fully integrated PosiFlex™ valve positioning system, limit switches, and solenoid valves provide complete control and monitoring capability.
Specifications
Operating Pressure
90° Models
Double Acting: 20 to 120 psig
Spring Return: 40 to 120 psig
180° Models
Maximum Air Pressure: 80 psig (except E12)
Temperature Range
Standard: -4 to 175°F
Optional: -4 to 250°F / -40 to 175°F
Media
Rotation
Counterclockwise with Port "A" pressurized. Spring return actuators fail clockwise. Rotation is field reversible.
Lubrication
Factory lubricated for the normal life of the actuator.
Coating
Premium Powder Coating.
EL 1200, 2500 Series Electric Rotary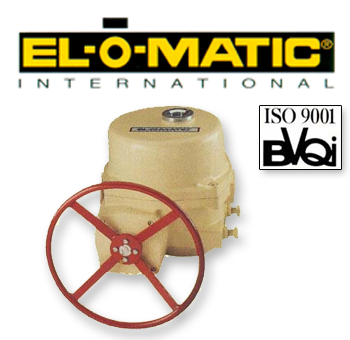 Valve Actuators by El-O-Matic
Specifically designed and engineered for marine and wastewater applications, EL 1200 and 2500 Series Actuators produce 10,580 and 22,125 lb. in. torque, and are ideal for use with butterfly and larger type valves.
A self-locking worm gear drive system, lubed-for-life gear case, rugged, purpose-build full ball bearing motor, anti-condensation heater, precision adjustable limit switch cams, hermetically enclosed mechanical position indicator, declutchable manual override, and NEMA 4, 4X, 7 and 9 housings combine to provide an all encompassing actuator that provides precise on/off valve positioning service, extra long life, very low maintenance, and maximum corrosion resistance.
All EL 1200 and 2500 Series Actuators are also available with a full line of integrated automation, environmental, and control accessories.
Features
Torque Outputs
EL 1200 – 10, 580 lb. in.; EL 2500 – 22,125 lb. in.
Aut-O-Ride Declutchable Lever Manual Override
Allows manual release of gear train to permit valve operaion even with fused motor and automatically returns to "remote" electrical operation when motor is energized. Permits use of field – replaceable, large spoked handwheel for reduced operator effort and complete safety. (EL 1200 and 2500)
Reg-U-Tork Electromechanical Torque Regulatro/Limiter
Serves to protect valve from damage in the egent foreign material (debris) should foul the valve seat, and acts as a "torque regulator" to provide a reserve of torque up to the rated maximum. (EL 1200 and EL 2500)
Integral Motor Centrifugal Switch
Effectively removes the starting capacitor from the circuit once the motor reaches full pseed and returns capacitor to the circuit when the motor stops. (EL 2400 only) NEMA 6 (Submersible) Rating – permits use in 20 feet of seatwater for 24 hours. (Optional EL 1200 and 2500)
EL Electric Rotary Valve Actuators
by El-O-Matic
EL Series Electric Rotary Valve Actuators produce up to 7,080 lb. in. of torque and utilize a miltiple reduction worm gear system that is self-locking and provides tight positioning control for quarter turn valves.
Specifically designed for challenging process automation where an air supply is not available, low ambien tempertures make air powered actuators unreliable, actuator locatin makes maintenance chores difficult, or an all-electric control system is desired.
EL Series Actuators offer a host of standard, integrated features including manual override, torque switches (except EL 20/55), dome position indicator, mechanical travel stops, and compartment heater (except EL 20). They also accept a wide range of control accessories and options.