AC500-eCo PLC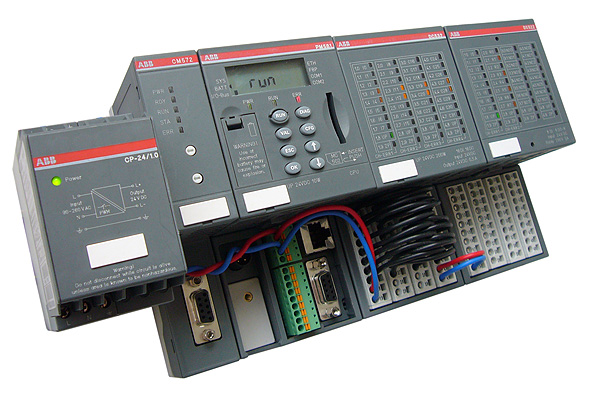 Change for more
Modern PLC solutions need to deliver the power where it is needed, when it is needed, while ensuring the project stays
on schedule and within budget. It truly is time to change – for more.
More memory
The AC500-eCo offers you more memory than any
comparable system on the market today. 128 kB user memory makes program optimization obsolete.
More programming comfort
The AC500-eCo saves you time and money by featuring the
tried and tested CoDeSys programming environment across
the entire AC500 range.
More speed
Program processing time 0.1 µs/instruction provides the
performance your application needs.
More flexibility
All analog inputs on CPU PM564 can be configured as digital
inputs to allow for individual customer solutions.
More communication
Communication is the key to success for most modern PLC
solutions. As you would expect from the renowned AC500
family, the AC500-eCo comes with onboard Ethernet. More support
Help is never more than a phone call away thanks to our
exceptional network of support centers.
AC500-S Safety PLC
When it comes to reliability, efficiency and flexibility in safety automation, for over 30 years, ABB has been the partner experts rely on to cover even their most complex applications. Our engineers are known around the globe for their innovative and solid approach aimed at protecting people, machines, processes and the environment. Our latest development, the AC500-S Safety PLC (SIL3, PL e), is especially suited forcrane, hoist, robotics and wind applications. This groundbreaking safety PLC is the ideal choice when you've got a complex safety application to manage.
ABB's innovative safety PLC comes with a fully-featured array of customtrigonometric functions. It offers greater flexibility and simplicity thanks to safety programming under Structured Text as well as full support for Function Block Diagram and Ladder Diagram.
ABB's in-house developed Safety Code Analysis tool PS501-SCA opens the door to writing truly well-structured, easily understandable code, dramatically saving you time and money on certification. ABB's AC500-S Safety Code Analysis tool PS501-SCA is tailor-made for verifying safety-related software.
The configuration and programming of the AC500-S Safety PLC is achieved using PS501 Control Builder Plus software which is an integral part of the engineering software suite "Automation Builder". Safety programming takes place analogously to the standard PLC, but with a safety-certified editor in accordance with SIL 3 (IEC 62061) and PL e (ISO 13849). Automation Builder encompasses the necessary tool for the configuration and programming of ABB PLCs, Safety, HMIs, Drives, Motion Controllers and Robots.
Scalable PLC with overwhelming integration:AC500
More Configurations
AC500 is the PLC of choice when scalability, flexibility, performance, integration and communication are mandatory.
Numerous I/O modules, carefully specified powerful CPUs and realtime communication couplers provide the basis.
Flexibility
The pre-wiring concept is not only the electrician´s convenient, safe way to build a PLC system. It gives PLC operators the option to increase performance by simply interchanging modules. Upgrading CPU modules lets operators increase the processing performance while other PLC parts remain untouched.
Only pay what is required today – and be sure to easily upgrade the required performance when it is time for more!
Memory
AC500 offers much more memory than most competing products. More memory allows more PLC functionality, more precise algorithms, more meaningful visualization, more operating comfort – for even better individual customer solutions.
Performance
AC500 is one of the fastest PLCs on the market. This can be experienced when programming, running precise calculations, transferring data, serving the I/Os and presenting web server contents.
Networking
There are numerous communication possibilities which can be integrated into various combinations, forming great network nodes from smallest to largest systems:
Ethernet
EtherCAT
PROFINET
PROFIBUS DP
CANopen
DeviceNet
Modbus TCP
Modbus serial
Serial
ABB CS31
Wireless Interface
What can be done with this performance?
IP on Ethernet is a widespread standard in communication: The AC500 suite of IP protocols provides precise SNTP time synchronisation for PLCs. This assists IEC 60870-5-104. Station automation in renewable energy plants achieves more power and higher efficiency. In factories using SNTP, enterprise resource planning systems for example can monitor precisely the machine capacity.
Modbus TCP integrates a huge bundle of automation devices in an extreme fast network. This is excellent for wind mill parks and solar power plants. There are many applications where this protocol helps to combine devices of different suppliers.
Electronic cam switches are advantageous compared to mechanical solutions. The possibility of very easy changes and extensions in the cam configuration as well as significantly reduced maintenance effort make them very attractive. AC500 offers a dynamic solution with the EtherCAT bus modules.
Take the Motion Control library, integrate it into our popular engineering tool PS501 Control Builder AC500, choose your ABB drive – and go!
Control by common web browsers: ABB customers know what happens in the application – the license-free web server reports anytime anywhere. Even on mobile devices! While others enforce additional PCs and negotiation of web server licenses, the AC500 web server resides for free in the firmware of the CPU.
AC500 lets customers combine three CPU-integrated communication interfaces with additional, up to four different communication couplers. At last, customers can integrate the most suitable automation devices into their specific solution. Or build multi-protocol systems for new, demanding applications or simply protocol conversion gateways.
Applications
ABB customers implemented AC500 in many different applications, for example wind mills, solar trackers, high-volume circuit breaker production, large ships, tunnel automation and traffic control, packaging and printing machines.
Robots, wireless from ABB
ABB Robotics offers cell automation by integrated AC500 PLCs in IRC5 robot controllers. More productivity with robots is achieved by wireless interfaces for sensors and actuators on robot tools. Wireless from ABB is an innovative, proven solution well-suited for robots, presses, rotary tables and gantries.
In the scalable PLC AC500 system there are two ways to connect I/O modules to the CPU:
Central, using local I/O bus of CPU module
Decentralized, via fieldbus between CPU module and remote I/O modules
This means that one superior ABB technology serves two scenarios. The straightforward engineering tool PS501 Control Builder Plus offers identical configuration and programming independent of central or decentralized connection.
Up to ten I/O modules can be connected centrally to the CPU.
For each fieldbus slave, there is also the possibility to connect up to ten I/O modules.
The remote placement of I/O modules enables a cost-efficient, better quality design of control solutions. It is cost-efficient – instead of using multiple wires between I/O and CPU there is the fieldbus cable only. It is better quality because the short wires from I/O ports to automation devices limit interference to acceptable levels.
With S500 I/O modules and the variety of ABB fieldbus solutions, the layout of machines becomes far more adaptable to the production requirements than with simpler PLCs.
How is this possible?
1. Machine design engineers can select the appropriate performance.
2. The communication technology which fits best to the machine is selectable.
3. The convincing cost-benefit ratio is to be taken into consideration when planning the application.
Fieldbus options for decentralized I/O
Ethernet
EtherCAT
PROFINET
PROFIBUS DP
CANopen including CANsync
DeviceNet
Modbus TCP
Modbus serial
Serial
ABB CS31
Wireless Interface
S500 I/O modules overview
More details are available in the Automation Products catalog.
Digital I/O
DI524 32 input channels
DC522 16 channels configurable as inputs or outputs
DC523 24 channels configurable as inputs or outputs
DC532 16 input channels and 16 configurable channels
DX522 8 input channels and 8 relay outputs
DX531 120/230 V AC, 8 input channels and 4 relay outputs
Analog I/O
AX521 4 input and 4 output channels,
12 bits + sign
AX522 8 input and 8 output channels,
12 bits + sign
AI523 16 input channels, 12 bits + sign
AO523 16 output channels, 12 bits + sign
AI531 8 input channels, 15 bits + sign
Special function modules
CD522 for encoder tasks including PWM outputs
DA501 mixed analog/digital I/O module
Fast counter functions are available with most fieldbus options.
Pre-wiring is a great means to protect valuable active electronics from damage during installation. It is a plus for fast assembly and module exchange.
Extreme conditions? No problem, most modules are available in XC version for harsh, extreme conditions.
 DigiVis 500
Supervisory Software – DigiVis 500
Reliability and accessibility,
Supervision within your grasp…
DigiVis 500 is the HMI software suite for ABB's AC500 series of PLC product line. It's a well integrated HMI software for AC500 that provides several benefits to AC500 end users when compared to using a non-ABB 3 party HMI products. DigiVis 500 Graphics Builder, part of the DigiVis 500 Suite, is the configuration tool for DigiVis 500. It is the perfect tool for mapping AC500 PLC data (coming via the AC500 OPC server) to DigiVis 500 OPC Tags/ Variables and then develop consistent Graphic displays and associated system displays.
DigiVis 500 Operations, the other main part of DigiVis 500 suite, is the runtime component of the DigiVis 500. It runs on common personal computers and is based on Microsoft Windows as a graphical user interface. DigiVis 500 Operations enhances the ease of use and the performance of process operation by providing ready made faceplates for commonly used AC500 function blocks and several other system pages like Trends, Alarm Lists, Group Display etc.
Integrated engineering suite for AC500 PLCs, CP600 control panels, drives, motion control and robots.
ABB Automation Builder is the integrated software suite for machine builders and system integrators wanting to automate their machines and systems in a productive way. Combining all of the tools required for configuring, programming, debugging and maintaining automation projects from a common intuitive interface, Automation Builder addresses the largest single cost element of most of today's industrial automation projects: software.
The suite contains the programming and configuration tool for the ABB AC500 PLC, Control Builder Plus, with Drive Manager and drive application programming as integrated plug-ins. Additionally included are the Panel Builder for touch panel programming and the motion engineering tool, MINT WorkBench. As a unique feature, ABB now includes the market leading offline robot programming and simulation tool, RobotStudio, providing customers with simple and fast interfacing of a PLC with a robot controller.
The underlying Automation Builder Platform allows common data storage and usage of common functionality by the integrated software tools. This new level of efficiency addresses major emerging problems in the industrial automation field, such as the trend to improve performance with more dynamic and complex control algorithms, the fast growing trend to incorporate much more sophisticated safety mechanisms, and the demand for much larger factory-scale automation networks.
For engineers, the integrated nature of the ABB Automation Builder delivers significant engineering efficiency improvements as well as simplified management and maintenance of the entire automation project. This helps to save time and to increase software quality by consistent data and software versions.
With the Automation Builder, various controller families can be combined in one automation project, and they can be configured and programmed from a single software suite. With a choice of various programming languages, the most suitable language for the particular application is available. At the same time, the USB-ROM distribution medium with a common installer ensures trouble-free and quick installation – on a customer-specific or project-specific basis.
The ABB Automation Builder contains the following components and functionalities for engineering AC500 PLCs, CP600 control panels, drives, motion control and robots:
Installation manager
Engineering platform
Engineering of AC500, AC500-eCo and AC500-XC PLCs
Configuration and programming of AC500-S Safety PLCs
Human Machine Interface – CP600 control panels
Configuration and programming of ACS drives
Motion control – MicroFlex e150 servo drive
Robot interface – IRC5 robot controller
With Automation Builder, we help customers to improve their engineering productivity.

Communication between the user and the process
Human Machine Interfaces
ABB operator panels can be distinguished from their competitors by their easy functionality, making comprehensive operational information for production plants and machines available at a single touch. This enables an operator to intervene manually at any time to stop or modify the production process.
Individual solutions for each application
The ABB range of HMI operator panels offers an excellent diversity of features and functionalities for maximum operator comfort, at a price that meets every budget. The solution is now composed of two ranges. The new CP600 series up to 15″ completes the CP400 range that was available up to 10.4″ and offers new design capabilities, a complete engineering software solution or a web browser panel version.
ABB PLC