PLC Authorized Distributor and Local Agent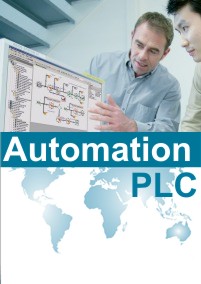 Leading Supplier Pneumatic Trainer PLC Based
Pneumatic Trainer PLC Based
The PLC Based Pneumatic Trainer System outlines the basics of Pneumatic Control System, its component and applications.
Features: –
* PC-PLC operated pneumatic Trainer
* Basic & Advanced pneumatic circuits.
* Simple build up of pneumatic circuits.
* Self contained unit.
* Referenced storage facilities provided.
* Symbol used throughout.
* Fault simulator & maintenance training.
* Portable Compressor available(optional).
* Computerized Pneumatic trainer…
Leading SupplierSeries 90-70 PLC
Series 90-70 PLC
The Series 90-70 PLC offers a wide variety of solutions for even the most complicated manufacturing applications requiring 1000s of input/output points and high-speed CPUs. The 90-70 PLCs offer engineers more cost effective answers to their automation requirements with more computing power, more memory capabilities and an exhaustive list of communications and redundancy options.
* High memory
* Extensive scope for better communication
* Cost effective solutions
Product…
Semi Automatic PLC Based Transporter
We offer our clients premium quality Semi Automatic PLC Based Transporter. These offered machines are manufactured using the finest quality raw materials procured from the trustworthy vendors in the market in compliance with set industry norms. Our offered are greatly admired and appreciated by our clients for their sturdy construction, durability and easy to operate feature.
Features:
* Easily movable
* Precise design
* High performance
Leading Supplier Remote Management
PLC Remote Management
Backed by the rich industry experience, we have been able to trade, distribute, retail and supply an excellent quality PLC Remote Management. This range is precisely manufactured by our vendor's adroit professional using high grade components and innovative tools that assure its optimum performance without any trouble over a long time. Clients can avail this range from us at very affordable rates.
* Sturdiness
* Easy to install
* Dimensional accuracy
Leading Supplier PLC based Computerised Hydrostatic Pressure Testing Machine
PLC based Computerised Hydrostatic Pressure Testing Machine
Specification:
Pressure range : 0 – 100 bar*.
No. of stations : 8 nos.
Pressure input : Through compressed air having pressure upto 5 kg/cm.sq
Pressure output: through hydro-pneumatic pump.
Time range : 0 – 999.9 hours.
Panel mounting : Trolley with castor wheels.
Paint : Powder coated.
Power : 230 Volts, 50Hz, single phase.
Direct display through MMI : Set pressure, Actual pressure, Set time, Actual time, Set temperature and Actual temperature….
Leading SupplierPretreatment System PLC Controlled
Pretreatment System PLC Controlled
Star SupplierPLC Software Programming
PLC Software Programming
We are dealing in PLC Software Programming. These are according to the client requirement. Owing to our extensive industry experience, we are offering writing and testing solutions for PLC programs through every phase of development, starting from the initial concept to final debugging and that too at the clients' site.
 
Programmable Logic Controllers
Up to 8 DC inputs can be configured to be digital or analog providing users greater flexibility with no additional modules. Communication via GSM, SMS and email help you remotely maintain your system. Optional converters allow users to process data efficiently.
* PT100 and K-type thermocouple data when required.
* Flexible Programming
* Flexible Communication
* Advanced software and design
* Integrated HMI
* Wide operational temperature
* Safe memory back-up
Modular PLC
We offer our clients GE Modular PLC RX-3icontroller that is the latest addition to the innovative family of Programmable Automation Controllers (PACS). It features a single control engine and universal programming environment that provides application portability across multiple hardware platforms.
Technical Features:-
* High-Speed Processor and Patented Technology for Faster Throughput Without Information Bottlenecks
* Dual Back plane Bus Support Per Module Slot– High-Speed, …
 
Programmable Logic Controller
LOGO control from Siemens: The natural choiceLOGO! from Siemens offers you the support you need at a price you can afford. Perform small-scale automation tasks more quickly and free up space in your switch cabinet. With 8 basic logic functions and 30/35 special functions, the LOGO! logic module can replace a large number of conventional switching and control devices.
The natural logic module choice: LOGO! now is even more versatile for analog value applications and simple control tasks.
Star SupplierKeypad Based HMI
Keypad Based HMI
We are offering high quality and technically sound and tested Keypad based HMI with PLC. We are market leaders in automotive solutions specially designed for industrial purposes. We provide utmost quality Keypad based HMI series that are designed and develop with advance technologies with advance features that are application based.
We provide these FP series with advance features of Multicolor backlight LCD, Integrated Digital Inputs and Outputs, Keypad with functional keys and high speed…
Star SupplierPLC Instrument Control Panel
PLC Instrument Control Panel
Our expertise enables us in manufacturing superior range of Instrument Control Panel (with DCS/PLC/SCADA), which is in compliance with safety norms and industry standards. Precision engineered, the entire range is manufactured using high grade raw material and sophisticated machines. Custom designed, our range efficiently meets the demands of multitude of industries such as hospitality, pharmaceuticals, steel, engineering and many more.
Star SupplierPLC Control Panels
PLC Control Panels
Star SupplierPLC Control System
PLC Control System
Star Automations is a global services company offering custom design and manufacturing of PLC control system for electrical, electronic and communication control panels and PLC programming, HMI programming, CADA, DCS programming, servo programming and Automation integration.
Manufactures of motion control panels, PLC control panels, scada based control systems, automation control panels, A/C drives panels, DC drives panel and MCC panels.
Features:
* Design and wired as per…
 
Star SupplierProgrammable Logic Controller (PLC)
Programmable Logic Controller (PLC)
The programmable logic controller integrates the built-in operating panels into a single compact device. This unique PLC + HMI concept saves wiring, I/O points, real time clock and programming time. Some applications for ready reference are as follows:
Compressor Hour Monitor Features:
* Hour monitor up to 9999.59 with RTC
* Pass ward reset timer
* Eight message history with date and time
* Three timer up to 65 sec. set time
* 2×16 alpha numeric LCD Display
* Eight…
PLC & SCADA based system for RMC plant.
PLC Based System
We are manufacturer and supplier of PLC in Chennai
A Programmable Logic Controller, PLC or Programmable Controller is a digital computer used for automation of electromechanical processes, such as control of machinery on factory assembly lines, amusement rides, or light fixtures.
Microprocessor Based Controller Systems
We are a trusted name in the market, which manufactures, trades and supplies Microprocessor Based Controller Systems. Specifically designed and developed to deliver optimum performance, these systems are capable of indicating an alarm condition accurately and efficiently. Appreciated for their operational fluency and reliability, these systems are massively asked for.
* Accurate
* Reliable in performance
* Longer operational life
PLC Base Controls
We provide PLC Base Controls to our customers. These controls can be accessed by our clients from the market and provides excellent performance. These panels offer maximum output and consumes very less power supply. Our wide range of PLC Base Controls is used in different industries. These PLC Base Controls are programmed using SCADA software and can be controlled in accordance with the logic and various tags numbers specified on the motors, valves and sensors. In order to view clear…
Pick & Place Systems
Pick and Place Robots: Robot pick and place automation speeds up the process of picking parts up and placing them in new locations, while also increasing production rates.
These pick and place robots are more accurate and do not fatigue while doing back-breaking or hard to maneuver movements that may be difficult for humans.
The consistency, quality and repeatability of a pick and place robot system is unmatched. These systems are also versatile and can be reprogrammed and tooled to…
PLC Based Automation Systems
PLC Based Automation Systems for Industrial automation. Machine sequence control and Production process control for various industries are provided using PLC based control systems. Depending on project requirements, control panels are designed and supplied. Relays for field control, interface to various sensors and field instruments, HMI programming for local operation, Graphical process mimic, Auto / Manual operation, SCADA programming and Report generation through PC are all provided…
Micro PLC
Upgraded ELC-18 range(Micro PLC) is advanced level model, incorporating a good mix of digital and Analogue IO, Integrated High Speed inputs and PWM output, clock with calendar, counters , timers , integrated keypad display, serial communications and an expansion port. Available in 120V/240VAC or 12V/24VDC versions ; Easy to configure with drag-and-drop function blocks or ladder using FREE xLogicSoft software. Compared with Standard ELC-18 series, it had been upgraded in some aspects, such as, …
PLC Equipment
PLC Equipment
PLC Trainer Model:DI-6DO
We are engaged in offering PLC Trainer that is applicable in industrial PLC, SCADA, logic control(PLC) and data acquisition. The trainer is ABB and Delta make, it receives 8 digital inputs and provides 6 digital outputs. This easy to install equipment is easy to operate and low in maintenance. It finds usage in electronics lab, measurement lab, material testing lab, instrumentation lab and Transducers labs of various engineering branches.
Specification:
* PLC…
PLC Panel
We are one of the successful name as PLC Panel Manufacturers. We manufacture superb quality PLC Panel such as Electric PLC Panel. Our PLC Panel is programmable logic controller which is widely used for industrial process automation. Our PLC Panel is designed for dedicated controller projects or as part of a larger networked system We Are Looking mainly queries from TamilNadu.
PLC Industrial Panel
We provide ample range of PLC Industrial Panels to our patrons at competitive prices. Our ranges of these products are known for its durable performance and sturdy design. These panels are broadly claimed in electronic and automobile industries, as this is programmable logic controller that is used for industrial process automation. We manufacture these with high grade quality materials which are sourced from certified vendors in the market. Our range is available in various sizes and models.
PLC Automation Control Panels
We specialize in manufacturing and supplying a wide range of PLC Automation Control Panels. Our product is available in both customized designs and standard designs as per the exact requirements of clients. This control panel is engineered as per world class standards and using best available technologies. It is extensively recommended by clients owing to its less maintenance cost and longer functional life.
* Customized designs
* Low maintenance
* Availability in…
Nano Programmable Logic Controller
We are one of the prominent authorized Manufacturers, Suppliers, Traders and Exporter of Nano Programmable logic controller -02. Manufactured by using precision engineered components and high grade raw material, these products are reliable and high performing. Available in various sizes, our assortment can also be customized as per the specific requirements of our clients.
(PLC for OEM Applications)
Specification of Nano Programmable Logic Controller – 02
* Counter – 1…
Universal PLC Platform
* Freedom to select PLC of different makes
* Open platform to explore wide PLC applications
* Industrial feel & look
* NO/NC Toggle Switches, Push to ON Switch, IR Sensor , LED`s , Buzzer
* Din rail mounting for PLC
* Powerful instruction sets
* PC based Ladder programming
* High execution speed
* Extremely easy and student friendly software to develop different programs
* Several sample Ladder programs
* Choice of PLC and expansion modules
*…
PLC Based Control Panel
We are instrumental in offering a wide gamut of PLC Based Control Panels to our esteemed patrons. This offered range of products is developed using superior quality raw material such as metal sheets and other electrical goods.
Our array finds application in various areas like:
* Energy savings' for cooling towers 'Air Dryer Valves Control Panels
* Hydraulics machine control panels & textiles Machines control panels
* Blow room control panels
Following are the feature:
PLC Control Panel
We provide our customers with PLC Microprocessor Based Fully Automatic Control Panel.
* Durability
* Noise resistance
* Impact resistance
* Optimum performance
* Vibration resistance
PLC Controlled Cleaning System
While climbing on the success ladder, it has become increasingly important for us to deliver precisely tested and high grade assortment of PLC Controlled Cleaning System to handle individual cleaning applications. The offered system is manufactured using high grade raw materials and contemporary technology. We assure our clients that our product is quality tested on predefined parameters, in order to meet international standards. These incorporate pre cleaning tank, ultrasonic cleaning unit, …
PLC-SCADA Integration
Following is the details of PLC-SCADA Integration systems:
* AB PLC & RS view, Ifix 5.0 SCADA
* ABB PLC & Ifix Wonderware SCADA
* Siemens PLC & Wincc SCADA
* GE Fanuc PLC & Cimplicity SCADA
* L&T, Schneider PLC & Citect SCADA
* Any PLC with any SCADA with available drivers
We are engaged in developing Programmable Logic Controller. These comprise of an in-built 200KHz high speed counter. It also provides 200KHz pulse output. Moreover, it produces accurate outcomes related to its function with varied extension of 16K steps program memory.
Specifications:
* MPU I/O 16, 20, 32, 48, 64 and 80 points, extendable to 512 points
* Supports Servo positioning commands, PID and PLC EASY Link function
* Built-in-RS-232 and RS-485 dual communication ports
* UP…
Compact PLC
With their compact dimensions and low cost compact PLC have opened up new perspectives in industrial automation. Many applications for which automation was once not even an option can now benefit from the many advantages of these controllers.
Programmable Logic Controller Solutions
We are offering hi-tech Programmable Logic Controller Solutions. We specialize in providing PLC solutions for Automobile, PVC Manufacturing, Leak Testing, Pick & Place, Data Acquisition, PLC Interfacing with Robotics and Performance testing Machines.
Some of our PLC Based Projects in various sectors include:
* Automated Assembly Lines for Automobiles
* Pick & Place
* Automated Testing Line for color picture tube
* Automated Conveyor Line for mass production
We offer PLC Control Panel, which are available in compact designs as per industrial needs and gives superior performance. Along with these panels, we also supply process control panels and instrumentation control panels. These panels are manufactured using optimum quality raw material and are available at competitive prices. Our programmable logic controller is mainly used for industrial process automation.
PLC\'s & SCADA
PLC's & SCADA
We make the best Programmable Logic Controller (PLC) in the entire industry. We have the skilled manpower and the latest machinery owing to which even the minutest detail is taken care of. Keeping the budget of the client in mind we provide them in competent prices.
* Communication function up to 5 port including RS 232, RS 485, USB, Ethernet & GSM.
* Max. 512 points of Digital I/0 & 128 points of Analog I/0 (12/14-bit resolution)
* Integrated High-speed Counters with counting Freq….
PC Based Automation
We are one of the eminent names, engaged in providing an array of PC Based Automation. It is designed by using PLC S SCADA system in the field of plant automation. With the aid of our PC based automation, we are able to control the application and run the systems efficiently in various field like flying shears, cut – to – length. This PC based automation system also work in packaging & printing machines, winding applications, laminating a coating machines and process industry. Our range is…
Simatic S7 1200
The Simatic S7-1200 micro PLC and the Simatic:
HMI Basic Panels feature Simatic step 7 Basic engineering software for simple-and-speedy programming, networking and commissioning. The micro PLC's central unit is fully compatible with a range of I/O and communications modules, providing flexible extension options. The system also offers a Profinet interface for easy networking and communication between the engineering system, controllers and HMI.
Benefit:
* It's the Interplay:…
Phoenix PLC
Gained prominence in the industry as a manufacturer, supplier and exporter, we are engrossed in offering Phoenix PLC. It is the most efficient controlling system that finds its usage in various industrial applications. Our offered modules are designed and developed in accordance with the guidelines laid in the industry to attain highest benchmarks of quality.
* Minimal maintenance
Touch Screen PLC
HMI Specifications:
* Upto 255 user designed screens.
* Hundred of images per application.
* HMI graphs and trends.
* Virtual alpha numeric keypad in (V290 and V530).
* Troubleshoot via the HMI panel- no pc added.
PLC Specifications:
* I/O options include high speed, temperature and weight measurement.
* Auto tune PID , upto 12 independent loops.
* Recipe programs and datalogging via data loops.
* Time based control in 3 clicks….
PLC Based Systems
We manufacture and supply latest technology PLC based systems that work with precision in their specified application. Superior in quality, our PLC based systems deliver flawless performance with trouble-free service life. Available in a variety of specifications, our PLC based systems can be custom made to fulfill user specific requirements.Applications
PLC Based systems are used as material handling systems.They can also be used as data logging systems. Our PLC systems have found varied…
HMI / MMI Control Panels
EMERICK offer a complete, integrated Human Machine Interface suite that includes best-in-class products and systems for all HMI tasks. Our systems range includes operating devices and visualization software for machine-level HMI as well as the SCADA system, which can be used for a broad range of process visualization requirements. Major HMI brands we handling so far are Allen Bradley, SIEMENS, DELTA, L&T, INView, GE, Omron, Schneider, etc., we are the leading manufacturers and suppliers of HMI /…
PLC
We offer high performance PLC that are widely used to automate an assortment of industrial processes. FX3s series is the 3rd generation of micro programmable controllers. High speed, large capacity, and enhanced performance and functions are assured. Equipped with excellent expandability for analog, communication, Ethernet, and positioning functions, a whole world of FX applications awaits.
High-speed operation:
* Enhanced analog expandability
PLC Based Control System
Allen Bradley make PLC:-
* PLC Based Safety control to protect the chambers from overshoot of temperature and undershoot of temperature.
* Auto changeover of Master sensor in case of failure.
* Changing Set value of Master controller from HMI with password protection.
* PC Communication via Ethernet.
* Online monitoring on Graphic LCD touch screen display.
* Alarm for low water level with reset system to protect steam generator system.
* Password protected…
PLC / DCS / MMI / HMI / SCADA Automation Products
ABB AC 500 PLC & AC 500 eCo PLC range offers latest generation levels of Performance and scalability. It also supports most industry standard communication variants making it an ideal solution for multiprotocol or multi-domain field bus environment. It is also a very flexible range which offers different levels of CPU performance in a simple portfolio. AC 500 PLC can be configured for Stand Alone as well as Redundant.
* AC 500 PLC
* AC 500 eCo PLC
* CP 400 Panels
* DigiVis 500…
* Maximum of 16 base expansion
* A separate communication port mounted
(CM1-CP4C:RS232C, CM1-CP4D:RS422/485)
* Supports variable types of programming
* Provides more than 300 instruction
Millenium Three Smart & Essential PLC
Several automation function contained in a single product:
* Wiring time reduced by programming with our M3 Soft software
* Easy of programming using function blocks and SFC
* Adaptation is possible in terms of software and/ or hardware
PLC Machine
Description Ideal for small machine control or sequential applications. Can be easily expanded using the expansion packs to 100 I/O, including analogue units. In built RS232 port for programming and connection to HMI. Flash ROM memory, no need for batteries. Individual digital input filters, 1ms to 80ms. High-speed counters. 1024 Data registers. 128 Timers / Counters. Pulse output function.
PLC Based Universal Table
The PLC Based Universal Table trainer gives provision to interface PLC with four axis displacement of the table.
* Controlled by PLC
* Table can be moved in horizontal, vertical direction and can also be tilted.
* Table travel: X-200, Y-200, Z-150Ø -45° to +45°
* Load carrying capacity-10KG, with lead screw, Minidrill-dia.8mm, Drill-Vice
PLC Based Panels
Aiming to satisfy our clients optimally, we provide them with a quality approved array of PLC Based Panels. The offered panels are designed by our vendors' skilled professionals, using optimum quality raw materials and latest technology in accordance with the international standards. Furthermore, offered products are made available in different sizes and various technical specifications to fulfill the various requirements of our clients.
* High strength
* Corrosion…
Computer Based Control Systems
We are one-step ahead of our competitors in manufacturing and supplying a wide range of pc or computer based control systems. These systems are based on latest technologies and extensively acclaimed for rugged construction and high performance. Manufactured in accordance with international industrial standards, these systems ensure consistent performance and long service life. Safe to use these systems also ensures energy efficiency.
* Safe and secure
* Based on advance…
PLC Base Pre Tretment Line
PLC base Pre treatment line for ferrous castings
With the assistance of our team of professionals, we are able to manufacture and export a wide range of PLC base Pre Treatment line. Each and every consignment is passed through strict quality checks to ensure high quality level. Our assortment is packed using qualitative packaging materials for damage free delivery.
PLC-SCADA Based Control System
We are instrumental in offering a qualitative assortment of PLC-SCADA Based Control System that are specially designed to meet the requirements of our clients. Further, these controls are manufactured in compliance with international quality standards using high quality components. Our offered range is highly appreciated for its features like high-efficiency, excellent performance and durability. Clients can avail the offered range from us at market leading prices.
* High…
Digital numeric control panel for SPSs PCU based. A programmable control unit based numeric control panel with hydraulic and multiple optical sensor and limit switch interfaces for closed loop control of the SPM.
PLC & Touch Panel HMI
We have established ourselves as a renowned trader and supplier of PLC & Touch Panel HMI. We offer these products with built-in HMI operator panel with 4.7" graphic touch screen display and customizable keyboard. Touch screen HMI enables the display of 'touchable' images and text according to real-time conditions for online operation and diagnostics.
* Multiple auto-tuned PID loops
* Internal 120K structured database
* Load cell support…
Delta PLC
To cater to the demands and requirements of our customers, we design and manufacture Delta PLC, which are used as control systems integrated with electronic operations.We develop these control systems under the supervision and guidance of expert technocrats. These PLC control systems with salient features like easy storing procedures, handy extending principles, functions of sequential/position control, timed counting and input/output control, are widely applied to the field of industrial…
PC Based SCADA System
Ez consultants is providing customized solutions to communicate between intelligent devices. We have successfully emulated Modbus RTU/ASCII protocol and implemented same. Ez is currently developing Modbus TCP/IP protocol.
Ez has built customized SCADA software interfacing intelligent device using Modbus or customer specified protocol.
Modbus ® protocol
Modbus Protocol is a messaging structure developed by Modicon in 1979. It is used to establish master-slave communication between…
Being a client centric company, we manufacture a fine quality range of Delta PLC that is known as a control system used as easy storing procedure, sequential/position control function as well as handy extending principles. Available for industrial automation control, these products are highly appreciated for their excellent operational sped and we offer them as per the client's specific requirements. Our products are available with Analog input / output module to the…
PLC Based Control Panels
Leveraging on our rich industry experience, we hold immense expertise in offering a wide array of PLC based Control panels. These are technologically advanced control panels, which have process control applications in most demanding industries. Our range of panels is equipped with remote input and output units and communication bus to control hundreds of PLC inputs and outputs. These panels are compact in design and able are capable to provide higher output.
* Compact…
Our organization is counted amongst the most distinguished organizations offering PLC Control Panel to the clients. These panels are highly programmable logic controller that are ideal for the purpose of industrial process automation. All our products are designed and made using high grade material and are further, tested and assembled properly. We manufacture these products keeping in mind the specific requirements of our clients.
* Trouble free…
PLC- Mitsubishi
It is now over 30 years since Mitsubishi Electric launched the first compact PLC on the European market. Since then Mitsubishi has become the world market leader in this sector, with over 10 million of its compact controller installations to its credit.
With their compact dimensions and low cost compact controllers have opened up new perspectives in industrial automation. Many applications for which automation was once not even an option can now benefit from the many advantages of these…
Fully Automatic PLC Based Transporter
Working as a manufacturer and supplier, we are engrossed in offering Fully Automatic PLC Based Transporter. Precisely engineered employing advanced methodologies and techniques, these products are assured for their hassle free functioning. In addition to this, we abide by international quality regimes while manufacturing these products. Furthermore, to satisfy the requirements of the clients, we provide customized bags per the specifications.
PC Based Automation Control System
From the year of commencement of our organization, we are offering PLC Control System to the clients. This PLC Control System has excellent control mechanism to provide complete protection to the chambers and the auto changeover facility of master sensors avoids the failure or solves the failure issue completely. This PLC Control System is available in excellent models and is highly durable.
* Microcontroller based
* Superb quality
* Long shelf life
We are engaged in presenting a wide assortment of PLC Machine. Our range of machine is designed under the strict supervision of our experts who are engaged in their domain since long. We are providing this machine to our clients within given time frame with safe packaging options. PLC Machine is known for its perfect working style and good usage in industry for various purposes.
* Perfect Seal
* Easy to operate
Schneider PLC
M-340 Series from Schneider / Modicon Unity Process Automation Platform. The right choice for small and middle scale applications.
Rack mounted hot swappable modules, Multi-tasking processors, integrated ethernet port with userfriendly Unity Pro programming (LD / ST / FBD) in compliance with IEC norms.
PRETECH has working references of up to 1200 I/O systems in Process industry integrated with variety of third party devices.
Features of Schneider M-340 PLC:
Modular
Leading SupplierGE Modular Series 90-30 PLC
GE Modular Series 90-30 PLC
The GE Modular Series 90-30 PLC can be used for versatile applications in diverse industries. The architecture is single controlled and has an analog module which offers varying degrees of resolution for applications such as temperature, pressure and flow. User convenience is enhanced by digital interferences for push buttons, switches, proximity sensors, relays, contractors and many other devices.
* Offers various applications
* Easy to adapt
* Superior…
The new Modular PLC brings greater flexibility and more performance to applications which do not have space for traditional style PLC's. Like all other members of the FX family, each FX3UC PLC consists of a fully-integrated base unit that contains all the necessary PLC components, from the CPU to memory and the I/O controller.
Specification:SpecificationFX3UC-16MTFX3UC-32MTFX3UC-64MTFX3UC-96MTTotal integrated input/output16326496Max. input apparent power6W8W11W14WPower supply internal bus (5…
Star SupplierPLC & HMI
PLC & HMI
We are a remarkable entity, engaged in offering superior assortment of PLC & HMI drives. These drives are designed and manufactured in compliance with international quality standards under the guidance of experienced professionals. Also, these drives are precisely checked on several quality parameters by our experts. Our clients can avail these drives from us in varied specifications at highly competitive price.
* Reliable performance
* Rugged construction
Star SupplierSimatics S7- 300
Simatics S7- 300
We offer Simatic S7-300, one of the most preferred PLCs – Programmable Logic Controllers globally. These programmable logic controllers are designed and developed to offer maximum automation at minimum costs. Further, it is a simple to handle and operate program and operates while being "space saving" and yet powerful for handling large scale integration jobs.
PLCs (Programmable Logic Controllers) :
* PLCs are used in different industries and machines like in packaging and semiconductor…
Ease of use: Control systems that require minimal setup and keep program development time short.
Affordable: A high performance to cost ratio makes economical design solutions for a diverse range of applications a reality.These features combined with Mitsubishi Electric´s legacy in quality and reliability ensure that the 3rd generation of microcontrollers will continue to be at the forefront of the compact PLC market and provide customers with a leading edge.
Flexible: A…
Star SupplierIndustrial Delta Programmable Controller
Industrial Delta Programmable Controller
We are a reputed name in the industry, widely appreciated by the for bringing forth the clients an excellent assortment of Industrial Delta Programmable Controller Widely appreciated by the clients for their quality, easy operation, durability, maximum consistency and high functionality, our range is designed for sensitive electrical equipment. The offered range of products can also be availed in customized options as per the requirements and specifications of the customers.
Star SupplierDelta PLC
Programmable logic controller-Delta
Star Automations is one of the leading Delta product Suppliers in Bangladesh.
Offering delta PLC, delta HMI, Delta drives, delta Servo, delta Servo motors.
Star Automations Provide solutions to your Problems by designing and manufacturing Special Purpose Machines and Automation systems to satisfy your needs.
Product Outline
DVP-EH2 Series- High Performance MPU
DVP-ES2/EX2 Series- Standard Sequential, Control MPU / Integrated, Analog I/O…
Star SupplierTouch Screen HMI with PLC
Touch Screen HMI with PLC
We are Mumbai based manufacturer and distributors deals in Touch Screen HMI with PLC, one of the advanced automotive solutions. We offer advance version HMI series with features of Color Touch screen Graphical Display, Digital I/O and High Speed Counters and Timers. We focus and deliever quality products that are durable and reliable with affordable price. We also provide two advance version FP4035T model and Fp4057 model.
Features :
* 3.5" TFT Color Touch screen Graphical…
We are the Leading Manufacturer, Supplier of PLC Systems in Chennai.Tamilnadu, Bangladesh.
we can manufacturing only LV Level control Panels.
We are preferring buyers from Tamilnadu only.
Simatic S7 400
The most powerful Automation System within Simatic: Superb communication capability and integrated interfaces make the Simatic S7-400 process controller ideal for larger tasks such as the coordination of entire systems. The graded range of CPUs enables scalable performance and the capacity for I/O periphery is virtually unlimited. What's more, process controller signal modules can be inserted and removed while the system is live (hot swapping), making it very easy to expand the system or…
Modicon M340
* Application in Complex machines & mid size infrastructures.
* 1µs floating instruction exec time.
* Advance programming tool to improve software productivity & reusability.
* Advance automation functions & performance, including motion control
We offer our esteemed clients a exclusive range of Programmable Logic Controllers. Fabricated with approved design, which are in accordance with set industrial quality norms, these products are highly demanded all over. The product is analyzed at different levels, to ensure complete satisfaction before the final dispatch of the product.
Features
* Dependable
* Durable
* Optimum performance level
* Functionality include sequential relay control, motion…
PLC/SCADA Systems
Outfitted with a modern infrastructure, we are engaged in offering a wide range of latest and advanced PLC/SCADA Systems. These systems are highly used in numerous industries for the computerize and accurate control of various parameters. Easy to install, these systems are highly compatible with computers and very high on performance. Tested against various quality parameters, these systems are offered to our clients at market leading prices.
* Accurate…
Messung PLC & Messung HMI Display
Operator panel with intelligence -low cost, compact, programmable operator terminal -user configurable keys and LEDs eliminate conventional push buttons and indicating lamps -reduced wiring and startup time -excellent visibility via wide viewing angle, backlit alphanumeric LCD, VFD interface available Smart Touch HMI display easy message (256 messages) entry through dos based programming software softline. products offered by Mitsubishi Electric.
Q PLC
The expanded lineup of the high-performance model, the basic model "QUTE" and further the process CPU fully meets a wide variety of control needs. The Mitsubishi MELSEC-Q series PLC not only provides high-level control functions, such as the multiple PLC system, program structuring, networking, computerization and software integration, but also supports handy small-scaled control.
PLC System Upgradation Service
PLC Transporter
Our advanced manufacturing facility and expertise enable us to develop superior range of MS Tank with FRP lining. Our collection is produced using quality assured raw materials under the utmost care of professionals. Our range is packed using high quality packaging raw materials to ensure defect free delivery. Our clients can avail them at the industry leading prices from the global markets.
HMI With Setpoint Programmer, Receipe Manager
EYCON HMI with Setpoint programmer, Receipe Manager & data logger
Ideal For:
* Process Automation
* Multi-Function Control
* Process Recording
* Process Visualization
* Pharmaceutical/chemical reactors
* Glass furnaces
* Multizone heat treatment furnaces
* Injection molding
* Extrusion
* Environmental monitoring
* Building management systems
* Available in 5.5″ & 12.1″ Touch Screen Display
* Color Touchscreen Display
PLC Series
Wattage 30W~96W No. of Output 1 Features * Fully isolated plastic case with screw terminal style of I/O * Built-in active PFC function * Suitable for LED lighting and moving sign applications Model No. Data Link PLC-30 / PLC-45 / PLC-60 / PLC-100
We offer a comprehensive range of Programmable logic controller HP-14, have been widely appreciated for its outstanding performance and precise design. We make use of high grade material and advance technology to manufacture our range. These products can further be customized as per the specifications developed by the clients.
Specification OF Programmable Logic Controller HP-14
* No. of Temperature Channels : Max. 8
* No. of Control Output : Max. 32, …
Siemens PLC
We are offering an array of Siemens PLC to cater to our users' demands . Siemens PLC are one of the perfect SIMATIC controllers for every application. Easy to install and operate, these are designed using advanced technology at our own infrastructure. Siemens PLC offers the perfect programmable logic controller according to the user requirements. These products are available in market at best valued prices and customers can use them to cater to their diversified needs.
PLC HMI Development
Owing to our rich industry experience, we are engaged in offering PLC HMI Developmentto our esteemed clients. Our service is provided in complete compliance with the international quality standards. Our team of embedded software engineers has been groomed to take on daunting challenges in every new software design project. Further, clients can avail the offered service at cost-effective prices. The best techniques that each system has to offer:
* Decide which HMI platform and version to…
PLC Logic Panelpic
Our PLC panels are manufactures stands for programmable logic controller panels and are widely used in industrial process automation.
We make use of high quality raq material such as stainless steel and mild sheet steel in making these products; it is tested on various parameters before sending it at clients end. It used for all kinds of industries like automobile, engineering, water treatment plant, effluent treatment plants, paper & printing industries, chemical and process…
PLC For Injection Moulding Machine
PLC and SCADA Systems
We deal in PLC and SCADA Systems. Extensive gamut includes scada systems, hmi scada systems that is used for the purpose of data acquisition and control at the supervisory level. The range of plc scada systems that we offer consists of input and output hardware, hmi, controllers, networks, communication and required software. Control and Solutions offers scada control systems, scada temperature control system, scada hmi systems, hmi scada systems and industrial scada system.
PLC & HMI Products
Our company is involved in offering an excellent quality collection of PLC & HMI Products. Highly appreciated for their features like durability, excellent performance and reliable functionality, these products are manufactured using excellent quality components and advanced engineering concepts by our vendors' experts in conformity with the international quality standards. Finding applications in various industrial and commercial power controlling applications, these products are…
Mitsubishi PLC
We are Distributor for MITUBISHI make product like PLC and VFD.We are all series of PLC and VFD at very short period and very economical price.
Type FX1S FX1N FX3G FX3U FX3UC Power supply 100–240 VAC/ 24 VDC 100–240 VAC/ 12-24 VDC 100–240 VAC/ 24 VDC 100–240 VAC/ 24 VDC 24 VDC No. of inputs 6–16 8–36 8–36 8–64 8–48 No. of outputs 4–14 6–24 8–24 8–64 8–48 Digital outputs Relay, transistor Transistor…
PLC Automation Systems
With our extensive years of experience in manufacturing different industrial automation systems, we have developed and manufacture our range of quality made PLC Panels
PLC System
We provide the best quality PLC System that meets the international quality standards. Manufactured by our trusted vendors using latest technologies and finest quality raw material, these products are available in different configurations and are enabled with various latest and advanced features. We also offer this range of Programmable Logic Controllers / PLC system as per the needs of clients with the help of our vendors at industry leading prices.
* Max expansion: 256…
We offer a comprehensive range of PLC Systems which is manufactured by making use advanced technology machines. Our range is provided to our clients for oil pumps testing with PLC. These systems are based on automation which is available in varied capacities as per the requirements of our clients. All our products are highly reliable & efficient and are manufactured in as per the international standards of quality.
S/E PLC
Backed by our dedicated teams, we are engaged in manufacturing and supplying PLC Controller to our prospective clients. Available with us is a wide range of high quality PLC controller manufactured as per industrial standards. These panels have been precisely designed to provide maximum satisfaction to our clients. These PLC controller Used in injection moulding machine.
PLC, SCADA Systems
We are offering high quality Simatic S5 and Simatic S7-200 , S7-300 and S7-400 Spares avaliable Ex stock.
1. Simatic S5 PLC and Simatic S7 PLC power
supplies and SITOP power supplies
2. Simatic S5 memory modules
3. Simatic S5 EPROMMER
4. Simatic S5 PLC to PC communication cable (TTY
to RS232 converter with cable)
5. Operator panel OP7
6. OP7 to PC communication cable
7. 6U and 3U Siemens racks
Please see attached PDF file at right for further details.
• The new modular miniature controller from the SIMATIC S7 family
• Comprising:
– Controller with integrated PROFINET IO controller interface for communication between SIMATIC controllers, HMI, programming device or other automation components
– Communication module with PROFIBUS DP master interface
– Communication module PROFIBUS DP slave interface
– GPRS module for connection to GSM/GPRS mobile phone networks
– Integrated web server with standard and user-specific…
SIMATIC-S7 / S5 PLCs
More than two decades of experience of working on Siemens Automation Systems, provides us with a deep insight into the working of these systems, which puts us in a unique position to provide extensive support for Old SIMATIC-S5 based systems as well as new SIMATIC-S7 Systems.
Whether you plan to modify or upgrade an S5 / S7 installation or you have a completely new requirement, we can provide you with seamless support from product selection to basic engineering, software development, …
Siemens S7 200 PLC System
* On board input / outputs are available in all CPUs.
* Maximum 8 expansion modules are supported
* Supports upto 242 inputs / outputs
* AvailableCPUs: CPU 222, 224, 224 xp , 226
* PID And High Speed Counters are inbuilt
* Modules for High Temp. applications available
* Thermocouple and RTD Modules are available
* Voltage and Current input / output modules are available
* Function modules for Positioning and GPRS communication are available
* Standalone and…
Omron PLC
Omron ac servo Drive
R88M-K, R88D-KN[]-ECT High-accuracy positioning with fully-closed control.
Servo Drives for 400VAC globally widens applicable systems and environment, including large-scale equipment.
Safe design and Safe Torque Off (STO) function.
Vibration can be suppressed in acceleration/deceleration even in low-rigidity mechanical systems.
CP1H-Y CPU Units offer built-in 1-MHz line-driver I/O.
• Line-driver outputs: Two each for CW and CCW.
• Line-driver…
DVP-SS2 PLC
Quality being the most prominent names in the industry, we offer wide array of DVP-SS2 PLC that are valued for high quality and immaculate finishing. Our entire product range is sturdy in construction and is functionally updated. With the assistance of experienced professionals, we are able to carve notable position in the industry.
* The 2nd generation dvp-ss2 series slim type plc keeps the basic sequential control functions from the dips series plc but with faster execution…
Pneumatic Logic System
We offer high quality Pneumatic Logic System to our valuable customers. Known for their compact design and impeccable finish, these logic systems can be customized as per the specifications provided by the customers. Due to our wide distribution network, these systems are delivered at the customers' end within the stipulated time frame.
* Require no maintenance
* Compact design
* Max. Working temperature: 60°C
* NOT…
Compact Genius PLC is designed to combine the advantages of feature packed box PLCs and flexibility of modular PLCs. Similar to other products in its series, even such a compact PLC supports multiple serial communication options backed by global standard IEC-61131-3 programming platform. With built-in Graphic LCD and multitasking core, it meets the ever-changing control demands of low I/O applications. We Are Looking mainly queries from TamilNadu.
Sixteen Channel Data Logger
Sixteen Channel Data logger-Falcon1600DL (with Pen Drive):-
Falcon1600 is a 16 channel factory-set universal input data logger with facility to print data, transfer to PC / Computer or online communicate with SCADA or facility to record / download data to usb pen-drive.
Modular Control PLC
Delta PLC and Servo
Leveraging on our extensive industry experience and familiarity with this domain, we are highly associated in supplying and wholesaling an assorted array of Delta PLC And Servo to the market. Recognized amongst our clients for their excellent tearing strength, clarity, flexibility and longer shelf life, these are immensely demanded in the industry. Apart from this, we ensure to deliver them to our clients end after complete examination of quality.
Our PLC Systems are the result of our vast experience in the field of control panels. These panels find extensive use in various kinds of electrical devices and are durable and sturdy in construction.
Siemens PLC & Drives
LOGO
S7-200
S7-300
S7-400
Power Supplies
HMI (Opearator panels & Touch Screens)
Scada
AC Drives (MM4 Series – MM420, MM430, MM440, Sinamics G120)
Special Purpose drives / Servo – S120
DC Drives 6RA70 & 6RA80
Softwares
Profibus connector and cables
PLC HMI Automation
Modifications of control panel to PLC HMI with all basic parameters
Allen Bradley Micrologix 1200 in Ready Stock
1762-L24BXB MicroLogix 1200 PLC Ready Stock
* Power supply voltage 24V dc (-15%, +10%)
* Communication Port – mini-DIN 8 RS-232
* 14 Inputs
◊(10) standard 24V dc and – 10…24V dc 0 Hz…1 kHz (scan time dependent)
◊(4) fast 24V dc digital inputs – 14…24V dc 0 Hz…20 kHz
* 10 Outputs
◊(5) relay outputs – 2.5A (Continuous), 7.5A per group common
◊(4) standard 24V dc FET outputs 1.5A , 8A total
◊(1) fast 24V dc FET output…
By keeping track with the market development, we are offering optimum quality Mitsubishi PLC to our clients. Our provided PLC is manufactured using quality assured components and progressive technology by our highly qualified & trained professionals. Highly acclaimed in the market, our offered PLC is meticulously checked by our well trained quality experts in order to make certain its optimum quality and flawlessness. In addition, offered PLC is available in the market at the market set…
Being a well established-organization, we are engaged in trading and supplying a distinguished range of PLC. Offered machine is precisely designed at vendors' end to be utilized in different industrial control operations. At the time of procurement, our provided machine is stringently examined by a team of quality experts in order to ensure its flawless performance. To cater the diversified requirements of the clients, the provided machine is designed in various technical…
PLC and Scada System
Acknowledged as one of the reputed firms in the industry, we offer our clients a superior quality range of PLC and Scada System. Appreciated and highly acclaimed by our clients for their effective and reliable operations, these products are manufactured in tandem with the industry defined norms making use of highly advanced tools and machines.
* Rugged
* Flawless finish
We feel immensely pleased to offer an exclusive gamut of Schneider PLC at cost effective price. Our offered range is manufactured utilizing optimum quality components and advanced technology by our skilled professionals. In order to ensure quality, this range is rigorously tested on various parameters by our experts. Apart from this, we provide the entire range as per the requirement of our prestigious clients.
* Precisely designed
* Easy fitting
* Long functional
To match up the varying demands of the clients, we are engaged in offering extensive array of PLC Control System. Our product is highly recommended amongst the clients for their hassle free performance. We offer PLC Control System to our patrons as per their needs. Moreover, our PLC Control System is known for their long functional life.
* Easily configured
* Reliable operation
* Easy installation
PLC Programmable Logic Controllers
We are instrumental in providing our clients with a perfect quality PLC Programmable Logic Controllers. These products are widely demanded and appreciated by our clients for their brilliant features. Our vendors' dexterous professionals design these products, using the finest quality material. In ahead of their final dispatch, these are quality checked by our quality controllers on various parameters set by the industry.
* Performance oriented design
* Finely…
PLC Authorized Distributor and Local Agent