Beijer,Electronics,HMI,PLC,Inverter
iX HMI solution
Beijer Electronics launches several new high-performance operator panels in three integrated series. From compact to complex applications, you can choose a consistent panel design and easily scale HMI projects between them. The new operator panels are optimized for the HMI software iX.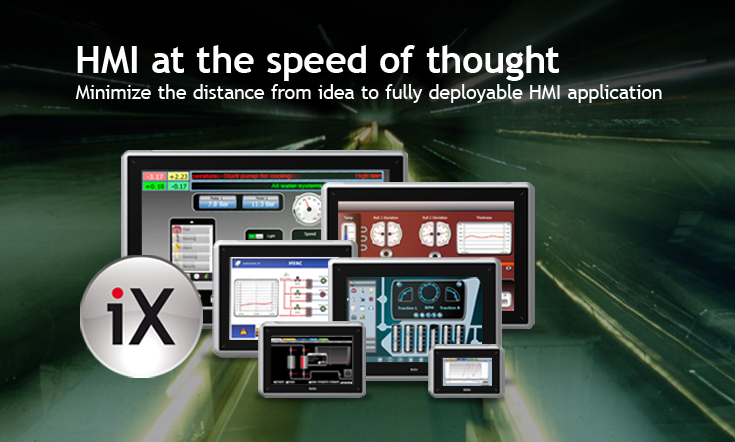 Unique and intelligent navigation tools
Be more efficient in development and operation
Explore modern controlling using scroll and swipe gestures to make your application intuitive and more efficient to navigate. And, save a lot of screen space while you're at it.
Add your own touch
Your HMI application never looked more personal
Profile your application in new ways to create a visual expression in line with the machine – and profile your application to harmonize with the company brand to give your project that higher dimension.
Relevant data at hand
Get the right information at the right time in the right place
With lots of ready-to-use solid HMI objects, you can easily create applications that enable the operator to make faster decisions, increasing productivity and reducing risks of personal injury or property damage.
iX meets CODESYS in iX HMI SoftControl
iX HMI SoftControl is a combination of two great automation products – the iX HMI solution and CODESYS. Thanks to the power of modern technology, the operator interface and the control logic can be united in one single compact hardware device. Just add standard remote I/Os and you'll get an elegant, scalable and cost-effective solution that's really cutting-edge.
iX outside
Innovative HMI at the competitive edge of your fingertips
The iX HMI solution opens the gateway to improved system design, where a smart and intuitive interface will give you the competitive edge.
Adapting the look of any machine or system to fit the user, an attractive interface with top-class graphics boosts your company brand and improves the face you show the world.
Improve your user workflow with iX HMI
CODESYS inside
Integrated soft control puts creative efficiency in your hands
Integrated HMI and PLC functionality is easy-to-use and cost efficient, making it simpler for system designers to build smaller, smarter machines, faster than ever before.
Elegantly designed yet simple to use, the most eye-opening aspects of this product are the ones you don't actually see.
Get the ultimate in control simplicity
iX TxB SoftControl
Control and HMI with high speed communication
A cost-efficient solution for medium to large sized HMI applications, with display sizes in 7, 12 and 15 inches and communication with I/Os via high-speed EtherCAT fieldbus or Modbus.
Study the panels in more detail
iX TxA SoftControl
Control and HMI for smaller applications
A cost-efficient solution for small to medium sized HMI applications, with display sizes in 4, 7 and 10 inches and communication with I/Os via serial Modbus RTU.
Learn more about the panel models here
Beijer Electronics offers a comprehensive range of industrial drives designed for industrial and HVAC applications including control of both standard induction motors and permanent magnet motors. The product range includes inverters in the range 0.1-160kW and enclosure classes IP20, IP55 and IP66.
Industrial Inverter E2
Cost-effective, user-friendly industrial inverters for rugged, reliable control
Beijer Electronics industrial inverters E2 offer general purpose drive facilities, dedicated to low power applications, combining innovative technology, reliability, robustness and ease of use.
Read more about the "E2 series
HVAC Inverter H2
Easy-to-use, robust inverters dedicated to fan and pump control
Beijer Electronics HVAC inverters H2 set a new standard for dedicated fan & pump control. The Beijer Electronics HVAC inverters H2 offer ease of use and an innovative design, combined with robust performance to provide powerful flow control and reliability in a compact drive.
Read more about the "H2 series
Performance Inverter P2
Excellent usability, high performance inverters for advanced motor control
Beijer Electronics performance inverters P2 combine premium control of both standard induction motors and permanent magnet motors with high performance, reliability and ease of use.
Read more about the P2 series

We are a leading developer of maritime HMI tehnology. We are constantly upgrading our HMI offer to meet the specific needs of the maritime market, and our solutions are the result of three decades of experience navigating the waters where people and technology meet.
iX T7AM maritime panel
Rugged operator interface for on-board requirements
To succeed on board, the equipment you offer must be as user-friendly as it is reliable. Vessel safety, passenger comfort and cargo quality all depend on the right decisions at the right time.
Using the iX HMI solution from Beijer Electronics, you can ensure an offering that's truly seaworthy.
Read about iX T7AM
Beijer,Electronics,HMI,PLC,Inverter
For complex machine control and process visualization that demands maximum reliability and high performance, Beijer Electronics offers you our range of Panel IPCs, the EPC series. Beijer Electronics offers the EPC range of Panel IPCs, both as stand alone hardware and as the iX HMI System, a combined hardware and software system with iX Runtime pre-installed.
This is a line of robust, high-performance Panel IPCs, built for long life cycles and suitable for any industry, including environments with a high level of vibration such as material handling and automotive applications.