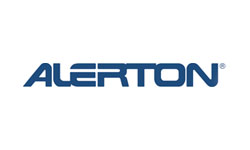 Microset 4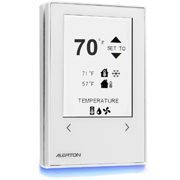 Alerton's Microset 4 wall sensor's strengthened glass touchscreen user interface can display the setpoint, room and outside air temperatures, relative humidity and fan status. A configurable LED Status Light indicator displays heating or cooling status at a glance. The Microset 4 is fully backward compatible with Alerton's BACtalk™ system, enabling users to leverage their existing Alerton devices
Microset 4
VERSATILE
Occupant can view room and outside air temperatures, indoor and outdoor humidity (if enabled in programming), select fan status and change room temperature setpoints. Data and functions are selectable.
ENERGY EFFICIENT
Occupants can select after-hours operation in 30-minute increments or turn zone equipment ON and OFF.
FLEXIBLE
Robust and easy-to-use test and balance and field service modes allow maintenance personnel to monitor and adjust parameters.
ATTRACTIVE
Modern styling enhances any interior, and functional design makes operation intuitive.
Microset II
The Microset II is an intelligent zone sensor and tenant service device used in conjunction with Alerton's VisualLogic® controllers. The Microset has a backlit LCD display for easy viewing in any lighting condition. The tenant can view the current room and outdoor air temperature as well as view and change the current room setpoint. The Microset LCD is also programmable. It can be configured to display the current time and date, unit heating and cooling status, fan speed and more. When set to the service mode, the Microset can be used to change controller variables
Microset II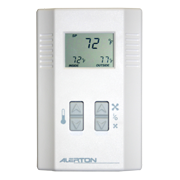 Occupant can view room and outside air temperatures, select fan speed and change room temperature setpoints. Data and functions are programmable.
A programmable field service mode allows maintenance personnel to monitor and adjust control parameters in the VLC from the Microset's™ field service mode.
Microtouch (BACtalk)
Alerton BACtalk temperature sensors are high-resolution temperature sensors that utilize the same industrial-grade sensing element. The element is precalibrated and requires no field calibration. MICROTOUCH is an aesthetically pleasing sensor that senses temperature, allows tenant override and setpoint adjustment
Microtouch (BACtalk)
Reliable
An interchangeable, industrial-grade thermistor provides consistent accuracy and interfaces with Alerton® field equipment.
Use the Microset™ Service Tool at the BACtalk® Microtouch™ to adjust setpoint ranges, afterhours override time, VAV box CFM setpoints, heat pump economizer setpoints, and more.
Energy-efficient
Maintenance and energy costs are reduced with operator-established after-hours override time and temperature bias setpoints.
Discreet and stylish, the BACtalk Microtouch is the ideal companion to any building's interior decor.
Wireless Temperature and Humidity Sensor
Alerton's point-to-point wireless temperature sensor integrates seamlessly with a wide range of controllers, and adds fully programmable building automation control without the hassles and costs associated with mounting and wiring a wall module. Continuing to expand our wireless product line, Alerton offers humidity sensing to the WTS family of sensors (WTS-1050-H, WTS-1000-H), including two identical models for the European market to address output power requirements (WTS-1050-H-E, WTS-1000-H-E).
Wireless Temperature and Humidity Sensor
Wireless
Saves installation costs and maintains integrity and look of existing décor.
Powerful
Offers long battery life, 100-foot range, and enough unique settings to enable thousands of devices to work independently.
Alerton BACtalk Building Security
Alerton's BACtalk Building Security is an integrated, Web-based system for access control, intrusion detection and alarm monitoring. The system enables users to manage and monitor their facility using a Web browser at any time, from anywhere. BACtalk Building Security integrates with any building automation system (BAS), enabling users to control lighting, HVAC equipment and other BACnet-based building systems in response to access events and alarm conditions
Alerton BACtalk Building Security
Economical
Provides web connectivity for lower installation and maintenance costs.
Uses a web browser interface to enable access control, time and attendance monitoring, and intrusion detection—at any time, from anywhere.
Expandable
Supports two card readers and the I/O to support two controlled entryways. Accommodates hundreds of expansion configurations.
Compliant
Integrates with your BACnet building automation system.
Adaptable
Part of an overall system that is ideal for small to mid-size facilities requiring 32 or fewer card access readers.
BACtalk® Building Security Remote intrusion display keypad
Enables users to remotely arm and disarm intrusion zones.
Provides intrusion data as well as arming status.
Secure
Enables users to access entry points using a secret PIN.
Fast
Built-in CPU enables 19.2 Mbps baud rate.
Sleek design
Modern design is sleek, ergonomic and unobtrusive.
BACtalk® Building Security I/O Module
Supports eight supervised inputs, two digital inputs, and eight relay outputs.
Additional I/O modules can be used to expand the total system to provide 120 supervised inputs, 120 relay output points, and 30 digital inputs.
Provides security inputs and controlled relay outputs that are ideal for small to medium size facilities requiring security and card access control.