[et_pb_section admin_label="section"][et_pb_row admin_label="row"][et_pb_column type="1_3″][et_pb_sidebar admin_label="Sidebar" orientation="left" area="sidebar-1″ background_layout="light" remove_border="off"]
[/et_pb_sidebar][/et_pb_column][et_pb_column type="2_3″][et_pb_text admin_label="Text" background_layout="light" text_orientation="justified" use_border_color="off" border_color="#ffffff" border_style="solid"]
supervisory control and data acquisition
 (
SCADA
).
PLC and SCADA Systems
We deal in PLC and SCADA Systems. Extensive gamut includes scada systems, hmi scada systems that is used for the purpose of data acquisition and control at the supervisory level. The range of plc scada systems that we offer consists of input and output hardware, hmi, controllers, networks, communication and required software. Control and Solutions offers scada control systems, scada temperature control system, scada hmi systems, hmi scada systems and industrial scada system.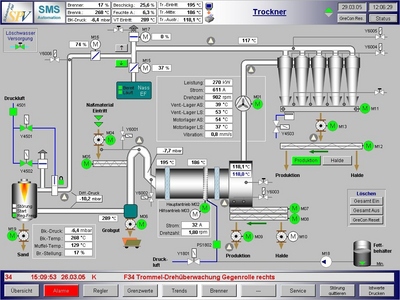 Remote SCADA Systems
Remote SCADA Systems are the name implies, effective in centralized monitoring and control of liquids in tanks. It is mainly used for Energy Management. It is also used as Centralized Monitoring System. Major applications are
Water Supply Systems as in Municipal/ City supplies, Public Health Engineering and other departmental applications in monitoring of levels in tanks, opening or closing of valves for delivery or operation of pumps based on levels, time, pressure and flow
Waste Water Treatment plants
Diesel monitoring in tanks.
SCADA Softwares
We deal in SCADA Softwares. InduSoft Web Studio is a truly unique development and run time software that incorporates all the tools users need to create SCADA HMI applications, dashboards and OEE interfaces. This highly flexible package allows users to develop applications once, and then deploy them on any supported Microsoft operating system, including Windows CE, Windows Embedded, Windows 7 and Windows Server editions.
InduSoft Web Studio provides access to data from anywhere, including PCs, embedded devices, mobile devices, and remote web browsers. InduSoft Web Studio includes over 240 drivers for all major PLC manufacturers, including Siemens, Beckhoff, Omron, GE, Mitsubishi, Schneider, Rockwell (Allen Bradley) and others. InduSoft Web Studio also offers OPC UA and OPC .NET 3.0 communication as well as OPC Classic (DA and HDA). Native security features allow users to take advantage of the full Microsoft Active Directory using the LDAP protocol.
Users can easily connect to any SQL database, and new configuration interfaces for FTP and SNMP allow you to quickly configure multimedia alarms and reports that can be sent to e-mail, smartphones, or a printer. InduSoft Web Studio offers the freedom to develop SCADA and HMI applications that can be easily and quickly deployed on any data acquisition supported device.
Features:
Supervisory Control And Data Acquisition (INDUSOFT SCADA)
More than 250 communication drivers
Communicate with Third party drivers under OPC/DDE/etc system
Supports various PC packages.
More than 100 Math functions
Easy to design and develop applications for online alarms /events
Easy plotting of Trends for process behaviors
Design Graphics pre-defined dynamic effects
Communicate and Control through Internet/ Intranet/Web/Wireless/GSM and GPRS
Send Enquiry
SCADA Softwares
Supervisory Control and Data Acquisition Systems
Supervisory Control and Data Acquisition Systems
We hold specialization in offering our clients a range of Supervisory Control and Data Acquisition Systems. These systems are specially developed to provide the patrons with convenience, efficiency, performance and utility. We offer these systems with console as well as software to our respected customers. Our clients can avail these systems at competitive prices in the market.
Features :
Networking & communication capabilities
Alarming
Powerful logging
Trending and reporting facilities
We provide our customers with a wide range of SCADA Operating Systems, which is known for their impeccable quality and have been tested on a number of various parameters, such as efficiency, performance, easy installation, low maintenance and long service life. The systems are installed by our trained and skilled professionals, who have complete knowledge of the operating systems. They provide in-depth and detailed trainings to the customers regarding the necessary features of the operating systems.
Supervisory Control & Data Acquisition System
Enlarge View
Supervisory Control & Data Acquisition System
We specialize in offering our customers with a range of SCADA Operating Systems, which has been designed and created to provide the customers with efficiency, utility, performance and convenience. Our range also includes a number of CPU, printers, dust cleaning systems and draw out keyboards along with powerful alarming and networking facilities. Our trained and skilled professionals are fully trained in installing these operating systems in visual basic and in installing WINCC and Intel System as per the demands and requirements of the customers.
[/et_pb_text][/et_pb_column][/et_pb_row][/et_pb_section]