[et_pb_section admin_label="section"][et_pb_row admin_label="row"][et_pb_column type="1_3″][et_pb_sidebar admin_label="Sidebar" orientation="left" area="sidebar-1″ background_layout="light" remove_border="off"] [/et_pb_sidebar][/et_pb_column][et_pb_column type="2_3″][et_pb_text admin_label="Text" background_layout="light" text_orientation="justified" use_border_color="off" border_color="#ffffff" border_style="solid"]
We sell all kinds of LS Inverter or Frequency Drive or Variable Frequency Inverter or VFI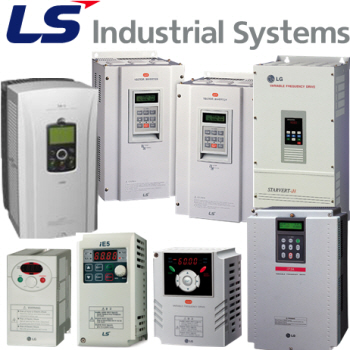 iE5 Drive
User friendly micro size slim VFD
Inverter featuring on strong torque performance and accurate control for general use iS7
generates more powerful performance in terms of V/F control, V/F PG, slip compensation,
sensorless vector control, PMSM (Permanent Magnetic Synchronous Motor) and focuses on
user-friendly interface and environment-friendly features including wide graphic LCD keypad,
user & macro group support, electro-thermal functions for motor protection,
protection for input/output phase Open.
Features
V/f control
Compact size: 68 x 128 x 85mm (2.7 x 5 x 3.3 inch)
0.1 ~ 200Hz frequency output
1 ~ 10kHz carrier frequency
Fault history: Last 3 faults
IP20 enclosure
RS485 (LS Bus / Modbus RTU) communication (Built-in option)
DC Injection braking
Selectable manual/ automatic torque boost
Selectable PNP/NPN input signal
PI control
Up-Down & 3-Wire operation
Automatic restart after instantaneous power failure
Built-in potentiometer
Monitoring & commissioning PC based software tool (Drive View)
Parameter copy unit
LS Starvert Frequency Drive / Inverter
Drive Dimensions
iC5 Drive
High torque micro VFD
Small capacity and high performance LS inverter iC5 series.
iC5 provides satisfies various customer needs with Modbus, PID control, Sensorless
vector control, Auto Tuning, etc.
Features
Sensorless vector control
The iC5 adopts sensorless vector control algorithm, and it improves not only the torque control characteristics, but the speed controlability in an uncertain condition caused by the load variation as well.
Auto Tuning
The auto tuning algorithm in the iC5 sets the motor factors automatically that brings the traditional commissioning difficulties mainly in low speed by the load variation and the low torque generation to a settlement.
Highly efficient DSP chip
The iC5 adopts highly efficient DSP(Digital Signal Processing) chip to improve processing speed, flexibility, stability and etc.
PNP, NPN Dual Control Signal
The iC5 provides PNP and NPN signals for outside controllers.
It works with 24Vdc regardless of the type of PLC or control signals.
Communication interface, Modbus-RTU
The iC5 provides the most popular communication interface, ModBus-RTU for remote control by PLC
or other devices.
PID Control
PID process control is used in iC5 to make speed corrections quickly with a minimal amount of overshoot
and oscillation for the control of flow, temperature, pressure and etc.
LS Starvert Frequency Drive / Inverter
Drive Dimensions
iG5A
Powerful & compact sensorless vector control VFD
LS Starvert iG5A is very competitive in its price and its functional strength compared to iG5.
User-friendly interface, extended inverter ranges up to 7.5kW, superb torque competence
and small size of iG5A provides an optimized user environment.
Features
Selectable V/f, sensorless vector control
Motor parameter Auto-tuning
Powerful torque at overall speed range
0.1 ~ 400Hz frequency output
-15% ~ +10% input voltage margin
Fault history: Last 5 faults
0~10Vdc / -10 ~ +10Vdc analog input
IP20 enclosure, UL Type 1 (Option)
Selectable manual/automatic torque boost
Selectable PNP/NPN input signal
2nd motor control and parameter setting
Built-in Dynamic braking transistor as standard
Enhanced process PID control
Built-in RS485 (LS Bus / Modbus RTU) communication
Cooling fan On/Off control & Easy change
Remote control using external keypad * RJ45 cable(Optional)
Upgraded functions:

Sleep & Wake-up (Energy savings)
KEB(Kinetic Energy Buffering) protection
Low leakage PWM algorism

Monitoring & commissioning PC based software tool (Drive View)
LS Starvert Frequency Drive / Inverter
Drive Dimensions
| | |
| --- | --- |
| 0.37 | SV004iG5-1 |
| 0.75 | SV008iG5-1 |
| 1.5 | SV015iG5-1 |
| 0.37 | SV004iG5-2 |
| 0.75 | SV008iG5-2 |
| 1.5 | SV015iG5-2 |
| 2.2 | SV022iG5-2 |
| 3.7 | SV037iG5-2 |
| 4 | SV040iG5-2 |
| | |
| 0.37 | SV004iG5-4 |
| 0.75 | SV008iG5-4 |
| 1.5 | SV015iG5-4 |
| 2.2 | SV022iG5-4 |
| 3.7 | SV037iG5-4 |
| 4 | SV040iG5-4 |
| 0.37 | SV004iG5-4N |
| 0.75 | SV008iG5-4N |
| 1.5 | SV015iG5-4N |
| 2.2 | SV022iG5-4N |
| 3.7 | SV037iG5-4N |
| 4 | SV040iG5-4N |
| | | |
| --- | --- | --- |
| POWER (KW) | TYPE | VOLTAGE |
| 0.4 | SV004iGX-4 | 380V |
| 0.75 | SV008iGX-4 | 380V |
| 1.5 | SV015iGX-4 | 380V |
| 2.2 | SV022iGX-4 | 380V |
| 3.7 | SV037iGX-4 | 380V |
| 4 | SV040iGX-4 | 380V |
| 5.5 | SV055iGX-4 | 380V |
| 7.5 | SV075iGX-4 | 380V |
| 11 | SV110iGX-4 | 380V |
| 15 | SV150GX-4 | 380V |
| 18.5 | SV185iGX-4 | 380V |
| 22 | SV220iGX-4 | 380V |
[/et_pb_text][/et_pb_column][/et_pb_row][/et_pb_section]