[et_pb_section admin_label="section"][et_pb_row admin_label="row"][et_pb_column type="1_3″][et_pb_sidebar admin_label="Sidebar" orientation="left" area="sidebar-1″ background_layout="light" remove_border="off"] [/et_pb_sidebar][/et_pb_column][et_pb_column type="2_3″][et_pb_text admin_label="Text" background_layout="light" text_orientation="justified" use_border_color="off" border_color="#ffffff" border_style="solid"]
GE Fanuc PLC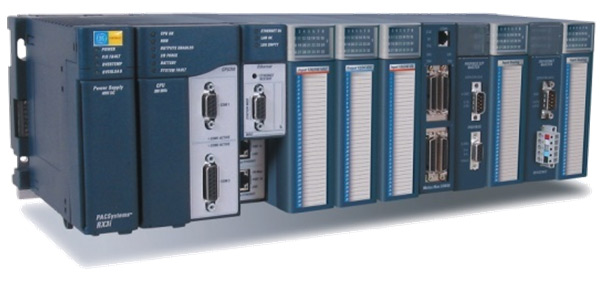 There are several series of GE Fanuc PLC .
GE Fanuc PLC Series are described below:
• Series One
• Series One Jr.
• Series Three
• Series Five
• Series Six
• ProLoop
• Genius I/O
• Series 90-20
• Series 90-30
• Series 90-70
• Field Control
• PAC Systems RX3i
• PAC Systems RX7i
• VersaMax
Durus
The Durus controller is a compact simple relay replacer. The Durus supports discrete and analog I/O.
QuickPanel Control
The QuickPanel Control combines visualization and control into one hardware platform. The QuickPanel supports a wide range of I/O types.
VersaMax Micro
The VersaMax Micro and Nano enable users to address a wide range of low end applications. The micro supports discrete, analog and simple motion applications.
VersaMax Modular
The VersaMax Modular line of control addresses simple control. The I/O modules support hot swap to increase system uptime.
Series 90-30
The Series 90-30 is a versatile line of low to mid range applications. The Series 90-30 supports a wide range of applications with specialty modules.
GE Fanuc PLCs allow total migration from the original General Electric Series Six PLC to the Series 90-30, Series 90-70 and finally to the Rx3i Rx7i Pacsystems. GE Fanuc programming software was formally known as Cimplicity but now uses the family name of Proficy Machine Edition as well as PE for the HMI. Intellution FIX32, iFix and i Historian were all converted to the GE Fanuc family of software named Proficy
GE Fanuc Series 90-30 PLC system includes four components: Central Processing Units -IC693CPU374, Analog Inputs – IC693ALG223, Racks – IC693CHS391, Power Supplies – IC693PWR330
Series 90-70
Series 90-70 Our shelves are loaded with GE 90-70 modules. New, Surplus New and Remanufactured units available, 24 Hour Repair on all GE 90-70 PLC Parts – 3 year warranty
Genius I/O
Genius I/O GE Fanuc Genius I/O blocks interface with GE Series 6 PLC with the IC660CBB902 and IC660CBB903 bus controller. Genius I/O also communicate with GE Fanuc 9030, Series 90-70, Series Five, Rx3i and Rx7i.
RX3i PacSystem
RX3i PacSystem GE Rx3i Pacsystem was introduced to replace the Series 90-30 PLC system. It uses the same I/O system as the GE Series 90-30 plus more high speed I/O modules.
[/et_pb_text][/et_pb_column][/et_pb_row][/et_pb_section]