[et_pb_section admin_label="section"][et_pb_row admin_label="row"][et_pb_column type="1_3″][et_pb_sidebar admin_label="Sidebar" orientation="left" area="sidebar-1″ background_layout="light" remove_border="off"] [/et_pb_sidebar][/et_pb_column][et_pb_column type="2_3″][et_pb_text admin_label="Text" background_layout="light" text_orientation="justified" use_border_color="off" border_color="#ffffff" border_style="solid"]
Siemens PLC is world's most branded PLC. Siemens PLC is widely used in pharmaceuticals, and different large industries.
There are 3 kinds of PLC
1. Mini PLC
2. Micro PLC
3. Modular PLC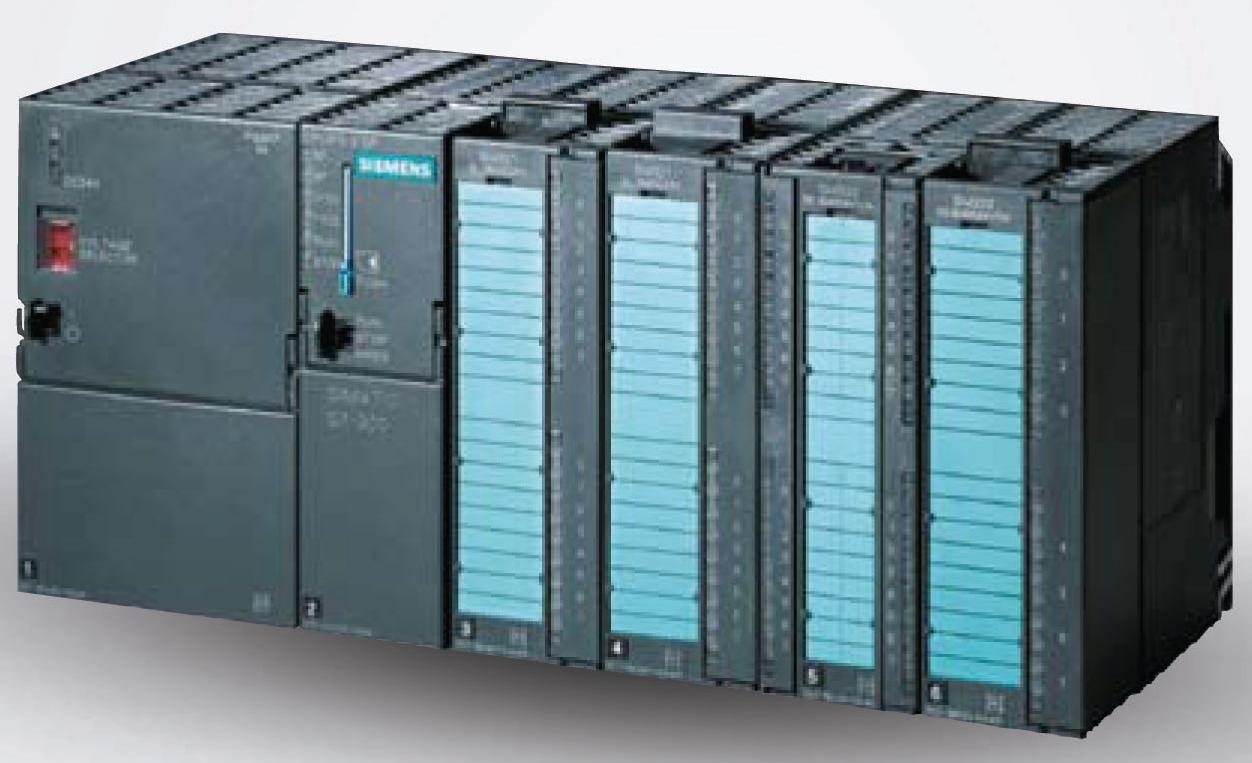 Mini PLC is Logo PLC. Siemens best and cheap rated PLC is logo plc
Micro: s7-00
Modular PLC. Modular PLC is used big control system.
s-7-300, s-7-400, s7-1200, s7-1500
Reliance High Tech Ltd, The leading system integration company in industrial control systems field, Reliance High Tech Ltd is also the largest stockist of Siemens industry automation products in Bangladesh. We have all the commonly needed control devices – PLCs, HMIs, I/O cards, VFDs, Power Supply Units, PLC accessories, etc. in ready stock.
For all your sourcing needs in Siemens Automation domain, please feel free to contact us.
1. S7-1200 Family
MLFB
Specifications
6ES7211-1AD30-0XB0
SIMATIC S7-1200, CPU 1211C,
COMPACT CPU, DC/DC/DC,
ONBOARD I/O:
6 DI 24V DC; 4 DO 24 V DC;
2 AI 0 – 10V DC,
POWER SUPPLY: DC
20.4 – 28.8 V DC,
PROGRAM/DATA MEMORY: 25 KB
6ES7211-1BD30-0XB0
SIMATIC S7-1200, CPU 1211C,
COMPACT CPU, AC/DC/RELAY,
ONBOARD I/O:
6 DI 24V DC; 4 DO RELAY 2A;
2 AI 0 – 10V DC,
POWER SUPPLY: AC
85 – 264 V AC AT 47 – 63 HZ,
PROGRAM/DATA MEMORY: 25 KB
6ES7211-1HD30-0XB0
SIMATIC S7-1200, CPU 1211C,
COMPACT CPU, DC/DC/RELAY,
ONBOARD I/O:
6 DI 24V DC; 4 DO RELAY 2A;
2 AI 0 – 10V DC,
POWER SUPPLY: AC
20.4 – 28.8 V DC,
PROGRAM/DATA MEMORY: 25 KB
6ES7212-1AD30-0XB0
SIMATIC S7-1200, CPU 1212C,
COMPACT CPU, DC/DC/DC,
ONBOARD I/O:
8 DI 24V DC; 6 DO 24 V DC;
2 AI 0 – 10V DC,
POWER SUPPLY: DC
20.4 – 28.8 V DC,
PROGRAM/DATA MEMORY: 25 KB
6ES7212-1BD30-0XB0
SIMATIC S7-1200, CPU 1212C,
COMPACT CPU, AC/DC/RLY,
ONBOARD I/O:
8 DI 24V DC; 6 DO RELAY 2A;
2 AI 0 – 10V DC,
POWER SUPPLY: AC
85 – 264 V AC AT 47 – 63 HZ,
PROGRAM/DATA MEMORY: 25 KB
6ES7212-1HD30-0XB0
SIMATIC S7-1200, CPU 1212C,
COMPACT CPU, DC/DC/RLY,
ONBOARD I/O:
8 DI 24V DC; 6 DO RELAY 2A;
2 AI 0 – 10V DC,
POWER SUPPLY: AC
20.4 – 28.8 V DC,
PROGRAM/DATA MEMORY: 25 KB
6ES7214-1AE30-0XB0
SIMATIC S7-1200, CPU 1214C,
COMPACT CPU, DC/DC/DC,
ONBOARD I/O:
14 DI 24V DC; 10 DO 24 V DC;
2 AI 0 – 10V DC,
POWER SUPPLY: DC
20.4 – 28.8 V DC,
PROGRAM/DATA MEMORY: 50 KB
6ES7214-1BE30-0XB0
SIMATIC S7-1200, CPU 1214C,
COMPACT CPU, AC/DC/RLY,
ONBOARD I/O:
14 DI 24V DC; 10 DO RELAY 2A;
2 AI 0 – 10V DC,
POWER SUPPLY: AC
85 – 264 V AC AT 47 – 63 HZ,
PROGRAM/DATA MEMORY: 50 KB
6ES7214-1HE30-0XB0
SIMATIC S7-1200, CPU 1214C,
COMPACT CPU, DC/DC/RLY,
ONBOARD I/O:
14 DI 24V DC; 10 DO RELAY 2A;
2 AI 0 – 10V DC,
POWER SUPPLY: AC
20.4 – 28.8 V DC,
PROGRAM/DATA MEMORY: 50 KB
6ES7221-1BF30-0XB0
SIMATIC S7-1200, DIGITAL INPUT
SM 1221,
8DI, 24V DC, SINK/SOURCE INPUT
6ES7221-1BH30-0XB0
SIMATIC S7-1200, DIGITAL INPUT
SM 1221,
16 DI, 24VDC, SINK/SOURCE INPUT
6ES7222-1BF30-0XB0
SIMATIC S7-1200, DIGITAL OUTPUT
SM 1222,
8 DO, 24V DC, TRANSISTOR 0.5A
6ES7222-1BH30-0XB0
SIMATIC S7-1200, DIGITAL OUTPUT
SM 1222,
16 DO, 24V DC, TRANSISTOR 0.5A
6ES7222-1HF30-0XB0
SIMATIC S7-1200, DIGITAL OUTPUT
SM 1222,
8 DO, RELAY 2A
6ES7222-1HH30-0XB0
SIMATIC S7-1200, DIGITAL OUTPUT
SM 1222,
16 DO, RELAY 2A
6ES7223-0BD30-0XB0
SIMATIC S7-1200, DIGITAL I/O
SB 1223, 2 DI / 2 DO,
2 DI 24V DC/2 DO 24V DC
6ES7223-1BH30-0XB0
SIMATIC S7-1200, DIGITAL I/O
SM 1223, 8DI / 8DO,
8DI DC 24 V, SINK/SOURCE,
8DO, TRANSISTOR 0.5A
6ES7223-1BL30-0XB0
SIMATIC S7-1200, DIGITAL I/O
SM 1223, 16DI / 16DO,
16DI DC 24 V, SINK/SOURCE,
16DO, TRANSISTOR 0.5A
6ES7223-1PH30-0XB0
SIMATIC S7-1200, DIGITAL I/O
SM 1223, 8DI / 8DO,
8DI DC 24 V, SINK/SOURCE,
8DO, RELAY 2A
6ES7223-1PL30-0XB0
SIMATIC S7-1200, DIGITAL I/O
SM 1223, 16DI / 16DO,
16DI DC 24 V, SINK/SOURCE,
16DO, RELAY 2A
6ES7231-4HD30-0XB0
SIMATIC S7-1200, ANALOG INPUT,
SM 1231, 4 AI,
+/-10V, +/-5V, +/-2.5V,
OR 0-20 MA
12 BIT + SIGN BIT (13 BIT ADC)
6ES7231-4HF30-0XB0
SIMATIC S7-1200, ANALOG INPUT,
SM 1231, 8 AI,
+/-10V, +/-5V, +/-2.5V,
OR 0-20 MA
12 BIT + SIGN OR (13 BIT ADC)
6ES7231-5PA30-0XB0
SIMATIC S7-1200, RTD INPUT,
SB 1231 RTD, 1 AI RTD,
1 CHANNEL, PT 100 AND PT1000
6ES7231-5PD30-0XB0
SIMATIC S7-1200, ANALOG INPUT,
SM 1231 RTD, 4 X AI RTD MODULE
6ES7231-5QA30-0XB0
SIMATIC S7-1200, ANALOG
SB 1231 T, 1 X AI THERMOCOUPLE,
TYPE J OR K
6ES7231-5QD30-0XB0
SIMATIC S7-1200, ANALOG INPUT,
SM 1231 TC, 4 AI THERMOCOUPLE
6ES7232-4HA30-0XB0
SIMATIC S7-1200, ANALOG OUTPUT
SB 1232, 1 AO,
+/- 10VDC (12 BIT RES.) OR
0 – 20 MA (11 BIT RES)
6ES7232-4HB30-0XB0
SIMATIC S7-1200, ANALOG OUTPUT,
SM 1232, 2 AO,
+/-10V, 14 BIT RESOLUTION,
OR 0-20 MA, 13 BIT RESOLUTION
6ES7232-4HB30-0XB0
SIMATIC S7-1200, ANALOG OUTPUT,
SM 1232, 2 AO,
+/-10V, 14 BIT RESOLUTION,
OR 0-20 MA, 13 BIT RESOLUTION
6ES7232-4HD30-0XB0
SIMATIC S7-1200, ANALOG OUTPUT,
SM 1232, 4 AO,
+/-10V, 14 BIT RESOLUTION,
OR 0-20 MA, 13 BIT RESOLUTION
6ES7234-4HE30-0XB0
SIMATIC S7-1200, ANALOG I/O
SM 1234, 4 AI / 2 AO,
+/-10V, 14 BIT RESOLUTION,
OR 0-20 MA, 13 BIT RESOLUTION
6ES7274-1XF30-0XA0
SIMATIC S7-1200,
SIMULATOR MODULE SIM1274,
8 CHANNEL SIMULATOR
DC INPUT SWITCHES
6ES7292-1AG30-0XA0
SIMATIC S7-1200, SPARE PART
I/O TERMINAL BLOCK TIN
DIGITAL SIGNAL MODULE 8CH/16CH
(4 PIECES W. 7 SCREWS EACH)
2. S7-200 Family
MLFB
Specifications
6ES7211-0AA23-0XB0
SIMATIC S7-200, CPU 221
COMPACT UNIT, DC POWER SUPPLY
6 DI DC/4 DO DC,
4 KB CODE/2 KB DATA
6ES7211-0BA23-0XB0
SIMATIC S7-200, CPU 221
COMPACT UNIT, AC POWER SUPPLY
6 DI DC/4 DO RELAY
4 KB CODE/2 KB DATA
6ES7212-1AB23-0XB0
SIMATIC S7-200, CPU 222
COMPACT UNIT, DC POWER SUPPLY
8 DI DC/6 DO DC
4 KB CODE/2 KB DATA,
PROFIBUS DP EXTENDABLE
6ES7212-1BB23-0XB0
SIMATIC S7-200, CPU 222
COMPACT UNIT, AC POWER SUPPLY
8 DI DC/6 DO RELAY
4 KB CODE/2 KB DATA,
PROFIBUS DP EXTENDABLE
6ES7214-1AD23-0XB0
SIMATIC S7-200, CPU 224,
COMPACT UNIT, DC POWER SUPPLY
14 DI DC/10 DO DC,
8/12 KB CODE/8 KB DATA,
PROFIBUS DP EXTENDABLE
6ES7214-1BD23-0XB0
SIMATIC S7-200, CPU 224,
COMPACT UNIT, AC POWER SUPPLY
14 DI DC/10 DO, RELAY,
8/12 KB CODE/8 KB DATA,
PROFIBUS DP EXTENDABLE
6ES7214-2AD23-0XB0
SIMATIC S7-200, CPU 224XP
COMPACT UNIT, DC POWER SUPPLY
14 DI DC/10 DO DC, 2 AI, 1 AO
12/16 KB CODE/10 KB DATA,
2 PPI/FREEPORT PORTS
6ES7214-2BD23-0XB0
SIMATIC S7-200, CPU 224XP
COMPACT UNIT, AC POWER SUPPLY
14DI DC/10DO RELAY, 2AI, 1AO,
12/16 KB CODE/10 KB DATA,
2 PPI/FREEPORT PORTS
6ES7216-2AD23-0XB0
SIMATIC S7-200, CPU 226
COMPACT UNIT, DC POWER SUPPLY
24 DI DC/16 DO DC,
16/24 KB CODE/10 KB DATA,
2 PPI/FREEPORT PORTS
6ES7216-2BD23-0XB0
SIMATIC S7-200, CPU 226
COMPACT UNIT, AC POWER SUPPLY
24 DI DC/16 DO RELAY,
16/24 KB CODE/10 KB DATA,
2 PPI/FREEPORT PORTS
6ES7221-1BF22-0XA0
SIMATIC S7-200, DIGITAL INPUT
EM 221, FOR S7-22X CPU ONLY,
8 DI, 24V DC, SINK/SOURCE INPUT
6ES7221-1BH22-0XA0
SIMATIC S7-200, DIGITAL INPUT
EM 221, FOR S7-22X CPU ONLY,
16DI, 24V DC, SINK/SOURCE INPUT
6ES7221-1EF22-0XA0
SIMATIC S7-200, EM 221 DIGITAL
INPUT MOD., OPTICALLY ISOLATED
8DI, 120/230V AC
6ES7222-1BD22-0XA0
SIMATIC S7-200, DIGITAL OUTPUT
EM 222, FOR S7-22X CPU ONLY,
4DO, 4-24V DC; 5 A/POINT SOURCE
6ES7222-1BF22-0XA0
SIMATIC S7-200, DIGITAL OUTPUT
EM 222, FOR S7-22X CPU ONLY,
8DQ, 24 V DC
6ES7222-1EF22-0XA0
SIMATIC S7-200, DIGITAL OUTPUT
EM 222, OPTICALLY ISOLATED
8DQ, 120/230V AC, 0.5A
6ES7222-1HD22-0XA0
SIMATIC S7-200, DIGITAL OUTPUT
EM 222, FOR S7-22X CPU ONLY,
4DO (RELAY); 10 A,
5 – 30V DCOR 5 – 250V AC
6ES7222-1HF22-0XA0
SIMATIC S7-200, DIGITAL OUTPUT
EM 222, FOR S7-22X CPU ONLY,
8DO, (RELAY OUTPUTS) 2A
6ES7223-1BF22-0XA0
SIMATIC S7-200, DIGITAL I/O
EM 223, FOR S7-22X CPU ONLY,
4 DI / 4 DO, 24 V DC
6ES7223-1BH22-0XA0
SIMATIC S7-200, DIGITAL I/O
EM 223, FOR S7-22X CPU ONLY,
8 DI DC 24 V, SINK/SOURCE,
8 DO DC 24V, 0.75A/POINT SOURCE
6ES7223-1BL22-0XA0
SIMATIC S7-200, DIGITAL I/O
EM 223, FOR S7-22X CPU ONLY,
16DI 24V DC, SINK/SOURCE,
16DO 24V DC, 0.75A/POINT,SOURCE
6ES7223-1BL22-0XA0
SIMATIC S7-200, DIGITAL I/O
EM 223, FOR S7-22X CPU ONLY,
16DI 24V DC, SINK/SOURCE,
16DO 24V DC, 0.75A/POINT,SOURCE
6ES7223-1HF22-0XA0
SIMATIC S7-200, DIGITAL I/O
EM 223, FOR S7-22X CPU ONLY,
4 DI / 4 DO RELAY,
5-30 V DC, 250 V AC
6ES7223-1PH22-0XA0
SIMATIC S7-200, DIGITAL I/O
EM 223, FOR S7-22X CPU ONLY,
8 DI 24 V DC, SINK/SOURCE,
8 DO RELAY, 2A/POINT
6ES7223-1PL22-0XA0
SIMATIC S7-200, DIGITAL I/O
EM 223, FOR S7-22X CPU ONLY,
16 DI 24 V DC, SINK/SOURCE
16 DO RELAY, 2A/POINT
6ES7231-0HC22-0XA0
SIMATIC S7-200, ANALOG INPUT
EM 231, FOR S7-22X CPU ONLY,
4 AI, 0 – 10V DC,
12 BIT CONVERTER
6ES7231-0HF22-0XA0
SIMATIC S7-200, ANALOG INPUT
EM 231, FOR S7-22X CPU ONLY,
8 AI, 0-10V DC, MAX 2AE 0..20MA
12/11 BIT CONVERTER
6ES7231-7PB22-0XA0
SIMATIC S7-200, RTD INPUT MOD.
EM 231, FOR S7-22X CPU ONLY,
2AI, PT100/200/500/1000/10000
NI100/120/1000, CU10,
RESISTANCE 150/300/600 OHM
15 BIT+ SIGN
6ES7231-7PB22-0XA0
SIMATIC S7-200, RTD INPUT MOD.
EM 231, FOR S7-22X CPU ONLY,
2AI, PT100/200/500/1000/10000
NI100/120/1000, CU10,
RESISTANCE 150/300/600 OHM
15 BIT+ SIGN
6ES7231-7PC22-0XA0
SIMATIC S7-200, RTD INPUT MOD.
EM 231, FOR S7-22X CPU ONLY,
4AI, PT100/200/500/1000/10000
NI100/120/1000, CU10, 14 GOST,
RESISTANCE 150/300/600 OHM
15 BIT+ SIGN
6ES7231-7PD22-0XA0
SIMATIC S7-200, T/C INPUT MOD.
EM 231, FOR S7-22X CPU ONLY,
4 AI, +/-80 MV AND THERMOCOUPLE
TYPE J,K,S,T,R,E,N; 15BIT+VORZ.
6ES7232-0HB22-0XA0
SIMATIC S7-200, ANALOG OUTPUT
EM 232, FOR S7-22X CPU ONLY,
2 AQ, +/- 10V DC,
12 BIT CONVERTER
6ES7232-0HD22-0XA0
SIMATIC S7-200, ANALOG OUTPUT
EM 232, FOR S7-22X CPU ONLY,
4 AQ, +/- 10V DC, 0..20MA
12/11 BIT CONVERTER
6ES7235-0KD22-0XA0
SIMATIC S7-200, ANALOG I/O
EM 235, FOR S7-22X CPU ONLY,
4 AI, DC +/-10V; 1AQ, DC +/-10V
12 BIT CONVERTER
6ES7277-0AA22-0XA0
SIMATIC S7-200, PROFIBUS DP
SLAVE MODULE, 9.6KB TO 12MB,
1 PORT, PROFIBUS DP/MPI
6ES7292-1AE20-0AA0
SIMATIC S7-200, SPARE PART
I/O TERMINAL BLOCK FOR
CPU 221/222/226, EM 223,
(4 PIECES, 12 SCREWS EACH)
3. S7-300 Family
MLFB
Specifications
6ES7307-1BA01-0AA0
SIMATIC S7-300
STABILIZED POWER SUPPLY PS307
INPUT: 120/230 V AC
OUTPUT: DC 24 V DC/2 A
6ES7307-1EA01-0AA0
SIMATIC S7-300
STABILIZED POWER SUPPLY PS307
INPUT: 120/230 V AC
OUTPUT: DC 24 V DC/5 A
6ES7307-1KA02-0AA0
SIMATIC S7-300
STABILIZED POWER SUPPLY PS307
INPUT: 120/230 V AC
OUTPUT: DC 24 V DC/10 A
6ES7312-1AE14-0AB0
SIMATIC S7-300, CPU 312
CPU WITH MPI INTERFACE,
INTEGRATED 24 V DC POWER SUPPLY
32 KBYTE WORKING MEMORY,
MICRO MEMORY CARD NECESSARY
6ES7312-5BE03-0AB0
SIMATIC S7-300, CPU 312C
COMPACT CPU WITH MPI,
10 DI/6 DO,
2 FAST COUNTERS (10 KHZ),
INTEGRATED 24V DC POWER SUPPLY,
32 KBYTE WORKING MEMORY,
FRONT CONNECTOR (1 X 40PIN) AND
MICRO MEMORY CARD REQUIRED
6ES7313-5BG04-0AB0
SIMATIC S7-300, CPU 313C,
COMPACT CPU WITH MPI,
24 DI/16 DO, 4AI, 2AO 1 PT100,
3 FAST COUNTERS (30 KHZ),
INTEGRATED 24V DC POWER SUPPLY,
128 KBYTE WORKING MEMORY,
FRONT CONNECTOR (2 X 40PIN) AND
MICRO MEMORY CARD REQUIRED
6ES7313-6BF03-0AB0
SIMATIC S7-300, CPU 313C-2 PTP
COMPACT CPU WITH MPI,
16 DI/16 DO,
3 FAST COUNTERS (30 KHZ),
INTEGRATED INTERFACE RS485,
INTEGRATED 24V DC POWER SUPPLY,
64 KBYTE WORKING MEMORY,
FRONT CONNECTOR (1 X 40PIN) AND
MICRO MEMORY CARD REQUIRED
6ES7313-6CG04-0AB0
SIMATIC S7-300, CPU 313C-2DP
COMPACT CPU WITH MPI,
16 DI/16 DO,
3 FAST COUNTERS (30 KHZ),
INTEGRATED DP INTERFACE,
INTEGRATED 24V DC POWER SUPPLY,
128 KBYTE WORKING MEMORY,
FRONT CONNECTOR (1 X 40PIN) AND
MICRO MEMORY CARD REQUIRED
6ES7314-1AG14-0AB0
SIMATIC S7-300, CPU 314
CPU WITH MPI INTERFACE,
INTEGRATED 24V DC POWER SUPPLY,
128 KBYTE WORKING MEMORY,
MICRO MEMORY CARD NECESSARY
6ES7314-6BG03-0AB0
SIMATIC S7-300, CPU 314C-2 PTP
COMPACT CPU WITH MPI,
24 DI/16 DO, 4AI, 2AO, 1 PT100,
4 FAST COUNTERS (60 KHZ),
INTEGRATED INTERFACE RS485,
INTEGRATED 24V DC POWER SUPPLY,
96 KBYTE WORKING MEMORY,
FRONT CONNECTOR (2 X 40PIN) AND
MICRO MEMORY CARD REQUIRED
6ES7314-6CG03-0AB0
SIMATIC S7-300, CPU 314C-2DP
COMPACT CPU WITH MPI,
24 DI/16 DO, 4AI, 2AO, 1 PT100,
4 FAST COUNTERS (60 KHZ),
INTEGRATED DP INTERFACE,
INTEGRATED 24V DC POWER SUPPLY,
96 KBYTE WORKING MEMORY,
FRONT CONNECTOR (2 X 40PIN) AND
MICRO MEMORY CARD REQUIRED
6ES7315-2AH14-0AB0
SIMATIC S7-300, CPU 315-2DP
CPU WITH MPI INTERFACE
INTEGRATED 24 V DC POWER SUPPLY
256 KBYTE WORKING MEMORY
2. INTERFACE DP-MASTER/SLAVE
MICRO MEMORY CARD NECESSARY
6ES7315-2EH14-0AB0
SIMATIC S7-300 CPU 315-2 PN/DP,
CENTRAL PROCESSING UNIT WITH
384 KBYTE WORKING MEMORY,
1. INTERFACE MPI/DP 12MBIT/S,
2. INTERFACE ETHERNET PROFINET,
WITH 2 PORT SWITCH,
MICRO MEMORY CARD NECESSARY
6ES7315-6FF04-0AB0
SIMATIC S7-300, CPU 315F-2DP
FAILSAFE CPU WITH MPI INTERFACE
INTEGRATED 24V DC POWER SUPPLY,
384 KB WORKING MEMORY,
40MM WIDE,
2. INTERFACE DP-MASTER/SLAVE
MICRO MEMORY CARD REQUIRED
6ES7317-2AJ10-0AB0
SIMATIC S7-300, CPU 317-2DP,
CENTRAL PROCESSING UNIT WITH
512 KBYTE WORKING MEMORY,
1. INTERFACE MPI/DP 12MBIT/S,
2. INTERFACE DP-MASTER/SLAVE,
MICRO MEMORY CARD NECESSARY
6ES7317-2EK14-0AB0
SIMATIC S7-300 CPU 317-2 PN/DP,
CENTRAL PROCESSING UNIT WITH
1 MB WORKING MEMORY,
1. INTERFACE MPI/DP 12MBIT/S,
2. INTERFACE ETHERNET PROFINET,
MICRO MEMORY CARD NECESSARY
6ES7318-3EL01-0AB0
SIMATIC S7-300 CPU 319-3 PN/DP,
CENTRAL PROCESSING UNIT WITH
2 MBYTE WORKING MEMORY,
1. INTERFACE MPI/DP 12MBIT/S,
2. INTERFACE DP-MASTER/SLAVE,
3. INTERFACE ETHERNET PROFINET,
WITH 2 PORT SWITCH,
MICRO MEMORY CARD NECESSARY
6ES7321-1BH02-0AA0
SIMATIC S7-300, DIGITAL INPUT
SM 321, OPTICALLY ISOLATED,
16DI, 24 V DC, 1 X 20 PIN
6ES7321-1BH10-0AA0
SIMATIC S7-300, DIGITAL INPUT
SM 321, GALVANICALLY ISOLATED,
16DI, 24 V DC, 1 X 20 PIN,
0.05 MS INPUT DELAY
6ES7321-1BH50-0AA0
SIMATIC S7-300, DIGITAL INPUT
SM 321, OPTICALLY ISOLATED
16DI, 24 V DC, SOURCE INPUT,
1 X 20 PIN
6ES7321-1BL00-0AA0
SIMATIC S7-300, DIGITAL INPUT
SM 321, OPTICALLY ISOLATED
32DI, 24 V DC, 1 X 40 PIN
6ES7321-1CH00-0AA0
SIMATIC S7-300, DIGITAL INPUT
SM 321, OPTICALLY ISOLATED,
16 DE, AC/DC 24 – 48V WITH
ONE CHANNEL PER COMMON,
1 X 40 PIN
6ES7321-1CH20-0AA0
SIMATIC S7-300, DIGITAL INPUT
SM 321, OPTICALLY ISOLATED,
16 DI, DC 48-125V, 1 X 20 PIN
6ES7321-1EL00-0AA0
SIMATIC S7-300, DIGITAL INPUT
SM 321, OPTICALLY ISOLATED,
32 DI, 120V AC, 1 X 40 PIN
6ES7321-1FF01-0AA0
SIMATIC S7-300, DIGITAL INPUT
SM 321, OPTICALLY ISOLATED,
8 DI, 120V/230V AC, 1 X 20 PIN
6ES7321-1FF10-0AA0
SIMATIC S7-300, DIGITAL INPUT
SM 321, OPTICALLY ISOLATED,
8 DI, 120V/230V AC, 1 X 40 PIN,
WITH 1 POINT PER COMMON
6ES7321-1FH00-0AA0
SIMATIC S7-300, DIGITAL INPUT
SM 321, OPTICALLY ISOLATED
16 DI, 120/230V AC, 1 X 20 PIN
6ES7321-7BH01-0AB0
SIMATIC S7-300, DIGITAL INPUT
SM 321, GALVANICALLY ISOLATED,
16 DI, DC 24V, 1 X 20 PIN,
PROCESS INTERRUPT, DIAGNOSTICS,
FIT FOR ISOCHRONE MODE
6ES7321-7RD00-0AB0
SIMATIC S7, DIGITAL INPUT
SM 321, OPTICALLY ISOLATED,
4 DI, 24V DC, NAMUR/DIN 19234,
F. SIGNALS F HAZARDOUS AREAS,
CAPABLE OF DIAGNOST.,PTB-TESTED
6ES7322-1BF01-0AA0
SIMATIC S7-300, DIGITAL OUTPUT
SM 322, OPTICALLY ISOLATED,
8 DO, 24V DC, 2A, 1 X 20 PIN
6ES7322-1BH01-0AA0
SIMATIC S7-300, DIGITAL OUTPUT
SM 322, OPTICALLY ISOLATED,
16 DO, 24V DC, 0.5A, 1 X 20 PIN
SUM OF OUTPUT CURRENTS 4A/GROUP
(8A/MODULE)
6ES7322-1BH10-0AA0
SIMATIC S7-300, DIGITAL OUTPUT
SM 322 HIGH SPEED,
GALVANICALLY ISOLATED,
16 DO, 24V DC, 0.5A, 1 X 20 PIN
6ES7322-1BL00-0AA0
SIMATIC S7-300, DIGITAL OUTPUT
SM 322, OPTICALLY ISOLATED,
32DO, 24V DC, 0.5A, 1 X 40 PIN,
SUM OF OUTPUT CURRENTS 4A/GROUP
(16A/MODULE)
6ES7322-1CF00-0AA0
SIMATIC S7-300, DIGITAL OUTPUT
SM 322, OPTICALLY ISOLATED,
8 DO, DC 48-125V, 1.5A,
1 X 20 PIN
6ES7322-1FF01-0AA0
SIMATIC S7-300, DIGITAL OUTPUT
SM 322, OPTICALLY ISOLATED,
8 DO, 120/230V AC, 1A,
1 X 20 PIN
6ES7322-1FH00-0AA0
SIMATIC S7-300, DIGITAL OUTPUT
SM 321, OPTICALLY ISOLATED
16 DO, 120/230V AC, 1 A,
1 X 20 PIN
6ES7322-1FL00-0AA0
SIMATIC S7-300, DIGITAL OUTPUT
SM 322, OPTICALLY ISOLATED,
32 DO, AC 120V/230V, 1A, DOUBLE
WIDTH HOUSING, 2 X 20 PIN
6ES7322-1HF01-0AA0
SIMATIC S7-300, DIGITAL OUTPUT
SM 322, OPTICALLY ISOLATED,
8 DO (RELAY), 1 X 20 PIN,
24V DC, 2A OR 230V AC, 2A
6ES7322-1HF01-0AA0
SIMATIC S7-300, DIGITAL OUTPUT
SM 322, OPTICALLY ISOLATED,
8 DO (RELAY), 1 X 20 PIN,
24V DC, 2A OR 230V AC, 2A
6ES7322-1HF10-0AA0
SIMATIC S7-300, DIGITAL OUTPUT
SM 322, OPTICALLY ISOLATED,
8 DO (RELAY), 1 X 40 PIN,
24V DC, 5A OR 230V AC, 5A,
CONNECTOR W.SPRING TERMINAL CAN
BE USED FROM 6ES7392-1BM01-0AA0
6ES7322-1HH01-0AA0
SIMATIC S7-300, DIGITAL OUTPUT
SM 322, OPTICALLY ISOLATED
16DO, RELAY CONTACTS,
1 X 20 PIN
6ES7322-5HF00-0AB0
SIMATIC S7-300, DIGITAL OUTPUT
SM 322, OPTICALLY ISOLATED,
8 DO (RELAY), 1 X 40 PIN,
24V DC, 120 – 230V AC, 5A WITH
INTEGR. SNUBBER F. IND. LOADS
6ES7322-5RD00-0AB0
SIMATIC S7, DIGITAOUTPUTL
SM 322, OPTICALLY ISOLATED,
4 DO, 15V / 20MA, 1 X 20 PIN,
FOR SIGNALS FROM HAZARDOUSAREAS
CAPABLE OF DIAGNOST.,PTB-TESTED
6ES7322-5SD00-0AB0
SIMATIC S7, DIGITAOUTPUTL
SM 322, OPTICALLY ISOLATED,
4 DO, 24V DC, 10MA, 1 X 20 PIN,
FOR SIGNALS FROM HAZARDOUSAREAS
CAPABLE OF DIAGNOST.,PTB-TESTED
6ES7322-8BF00-0AB0
SIMATIC S7-300, DIGITAL OUTPUT
SM 322, OPTICALLY ISOLATED,
8 DO, 24V DC, 0.5 A (1 X 8 DO),
SHORT-CIRCUIT PROTECTION,
DIAGNOSTICS, 1 X 20 PIN
6ES7322-8BH10-0AB0
SIMATIC S7/PCS7,
SM 322 DIGITAL OUTPUT MODULE,
16 DO, DC 24 V / 0,5A,
CAPABLE OF DIAGNOSTICS,
WIRE BREAK DETECTION
TO 0 AND 1 SIGNAL, 1 X 40-PIN,
INTERFACE MODULE
IM 153-X HF NECESSARY
6ES7323-1BH01-0AA0
SIMATIC S7-300, DIGITAL MODULE
SM 323, OPTICALLY ISOLATED,
8 DI AND 8 DO, 24V DC, 0.5A
AGGREGATE CURRENT 2A, 1X20 PIN
6ES7323-1BL00-0AA0
SIMATIC S7-300, DIGITAL MODULE
SM 323, OPTICALLY ISOLATED,
16 DI AND 16 DO, 24V DC, 0.5A,
AGGREGATE CURRENT 4A, 1X40 PIN
6ES7326-1BK02-0AB0
SIMATIC S7, DIGITAL INPUT
SM 326, F-DI 24 X DC 24V,
FAILSAFE DIGITAL INPUTS
FOR SIMATIC S7 FAILSAFE SYSTEMS
WITH DIAGNOST. INTERRUPT,
1 X 40 PIN
6ES7326-1RF00-0AB0
SIMATIC S7, DIGITAL INPUT
SM 326, 8 DI; DC 24V, NAMUR,
FAILSAFE NAMUR INPUTS
FOR SIMATIC S7F SYSTEMS,
1 X 40 PIN
6ES7326-2BF10-0AB0
SIMATIC S7, DIGITAL OUTPUT
SM326, F-DO10 X DC24V/2A PP,
FAILSAFE DIGITAL OUTPUT
FOR SIMATIC S7F SYSTEMS WITH
DIAGNOST. INTERRUPT, LVV,
1 X 40 PIN
6ES7327-1BH00-0AB0
SIMATIC S7-300, DIGITAL MODULE
SM 327, OPTICALLY ISOLATED,
8 DI AND 8 DX, 24V DC, 0.5A
1 X 20 PIN,
8DX CHANNELWISE
PROGRAMMABLE AS DI OR DO
6ES7331-1KF02-0AB0
SIMATIC S7-300, ANALOG INPUT
SM 331, OPTICALLY ISOLATED,
8 AI, 13 BIT RESOLUTION,
U/I/RESISTANCE/PT100,
NI100, NI1000, LG-NI1000,
PTC / KTY,
66 MS MODULE UPDATE,
1 X 40 PIN
6ES7331-7HF01-0AB0
SIMATIC S7-300, ANALOG INPUT
SM 331, GALVANICALLY ISOLATED,
8 AI, 14 BIT, 0.052MS/CHANNEL,
CURRENT, VOLTAGE, INTERRUPTS,
DIAGNOSTICS,1 X 20 PIN,
FIT FOR ISOCHRONE MODE
IMPROVED DP-CYCLE TIME FOR
ISOCHRONE MODE
6ES7331-7KB02-0AB0
SIMATIC S7-300, ANALOG INPUT
SM 331, OPTICALLY ISOLATED,
2 AI, 9/12/14 BITS RESOLUTION,
U/I/THERMOCOUPLE/RESISTANCE,
INTERRUPT, DIAGNOSTICS,
1 X 20 PIN,
REMOVE/INSERT W. BACKPLANE BUS
6ES7331-7KF02-0AB0
SIMATIC S7-300, ANALOG INPUT
SM 331, OPTICALLY ISOLATED,
8AI, RESOLUTION 9/12/14 BITS,
U/I/THERMOCOUPLE/RESISTANCE
INTERRUPT, DIAGNOSTICS; 1X20PIN
REMOVE/INSERT W. BACKPLANE BUS
6ES7331-7NF00-0AB0
SIMATIC S7-300, ANALOG INPUT
SM 331, OPTICALLY ISOLATED,
8 AE; +/-5/10V, 1-5 V, +/-20MA,
0/4 TO 20MA, 16 BIT (55 MS),
1 COMMON POINT(50 V COM.),
1 X 40 PIN
6ES7331-7NF10-0AB0
SIMATIC S7-300, ANALOG INPUT
SM 331, OPTICALLY ISOLATED,
8 AE; +/-5/10V, 1-5 V, +/-20MA,
0/4 TO 20MA, 16 BIT,
1 COMMON POINT(60 V COM.),
4 CHANNEL MODE: 10 MS,
8 CHANNEL MODE: 23-95 MS,
1 X 40 PIN
6ES7331-7PF01-0AB0
SIMATIC S7-300, ANALOGEINGABE
SM331, POT.GETR., 2/3/4-DRAHT,
8AE, WIDERSTAND, PT100/200/1000
NI100/120/200/500/1000, CU10,
KENNLINIEN NACH GOST
16 (INTERN 24) BIT, 50 MS,
1 X 40-POLIG
6ES7331-7RD00-0AB0
SIMATIC S7, ANALOG INPUT
SM 331, OPTICALLY ISOLATATED,
4 AI, 0/4 – 20MA, 1 X 20 PIN,
F. SIGNALS F. HAZARDOUS AREAS,
CAPABLE OF DIAGNOST.,PTB-TESTED
6ES7331-7RD00-0AB0
SIMATIC S7, ANALOG INPUT
SM 331, OPTICALLY ISOLATATED,
4 AI, 0/4 – 20MA, 1 X 20 PIN,
F. SIGNALS F. HAZARDOUS AREAS,
CAPABLE OF DIAGNOST.,PTB-TESTED
6ES7331-7SF00-0AB0
SIMATIC S7, ANALOG INPUT
SM 331, OPTICALLY ISOLATATED,
8 AI THERMOCOUPLE/4 AI PT100,
F. SIGNALS F. HAZARDOUS AREAS,
CAPABLE OF DIAGNOST.,PTB-TESTED
1 X 20 PIN
6ES7332-5HB01-0AB0
SIMATIC S7-300, ANALOG OUTPUT
SM 332, OPTICALLY ISOLATED,
2 AO, U/I; 11/12 BITS RESOL.,
20 PIN., REMOVE/INSERT WITH
ACTIVE BACKPLANE BUS
6ES7332-5HD01-0AB0
SIMATIC S7-300, ANALOG OUTPUT
SM 332, OPTICALLY ISOLATED,
4 AO, U/I; DIAGNOSTICS;
RESOLUTION 11/12 BITS, 20 PIN,
REMOVE/INSERT W. ACTIVE,
BACKPLANE BUS
6ES7332-5HF00-0AB0
SIMATIC S7-300, ANALOG OUTPUT
SM 332, OPTICALLY ISOLATED,
8 AO, U/I; DIAGNOSTICS;
RESOLUTION 11/12 BITS, 40 PIN,
REMOVE/INSERT W. ACTIVE,
BACKPLANE BUS
6ES7332-5RD00-0AB0
SIMATIC S7, ANALOG OUTPUT
SM 332, OPTICALLY ISOLATED,
4 AO, 0/4 UP TO 20 MA, 20 PIN,
FOR SIGNALS FROM HAZARDOUSAREAS
CAPABLE OF DIANOST., PTB-TESTED
6ES7332-7ND02-0AB0
SIMATIC S7,SM 332 ANALOG OUTPUT
CHANNEL TO CHANNEL ISOLATION,
4 AO, 16 BIT RESOLUTION,
0-10V, 1-5V, +/-10V, +/-20MA,
0/4 – 20MA, 20 PIN,
FIT FOR ISOCHRONE MODE
IMPROVED DP-CYCLE TIME FOR
ISOCHRONE MODE
6ES7334-0CE01-0AA0
SIMATIC S7, ANALOG INPUT/OUTPUT
SM 334, NON-ISOLATED,
4 AI/2 AO, 1 X 20 PIN,
REMOVE AND INSERT WITH
BACKPLAIN BUS
6ES7334-0KE00-0AB0
SIMATIC S7-300, ANALOG MODULE
SM 334, OPTICALLY ISOLATED,
4AE/2AA, 12 BIT, 0-10V F. PT100
(CLIMAT RANGE -120 – 155 DEGR.)
AND 10 KOHM MEASURING RANGE,
1 X 20 PIN
6ES7335-7HG02-0AB0
SIMATIC S7-300, ANALOG MODULE
SM 335, OPTICALLY ISOLATED
U/I; DIAGNOSTICS; INTERRUPT,
4 AI 14 BIT RESOL.,
4 AO 11/12 BIT
1 X 20-PINS
6ES7338-4BC01-0AB0
SIMATIC S7-300, SIGNAL. MODULE
FOR 3 SSI SENSORS FOR READ-IN
OF POSITIONING VALUE WITH
2 FREEZE INPUTS , 1 X 20 PIN,
SUPPORTS ISOCHRONE MODE
6ES7370-0AA01-0AA0
SIMATIC S7-300, DUMMY MODULE
DM 370, FOR USE WITH
MODULE EXCHANGE
4. S7-400 Family
MLFB
Specifications
6ES7400-0HR00-4AB0
SIMATIC S7-400H, 412-3H
SYSTEM-BUNDLE H-SYSTEM WITH
2 X MC 1MB RAM, 1 X UR2-H,
2 X PS407 UC120/230V, 10A
4 X SYNC-MODULE 10M
2 X SYNC-CABLE 1M
2 X CPU 412-3H
4 X BACK-UP BATTERIES
6ES7405-0DA02-0AA0
SIMATIC S7-400, POWERSUPPLY
PS 405: 4A,
24/48/60V DC, 5V DC/4A,
ATEXAPPROBATIONIDENTIFICATIO
6ES7405-0KA02-0AA0
SIMATIC S7-400, PS 405 POWER
SUPPLY, WIDE RANGE
10A, 24/48/60V DC, 5V/10A DC
ATEX APPROBATION IDENTIFICATION
6ES7405-0KR02-0AA0
SIMATIC S7-400, POWER SUPPLY
PS 405: 10A, WIDE RANGE,
24/48/60V DC, DC, 5V DC/10A,
FOR REDUNDANT USE
ATEX APPROBATIONIDENTIFICATION
6ES7405-0RA02-0AA0
SIMATIC S7-400, POWERSUPPLY
PS 405: 20A, WIDE RANGE,
24/48/60V DC, 5V DC/20A,
ATEXAPPROBATIONIDENTIFICATION
6ES7405-0RA02-0AA0
SIMATIC S7-400, POWERSUPPLY
PS 405: 20A, WIDE RANGE,
24/48/60V DC, 5V DC/20A,
ATEXAPPROBATIONIDENTIFICATION
6ES7407-0DA02-0AA0
SIMATIC S7-400, POWERSUPPLY
PS407: 4A, WIDERANGE,
120/230V UC,5V DC/4A
6ES7407-0KA02-0AA0
SIMATIC S7-400, POWER SUPPLY
PS407: 10A, WIDERANGE,
120/230V UC, 5V DC/10A
6ES7407-0RA02-0AA0
SIMATIC S7-400, POWER SUPPLY
PS407, 20A, WIDERANGE,
120/230V UC, 5V DC/20A
6ES7412-1XJ05-0AB0
SIMATIC S7-400, CPU 412-1
CENTRAL PROCESSING UNIT WITH:
288 KB WORKING MEMORY,
(144 KB CODE, 144 KB DATA),
INTERFACE MPI/DP 12 MBIT/S
6ES7412-2XJ05-0AB0
SIMATIC S7-400, CPU 412-2
CENTRAL PROCESSING UNIT WITH:
512 KB WORKING MEMORY,
(256 KB CODE, 256 KB DATA),
1. INTERFACE MPI/DP 12 MBIT/S,
2. INTERFACE PROFIBUS DP
6ES7412-3HJ14-0AB0
SIMATIC S7-400H, CPU 412-3H
CENTRAL UNIT FOR
S7-400H AND S7-400F/FH,
3 INTERFACES:
1 MPI/DP AND 2 FOR SYNC MODULES
768 KB MEMORY
(256 KB DATA/512 KB CODE)
6ES7414-2XK05-0AB0
SIMATIC S7-400, CPU 414-2
CENTRAL PROCESSING UNIT WITH:
1 MB WORKING MEMORY,
(0,5 MB CODE, 0,5 MB DATA),
1. INTERFACE MPI/DP 12 MBIT/S,
2. INTERFACE PROFIBUS DP
6ES7414-3XM05-0AB0
SIMATIC S7-400, CPU 414-3
CENTRAL PROCESSING UNIT WITH:
2.8 MB WORKING MEMORY,
(1.4 MB CODE, 1.4 MB DATA),
1. INTERFACE MPI/DP 12 MBIT/S,
2. INTERFACE PROFIBUS DP,
3. IF IFM MODULES PLUGGABLE
6ES7414-4HM14-0AB0
SIMATIC S7-400H, CPU 414H
CENTRAL UNIT FOR
S7-400H AND S7-400F/FH,
4 INTERFACES: 1 MPI/DP, 1 DP
AND 2 FOR SYNC MODULES,
2.8 MB MEMORY
(1.4 MB DATA/1.4 MB CODE)
6ES7416-2FN05-0AB0
SIMATIC S7-400, CPU 416F-2,
CENTRAL PROCESSING UNIT WITH:
5.6 MB WORKING MEMORY,
(2.8 MB CODE, 2.8 MB DATA),
1. INTERFACE MPI/DP 12 MBIT/S,
2. INTERFACE PROFIBUS DP
APPLICABLE W. SOFTWARE PACKAGE
DISTRIBUTED SAFETY >= V5.2+SP2
6ES7416-2XN05-0AB0
SIMATIC S7-400, CPU 416-2
CENTRAL PROCESSING UNIT WITH:
5.6 MB WORKING MEMORY,
(2.8 MB CODE, 2.8 MB DATA),
1. INTERFACE MPI/DP 12 MBIT/S,
2. INTERFACE PROFIBUS DP
6ES7416-3ES06-0AB0
SIMATIC S7-400, CPU 416-3 PN/DP
CENTRAL PROCESSING UNIT WITH:
16 MB WORKING MEMORY,
(8 MB KB CODE, 8 MB DATA),
INTERFACES:
1. IF MPI/DP 12 MBIT/S (X1),
2. IF ETHERNET/PROFINET (X5),
3. IF IF964-DP PLUGABLE (IF1)
6ES7416-3XR05-0AB0
SIMATIC S7-400, CPU 416-3
CENTRAL PROCESSING UNIT WITH:
11.2 MB WORKING MEMORY,
(5.6 MB CODE, 5.6 MB DATA),
1. INTERFACE MPI/DP 12 MBIT/S,
2. INTERFACE PROFIBUS DP,
3. IF IFM MODULES PLUGGABLE
6ES7417-4HL04-0AB0
SIMATIC S7-400H, CPU 417H
CENTRAL UNIT FOR S7-400H
4 INTERFACES: 1 MPI/DP,
1 DP A. 2 FOR SYNC MODULES
20MB MEMORY
(10MB CODE/10MB DATA)
6ES7417-4HT14-0AB0
SIMATIC S7-400H, CPU 417H
CENTRAL UNIT FOR S7-400H
4 INTERFACES: 1 MPI/DP,
1 DP A. 2 FOR SYNC MODULES
30 MB MEMORY
(15 MB CODE/15 MB DATA)
6ES7421-1BL01-0AA0
SIMATIC S7-400, SM 421
DIGITAL INPUT MODULE,
OPTIC. ISOLATED, 32 DI, 24V DC
6ES7421-1EL00-0AA0
SIMATIC S7-400, SM 421
DIGITAL INPUT MODULE,
FLOATING, 32 DI, 120V DC/AC
6ES7421-1FH20-0AA0
SIMATIC S7-400, DIG.INPUT MOD.
SM 421, OPTIC. ISOLATED,
16 DI, 120/230V UC
INPUTS PER IEC1131-2 TYPE 2
6ES7421-7BH01-0AB0
SIMATIC S7-400, DIGITAL INPUT
SM 421, GALVANICALLY ISOLATED,
16 DI, 24V DC WITH
0.05 MS INPUT DELAY,
ALARM, DIAGNOSTICS
6ES7421-7DH00-0AB0
SIMATIC S7-400, SM 421
DIGITAL INPUT MODULE,
OPTIC. ISOLATED, 16 DI,
24 – 60V UC, ALARM, DIAGNOSTICS
6ES7421-7DH00-0AB0
SIMATIC S7-400, SM 421
DIGITAL INPUT MODULE,
OPTIC. ISOLATED, 16 DI,
24 – 60V UC, ALARM, DIAGNOSTICS
6ES7422-1BH11-0AA0
SIMATIC S7-400, SM 422
DIGITAL OUTPUT MODULE,
OPTIC. ISOLATED, 16 DO,
24V DC, 2A
6ES7422-1BL00-0AA0
SIMATIC S7-400, SM 422
DIGITAL OUTPUT MODULE,
OPTIC. ISOLATED, 32 DO,
24V DC, 0.5A
6ES7422-1FH00-0AA0
SIMATIC S7-400, SM 422
DIGITAL OUTPUT MODULE,
OPTIC. ISOLATED, 16 DO,
120/230V AC, 2A
6ES7422-1HH00-0AA0
SIMATIC S7-400, SM 422
DIGITAL OUTPUT MODULE,
OPTIC. ISOLATED, 16 DO,
5..230V AC, 5A RELAY
6ES7422-7BL00-0AB0
SIMATIC S7-400, DIG.OUTPUT MOD.
SM 422, OPTIC. ISOLATED,
32 DO, 24V DC, 0.5A WITH
0,15 MS OUTPUT DELAY,
DIAGNOSTICS
6ES7431-0HH00-0AB0
SIMATIC S7-400, ANALOG INPUT
SM 431, NON-ISOLATED
16 AI, RESOLUTION 13 BITS,
+/-10V, +/-20MA, 4 – 20MA
20 MS MODULE UPDATE
6ES7431-1KF00-0AB0
SIMATIC S7-400, SM 431
ANALOG INPUT MODULE
OPTIC. ISOLATED, 8 AI,
13 BIT RESOLUTION, U/I/RESIST.
6ES7431-1KF10-0AB0
SIMATIC S7-400, SM 431
ANALOG INPUT MODULE
OPTIC. ISOLATED, 8 AI,
14 BIT RESOLUTION, U/I/RESIST./
THERMOEL/PT100
6ES7431-1KF20-0AB0
SIMATIC S7-400, SM 431
ANALOG INPUT MODULE
OPTIC. ISOLATED, 8 AI,
14 BIT RESOLUTION, U/I/RESIST.
0.416 MS SCAN TIME
6ES7431-7KF00-0AB0
SIMATIC S7-400, ANALOG INPUT
SM 431, 8AI; 16 BIT RESOLUTION,
U/I/THERMOEL., OPTIC. ISOLATED
W. 1 POINT PER COMMON, DIAGN.,
ALARM, 20 MS MODULE UPDATE
6ES7431-7QH00-0AB0
SIMATIC S7-400, SM 431
ANALOG INPUT MODULE
OPTIC. ISOLATED, 16 AI,
16 BIT RESOLUTION, U/I/RESIST./
THERMOEL./PT100,ALARM,DIAGNOST.
6ES7432-1HF00-0AB0
SIMATIC S7-400, SM 432
ANALOG OUTPUT MODULE
OPTIC. ISOLATED, 8 AO,
13 BIT RESOLUTION, U/I
5. HMI, Field PG & IPC
MLFB
Specifications
6AG4114-1RH62-5FC0
SIMATIC IPC847C
(RACK PC, 19″, 4U);
INTERFACES:2 X GBIT LAN (RJ45);
1 X DVI-I; AUDIO;
2 X COM; 1 X LPT; 2 X PS/2;
4 X USB 2.0 BACKSIDE,
2 X USB 2.0 FRONTSIDE;
TEMPERATURE AND FAN CONTROL;
WATCHDOG; BOARD RETAINER
CORE I7-610E (2C/4T, 2.53 GHZ,
4MB CACHE, TB, VT-X,VT-D,
EM64-T, AMT); MOTHERBOARD
WITH PROFINET
(3XRJ45, CP1616 COMPATIBLE);
250 GB HDD SATA,
REMOVABLE DISK; FRONTSIDE
MOUNTED;
4 GB DDR3 SDRAM, ECC (2 X 2GB),
DUAL CHANNEL;
DVD +/- RW;
BOARD WITH 11 SLOTS: 7 X PCI,
1 X PCIE X16, 3 X PCIE X4;
DVI-VGA-ADAPTER
FOR ONBOARD GRAPHICS;
WINDOWS 7 ULTIMATE, 64BIT,
MUI (EN, GER, FR, IT, SP),
SP1 INCLUDED;
SIMATIC PC DIAGMONITOR V4.3 &
IMAGE&PARTITION CREATOR V3.2
INCLUDED;
110/230 INDUSTRIAL POWER SUPPLY
WITH NAMUR; PS CORD EUROPE
6AG4114-1RM62-5QC0
SIMATIC IPC847C
(RACK PC, 19″, 4U);
INTERFACES:2 X GBIT LAN (RJ45);
1 X DVI-I; AUDIO;
2 X COM; 1 X LPT; 2 X PS/2;
4 X USB 2.0 BACKSIDE,
2 X USB 2.0 FRONTSIDE;
TEMPERATURE AND FAN CONTROL;
WATCHDOG; BOARD RETAINER
CORE I7-610E (2C/4T, 2.53 GHZ,
4MB CACHE, TB, VT-X,VT-D,
EM64-T, AMT); MOTHERBOARD
WITH PROFINET
(3XRJ45, CP1616 COMPATIBLE);
2 X 500 GB HDD SATA;
REMOVABLE DISK; FRONTSIDE
MOUNTED;
4 GB DDR3 SDRAM, ECC (2 X 2GB),
DUAL CHANNEL;
DVD +/- RW;
BOARD WITH 11 SLOTS: 7 X PCI,
1 X PCIE X16, 3 X PCIE X4;
DVI-VGA-ADAPTER
FOR ONBOARD GRAPHICS;
WINDOWS SERVER 2008 R2 STANDARD
EDITION INCL. 5 CLIENT, 64BIT,
MUI (EN, GE, FR, IT, SP),
SP1 INCLUDED;
SIMATIC PC DIAGMONITOR V4.3 &
IMAGE&PARTITION CREATOR V3.2
INCLUDED;
110/230 INDUSTRIAL POWER SUPPLY
WITH NAMUR; PS CORD EUROPE
6AV2124-0GC01-0AX0
SIMATIC HMI TP700 COMFORT,
COMFORT PANEL,
TOUCH OPERATION,
7″ WIDESCREEN-TFT-DISPLAY,
16 MIL. COLORS,
PROFINET INTERFACE,
MPI/PROFIBUS DP INTERFACE,
12 MB USER MEMORY,
WINDOWS CE 6.0,
CONFIGURABLE FROM
WINCC COMFORT V11
6AV3688-3AY36-0AX0
SIMATIC HMI KP8 PN
KEY PANEL,
8 SHORT-STROKE KEYS WITH
MULTI-COLOR LED'S,
PROFINET INTERFACE
8 CONFIGURABLE DI/DO PINS,
24V DC LOOP THROUGH
CONFIGURABLE WITH
STEP7 V5.5 AND LATER
6AV3688-3CD13-0AX0
PUSH BUTTON PANEL PP17 I
16 SHORT-STROKE KEYS
16 SURFACE LED'S,
16 DI AND 16 DO TERMINALS
PROFIBUS DP12
6AV3688-3XY38-3AX0
BLANK FRONT FOR KP8 AND KP8F
FOR SIMATIC HMI PRO PRODUCTS
6AV6640-0BA11-0AX0
SIMATIC OPERATOR PANEL
OP 73MICRO FOR SIMATIC S7-200
3″ LC DISPLAY, BACKLIT
WITH GRAPHICS CAPABILITY
CONFIGURABLE
WINCC FLEXIBLE 2004 MICRO HSP
UPWARDS;
CONTAINS OPEN-SOURCE-SW, WHICH
IS PROVIDED FREE OF CHARGE.
FOR DETAILS SEE ENCLOSED CD
6AV6640-0CA11-0AX1
SIMATIC TOUCH PANEL TP 177MICRO
FOR SIMATIC S7-200
5.7″ BLUE MODE STN DISPLAY
CONFIGURABLE
WINCC FLEXIBLE 2004 MICRO HSP
UPWARDS;
CONTAINS OPEN-SOURCE-SW, WHICH
IS PROVIDED FREE OF CHARGE.
FOR DETAILS SEE ENCLOSED CD
6AV6640-0CA11-0AX1
SIMATIC TOUCH PANEL TP 177MICRO
FOR SIMATIC S7-200
5.7″ BLUE MODE STN DISPLAY
CONFIGURABLE
WINCC FLEXIBLE 2004 MICRO HSP
UPWARDS;
CONTAINS OPEN-SOURCE-SW, WHICH
IS PROVIDED FREE OF CHARGE.
FOR DETAILS SEE ENCLOSED CD
6AV6641-0AA11-0AX0
SIMATIC OPERATOR PANEL
OP 73 3″ LC DISPLAY, BACKLIT, WITH GRAPHICS CAPABILITY,
MPI-/PROFIBUS-DP INTERFACE,
UP TO 1.5MB, CONFIGURABLE
WINCC FLEXIBLE 2004 COMPACT HSP
UPWARDS;
CONTAINS OPEN-SOURCE-SW, WHICH
IS PROVIDED FREE OF CHARGE.
FOR DETAILS SEE ENCLOSED CD
6AV6641-0BA11-0AX1
SIMATIC OPERATOR PANEL OP77A
BACKLIT LC DISPLAY,
4.5″ DISPL. W. GRAPHICS CAPABIL
MPI-/PROFIBUS-DP INTERFACE
UP TO 1,5MB, FOR CONFIGURATION
WINCC FLEXIBLE 2004 COMPACT HSP
UPWARDS;
CONTAINS OPEN-SOURCE-SW, WHICH
IS PROVIDED FREE OF CHARGE.
FOR DETAILS SEE ENCLOSED CD
6AV6641-0BA11-0AX1
SIMATIC OPERATOR PANEL OP77A
BACKLIT LC DISPLAY,
4.5″ DISPL. W. GRAPHICS CAPABIL
MPI-/PROFIBUS-DP INTERFACE
UP TO 1,5MB, FOR CONFIGURATION
WINCC FLEXIBLE 2004 COMPACT HSP
UPWARDS;
CONTAINS OPEN-SOURCE-SW, WHICH
IS PROVIDED FREE OF CHARGE.
FOR DETAILS SEE ENCLOSED CD
6AV6641-0CA01-0AX1
SIMATIC OPERATOR PANEL OP77B
BACKLIT LC DISPLAY,
4.5″ DISPL. W. GRAPHICS CAPABIL
MPI-/PROFIBUS-DP INTERFACE
UPTO 12 MB,
PRINTER/USB INTERFACE,
SLOT FOR MMC CARD,
FOR CONFIGURATION OF
WINCC FLEXIBLE 2004 COMPACT
6AV6642-0AA11-0AX1
SIMATIC TOUCH PANEL TP 177A
5,7″ BLUE MODE STN-DISPLAY,
MPI/PROFIBUS-DP INTERFACE,
CONFIGURABLE
WINCC FLEXIBLE 2004 COMPACT HSP
UPWARDS;
CONTAINS OPEN-SOURCE-SW, WHICH
IS PROVIDED FREE OF CHARGE.
FOR DETAILS SEE ENCLOSED CD
6AV6642-0AA11-0AX1
SIMATIC TOUCH PANEL TP 177A
5,7″ BLUE MODE STN-DISPLAY,
MPI/PROFIBUS-DP INTERFACE,
CONFIGURABLE
WINCC FLEXIBLE 2004 COMPACT HSP
UPWARDS;
CONTAINS OPEN-SOURCE-SW, WHICH
IS PROVIDED FREE OF CHARGE.
FOR DETAILS SEE ENCLOSED CD
6AV6642-0BA01-1AX1
SIMATIC TP177B 6″ PN/DP
STN 265 COLOR-DISPLAY
MPI-/PROFIBUS-DP – PROTOCOL
RS485-/RS422-/USB – INTERFACE
ETHERNET10/100 INTERFACE
PRINTER – INTERFACE
SLOT FOR MM-CARD
CONFIGURABLE WITH
WINCC FLEXIBLE 2005
6AV6642-0BC01-1AX1
SIMATIC TP177B 6″ DP
BLUE MODE STN-DISPLAY
MPI-/PROFIBUS-DP PROTOCOL
RS485-/RS422-/USB INTERFACE
PRINTER – INTERFACE
SLOT FOR MMCARD
CONFIGURABLE WITH
WINCC FLEXIBLE 2005
6AV6642-0BD01-3AX0
SIMATIC TP177B 4″ COLOR PN/DP
TFT 256 COLOR-16:9-DISPLAY,
MPI-/PROFIBUS-DP – PROTOCOL
RS485-/RS422-/USB – INTERFACE
ETHERNET10/100 INTERFACE
PRINTER – INTERFACE
SLOT FOR MM-CARD
CONFIGURABLE WITH
WINCC FLEXIBLE 2008
6AV6642-0DA01-1AX1
SIMATIC OP177B 6″ PN/DP
STN 256 COLOR DISPLAY
TOUCH AND KEYS
MPI-/PROFIBUS-DP PROTOCOL
RS485-/RS422-/USB- INTERFACE
ETHERNET – INTERFACE
PRINTER INTERFACE
SLOT FOR MM-CARD
CONFIGURABLE WITH
WINCC FLEXIBLE 2005
6AV6642-0DC01-1AX1
SIMATIC OP177B 6″ DP
BLUE MODE STN DISPLAY
TOUCH AND KEYS
MPI-/PROFIBUS-DP PROTOCOL
RS485-/RS422-/USB- INTERFACE
PRINTER INTERFACE
SLOT FOR MM-CARD
CONFIGURABLE WITH
WINCC FLEXIBLE 2005
6AV6643-0AA01-1AX0
SIMATIC TP 277 6″
TOUCH PANEL
5.7″ TFT DISPLAY
4 MB CONFIGURING MEMORY,
CONFIGURABLE WITH
WINCC FLEXIBLE 2005 STANDARD OR
HIGHER
6AV6643-0BA01-1AX0
SIMATIC OP 277 6″
OPERATOR PANEL
5.7″ TFT DISPLAY
4 MB CONFIGURING MEMORY,
CONFIGURABLE WITH
WINCC FLEXIBLE 2005
STANDARD SP1 OR HIGHER
6AV6643-0CB01-1AX1
SIMATIC MP 277 8″ TOUCH TFT
MULTI PANEL W. RETENTIVE MEMORY
7.5″ TFT DISPLAY
6 MB CONFIGURING MEMORY,
CONFIGURABLE WITH
WINCC FLEXIBLE 2005
STANDARD SP1
6AV6643-0CD01-1AX1
SIMATIC MP 277 10″ TOUCH
MULTI PANEL W. RETENTIVE MEMORY
10,4″ TFT DISPLAY
6 MB USER MEMORY
CONFIG:
WINCC FLEXIBLE 2005
STANDARD SP1
6AV6643-0DB01-1AX1
SIMATIC MP 277 8″ KEY
MULTIPANEL, W. RETENTIVE MEMORY
7,5″ TFT DISPLAY,
6 MB USER MEMORY,
CONFIG. WITH
WINCC FLEXIBLE 2005
STANDARD SP1
6AV6643-0DD01-1AX1
SIMATIC MP 277 10″ KEY
MULTIPANEL W. RETENTIVE MEMORY
10,4″ TFT DISPLAY
6 MB USER MEMORY
CONFIG.
WINCC FLEXIBLE 2005
STANDARD SP1
6AV6644-0AA01-2AX0
SIMATIC MP 377 12″ TOUCH
MULTIPANEL, WINDOWS CE 5.0
12″ COLOR-TFT-DISPLAY
12 MB USER MEMORY
CONFIGURABLE FROM
WINCC FLEXIBLE 2007
6AV6644-0AB01-2AX0
SIMATIC MP 377 15″ TOUCH
MULTIPANEL, WINDOWS CE 5.0
15″ COLOR-TFT-DISPLAY
12 MB USER MEMORY
CONFIGURABLE FROM
WINCC FLEXIBLE 2007
6AV6644-0AC01-2AX1
SIMATIC MP 377 19″ TOUCH
MULTIPANEL, WINDOWS CE 5.0
19″ COLOR-TFT-DISPLAY
12 MB USER MEMORY
CONFIGURABLE FROM
WINCC FLEXIBLE 2007
6AV6644-0BA01-2AX1
SIMATIC MP 377 12″ KEY
MULTIPANEL, WINDOWS CE 5.0
12″ COLOR-TFT-DISPLAY
12 MB USER MEMORY
CONFIGURABLE FROM
WINCC FLEXIBLE 2007
NEW KEY ALUMINIUM FRONT
WITH UNIFORM CLAMPS
6AV6644-0BA01-2AX1
SIMATIC MP 377 12″ KEY
MULTIPANEL, WINDOWS CE 5.0
12″ COLOR-TFT-DISPLAY
12 MB USER MEMORY
CONFIGURABLE FROM
WINCC FLEXIBLE 2007
NEW KEY ALUMINIUM FRONT
WITH UNIFORM CLAMPS
6AV6647-0AA11-3AX0
SIMATIC HMI KTP400 BASIC
MONO PN,
3,8″ MONO STN DISPLAY,
ETHERNET INTERFACE
CONFIGURATION FROM
WINCC FLEXIBLE 2008 COMPACT SP1
OR WINCC BASIC V10.5
INCLUDED IN STEP7 BASIC V10.5,
CONTAINS OPEN SOURCE SW WHICH
IS PROVIDED FREE OF CHARGE
FOR DETAILS SEE CD
6AV6647-0AB11-3AX0
SIMATIC HMI KTP600 BASIC
MONO PN,
5,7″ MONO STN DISPLAY,
ETHERNET INTERFACE
CONFIGURATION FROM
WINCC FLEXIBLE 2008 COMPACT SP1
OR WINCC BASIC V10.5
INCLUDED IN STEP7 BASIC V10.5,
CONTAINS OPEN SOURCE SW WHICH
IS PROVIDED FREE OF CHARGE
FOR DETAILS SEE CD
6AV6647-0AC11-3AX0
SIMATIC HMI KTP600 BASIC
COLOR DP,
5,7″ TFT DISPLAY, 256 COLORS
MPI/PROFIBUS DP INTERFACE
CONFIGURATION FROM
WINCC FLEXIBLE 2008 COMPACT SP1
CONTAINS OPEN SOURCE SW WHICH
IS PROVIDED FREE OF CHARGE
FOR DETAILS SEE CD
6AV6647-0AD11-3AX0
SIMATIC HMI KTP600 BASIC
COLOR PN,
5,7″ TFT DISPLAY, 256 COLORS
ETHERNET INTERFACE
CONFIGURATION FROM
WINCC FLEXIBLE 2008 COMPACT SP1
OR WINCC BASIC V10.5
INCLUDED IN STEP7 BASIC V10.5,
CONTAINS OPEN SOURCE SW WHICH
IS PROVIDED FREE OF CHARGE
FOR DETAILS SEE CD
6AV6647-0AE11-3AX0
SIMATIC HMI KTP1000 BASIC
COLOR DP,
10,4″ TFT DISPLAY, 256 COLORS
MPI/PROFIBUS DP INTERFACE
CONFIGURATION FROM
WINCC FLEXIBLE 2008 COMPACT
CONTAINS OPEN SOURCE SW WHICH
IS PROVIDED FREE OF CHARGE
FOR DETAILS SEE CD
6AV6647-0AF11-3AX0
SIMATIC HMI KTP1000 BASIC
COLOR PN,
10,4″ TFT DISPLAY, 256 COLORS
ETHERNET INTERFACE
CONFIGURATION FROM
WINCC FLEXIBLE 2008 COMPACT
OR WINCC BASIC V10.5
INCLUDED IN STEP7 BASIC V10.5,
CONTAINS OPEN SOURCE SW WHICH
IS PROVIDED FREE OF CHARGE
FOR DETAILS SEE CD
6AV6647-0AG11-3AX0
SIMATIC HMI TP1500 BASIC
COLOR PN,
15,0″ TFT DISPLAY, 256 COLORS
ETHERNET INTERFACE
CONFIGURATION FROM
WINCC FLEXIBLE 2008 COMPACT
OR WINCC BASIC V10.5
INCLUDED IN STEP7 BASIC V10.5,
CONTAINS OPEN SOURCE SW WHICH
IS PROVIDED FREE OF CHARGE
FOR DETAILS SEE CD
6AV7870-0DC31-1AC0
SIMATIC PANEL PC 677B
2X10/100/1000 MBIT/S ETHERNET;
4XUSB V2.0, 1 X SERIAL (COM1);
12″ TOUCH; 800 X 600;
WITH FRONT SIDE USB INTERFACE;
AC110/230V POWER SUPP. W. MAMUR
POWER CABLE UK;
CORE 2 DUO T5500, 1.66 GHZ;
2MB SLC, 2 X PCI;
2 GB DDR2 RAM;
250 GBYTE SATA HDD 3,5″,
DVD+-R+-RW;
PROFIBUS/MP, 2MB BUFF. SRAMI;
WINDOWS XP PROF MUI
(EN,GE,FR,IT,SP,JP,CHN,KOR);
WITH HDD ONLY;
6AV7894-0AC31-0BC0
SIMATIC HMI IPC677C
2X10/100/1000 MBIT/S ETHERNET;
4XUSB V2.0, 1 X SERIAL (COM1);
WATCHDOG, TEMPERATURE AND
FAN CONTROL;
RAID-CONTROLLER ON BOARD;
19″ TOUCH, 1280 X 1024;
WITH FRONT SIDE USB INTERFACE;
DC 24V POWER SUPPLY;
CELERON P4505
(2C/2T, 1.86 GHZ, 2MB CACHE);
(3XRJ45,CP1616 COMPATIBLE);
PROFINET;
2 MB BUFFERED SRAM;
4 GB DDR3 1066 DIMM;
500 GBYTE HDD SATA;
W/O OPTICAL DRIVE;
1 X PCI, 1 X PCIE (X16) FREE;
WINDOWS 7 ULTIMATE 32BIT,
MUI (EN, GER, FR, IT, SP);
WITHOUT EXPANSIONS (SW);
6ES7272-0AA30-0YA1
SIMATIC S7, TD 200 TEXTDISPLAY
FOR S7-200, 2 LINES,
WITH CABLE (2.5M) AND MOUNTING
ACCESSORIES, CONFIGURATION
WITH STEP7-MICRO/WIN
W/O ATEX CERTIFICATE
6ES7647-6CE66-0GA1
SIMATIC IPC627C (BOX PC),
HD GRAFIK ONBOARD,
2X10/100/1000 MBIT/S
ETHERNET RJ45;
4 X USB V2.0 (HIGH CURRENT);
1 X SERIAL (COM1);
RAID-CONTROLLER ON BOARD;
COMPACT FLASH DRIVE NR.1 FRONT
FRONT SIDE; WATCHDOG,
TEMP.-/FAN- MONITORING;
CORE I3-330E (2C/4T, 2.13GHZ,
HT, VT, 3MB CACHE);
PROFIBUS/MPI;
2 MB BUFFERED RAM;
4 GB DDR3 1066 DIMM; ECC;
DC 24V INDUSTRAL-
POWER SUPPLY;
2 X PCI FREE;
RAID1 2 X 250 GB SATA (2,5″);
WINDOWS XP PROF. SP3 MUI
(EN, GER, FR, IT, SP);
SIMATIC PC DIAGMONITOR V4.2
INCLUDED;
6ES7715-1CC21-0AD2
SIMATIC FIELD PG M3 PREMIUM/S5
CORE I5-520M, 2.4GHZ,
DL MULTISTANDARD DVD RW,
500GB S-ATA HDD,
1X2GB DDR3 RAM, 1X1GB DDR3 RAM,
WITH S5-INTERFACE,
WITH S5-EPROMMER;
INCL. EPROM ADAPTER AND
S5-PLC CABLE;
15,6″ DISPLAY, 1920 X 1080;
KEYBOARD QWERTY (& GERMAN),
POWER CABLE FOR:UNITED KINGDOM;
APPROVAL F. EUROPE (CE)
WINDOWS XPPROF ENGLISH MUI WITH
GE/FR/SP/IT ON HDD AS IMAGE;
LICENSE STEP7 PROF V11,
WINCC ADV. V11,
STEP5, STEP7 MICROWIN,
WINCC FLEXIBLE ADV.;
(V11 LICENSES ARE VALID FOR
STEP7 PROF. 2010 AND
WINCC FLEX. ADV. 2008);
VERSION OF SOFTWARE 08/2011
6. Cables & Connectors
MLFB
Specifications
6AV6671-3XY38-4AX0
CONNECTOR SET 12 PIN FOR KP8
10 PIECES PER PACKAGING UNIT
6ES7368-3BB01-0AA0
SIMATIC S7-300,CONNECTING CABLE
BETWEEN IM 360/IM 361
1M
6ES7390-5AA00-0AA0
SIMATIC S7,
SHIELD CONNECTING ELEMENT
80MM WIDE, WITH 2 ROWS FOR
4 SHIELDED TERMINALS EACH
6ES7390-5CA00-0AA0
SIMATIC S7, TERMINAL ELEMENT
F. 1 CABLE W. 4…13MM IN DIA.
2 PIECES PER PACKAGING UNIT
6ES7392-1AJ00-0AA0
SIMATIC S7-300, FRONT CONNECTOR
FOR SIGNAL MODULES
WITH SCREW CONTACTS,
20-PIN
6ES7392-1AJ00-1AB0
SIMATIC S7-300, FRONT CONNECTOR
FOR SIGNAL MODULES
WITH SCREW CONTACTS, 20-PIN
100 PIECES PER PACKAGING UNIT
6ES7392-1AM00-0AA0
SIMATIC S7-300,FRONT CONNECTOR
392 WITH SCREW CONTACTS, 40-PIN
6ES7392-1AM00-1AB0
SIMATIC S7-300,FRONT CONNECTOR
WITH SCREW CONTACTS, 40-PIN
100 PIECES PER PACKAGING UNIT
6ES7392-1BJ00-0AA0
SIMATIC S7-300, FRONT CONNECTOR
FOR SIGNAL MODULES
WITH SPRING CONTACTS,
20-PIN
6ES7392-1BM01-0AA0
SIMATIC S7-300, FRONT CONNECTOR
FOR SIGNAL MODULES
WITH SPRING CONTACTS, 40-PIN
6ES7392-1CJ00-0AA0
SIMATIC S7-300, FRONT CONNECTOR
FOR SIGNAL MODULES
FASTCONNECT,
(INSUL. PIERC. CLAMPS), 20-PIN
6ES7392-1CM00-0AA0
SIMATIC S7-300, FRONT CONNECTOR
FOR SIGNAL MODULES
FASTCONNECT,
(INSUL. PIERC. CLAMPS), 40-PIN
6ES7492-1AL00-0AA0
SIMATIC S7-400, FRONT CONNECTOR
FOR SIGNAL MODULES WITH
SCRE-TYPE CONTACT, 48-POLE
6ES7492-1BL00-0AA0
SIMATIC S7-400, FRONT CONNECTOR
FOR SIGNAL MODULES WITH
SPRING CONTACT, 48-POLE
6ES7792-0AA00-0XA0
SIMATIC PG, USB PROMMER
115/220V
6ES7901-0BF00-0AA0
SIMATIC S7, MPI CABLE
FOR CONNECTING SIMATIC S7 AND
PG VIA MPI
5M
6ES7901-1BF00-0XA0
SIMATIC S7,CONNECTING CABLE FOR
HMI ADAPTER AND PC/TS ADAPTER,
(RS232 / ZERO MODEM CABLE),
6 M
6ES7901-3CB30-0XA0
SIMATIC S7-200, PC/PPI CABLE MM
MULTIMASTER,
FOR CONNECTING S7-200 TO
SERIAL PORT OF PC,
SUPPORTS FREEPORT AND
GSM MODEMS
6ES7901-3DB30-0XA0
SIMATIC S7-200,USB/PPI CABLE MM
MULTIMASTER,
FOR CONNECTING S7-200 TO
USB PORT OF PC,
FREEPORT NOT SUPPORTED
6ES7902-3AB00-0AA0
SIMATIC S7/M7, CABLE
FOR POINT TO POINT CONNECTIONS
RS422 – RS422, 15-POLE SUBMIN.
D PINS, 5 M LENGTH
6ES7921-3AB20-0AA0
FRONT CONN. MODULE W. TWISTED
RIBBON CABLE CONNECTION FOR
DIGITAL 32 I/O MODULE OF
THE S7-300, POWER SUPPLY VIA
SCREW TERMINALS
6ES7960-1AA04-5AA0
SIMATIC S7-400H,
PATCH CABLE FO 1M
FOR SYNC-MODULE
6ES7960-1AA04-5BA0
SIMATIC S7-400H,
PATCH CABLE FO 2M
FOR SYNC-MODULE
6ES7960-1AA04-5KA0
SIMATIC S7-400H,
PATCH CABLE FO 10M
FOR SYNC-MODULE
6ES7972-0AA02-0XA0
SIMATIC DP, RS485 REPEATER FOR
THE CONNECTION OF PROFIBUS/MPI
BUS SYSTEMS WITH MAX. 31 NODES;
MAX. 12 MBIT/S, DEGREE OF PRO-
TECTION IP20
IMPROVED USABILITY
6ES7972-0BA12-0XA0
SIMATIC DP, BUS CONNECTOR FOR
PROFIBUS UP TO 12 MBIT/S
90 DEGREE ANGLE OUTGOING CABLE,
15,8 X 64 X 35,6 MM (WXHXD),
TERMINAT. RESIST. WITH ISOLAT.
FUNCTION, WITHOUT PG SOCKET
6ES7972-0BA42-0XA0
SIMATIC DP,BUS CONNECTOR FOR
PROFIBUS UP TO 12 MBIT/S
WITH TILTED CABLE OUTLET,
15,8 X 54 X 39,5 MM (WXHXD),
TERMINAT. RESIST. WITH ISOLAT.
FUNCTION, WITHOUT PG SOCKET
6ES7972-0BA52-0XB0
SIMATIC DP,BUS CONNECTOR FOR
PROFIBUS UP TO 12 MBIT/S
90 DEGREE ANGLE CABLE OUTLET,
15,8 X 59 X 35,6 MM (WXHXD),
IPCD TECHOLOGY FAST CONNECT,
WITHOUT PG SOCKET
100 PIECES PER PACKAGING UNIT
6ES7972-0BB12-0XA0
SIMATIC DP, BUS CONNECTOR FOR
PROFIBUS UP TO 12 MBIT/S
90 DEGREE ANGLE CABLE OUTLET,
15,8 X 64 X 35,6 MM (WXHXD),
TERMINAT. RESIST. WITH ISOLAT.
FUNCTION, WITH PG SOCKET
6ES7972-0BB42-0XA0
SIMATIC DP, BUS CONNECTOR FOR
PROFIBUS UP TO 12 MBIT/S
WITH TILTED CABLE OUTLET,
15,8 X 54 X 39,5 MM (WXHXD),
TERMINAT. RESIST. WITH ISOLAT.
FUNCTION, WITH PG SOCKET
6ES7972-0BB52-0XA0
SIMATIC DP,BUS CONNECTOR FOR
PROFIBUS UP TO 12 MBIT/S
90 DEGREE ANGLE CABLE OUTLET,
IPCD TECHOLOGY FAST CONNECT,
WITH PG SOCKET
15,8 X 59 X 35,6 MM (WXHXD)
6ES7972-0BB52-0XB0
SIMATIC DP,BUS CONNECTOR FOR
PROFIBUS UP TO 12 MBIT/S
90 DEGREE ANGLE OUTGOING CABLE,
15,8 X 59 X 35,6 MM (WXHXD),
IPCD TECHOLOGY FAST CONNECT,
WITH PG SOCKET
100 PIECES PER PACKAGING UNIT
6ES7972-0CB20-0XA0
SIMATIC S7, PC ADAPTER USB
F. CONNECTION OF S7-200/300/400
C7; WITH USB-CABLE (5M)
CAN BE USED UNDER WIN 2000/XP
6ES7972-0CB35-0XA0
SIMATIC S7, TS ADAPTER II
FOR SIMATIC TELESERVICE
RS232 AND INTEGR. ANALOG MODEM
CONNECTION ON MPI/DP
POWER SUPPL. MPI OR EXT. 24V
PARAMETR. THROUGH USB
6ES7972-0DA00-0AA0
SIMATIC DP, RS485 RESISTOR
FOR TERMINATING
PROFIBUS-/MPI-NETWORKS
6GK1901-1BB10-2AE0
IE FC RJ45 PLUG 180
2X2, RJ45 PLUG CONNECTOR
(10/100MBIT/S) W. RUGGED
METAL HOUSING AND FC CONNECTING
METHOD, FOR IE FC CABLE 2X2
180 DGR CABLE OUTLET
1 PACK = 50 PCS
6GK1901-1BE00-0AA1
INDUSTRIAL ETHERNET
FASTCONNECT RJ45
MODULAR OUTLET, BASE MODULE W.
2FE INSERT, REPL. INSERT FOR
2 X 100 MBIT/S INTERFACE
6XV1440-2KH32
CONNECTION CABLE BETWEEN TD/OP
(RS232 / SOCKET 15 WAY) AND
– SIMATIC 505 PLC 545, 555
– ALLEN BRADLEY SLC500/03,04
– PC
(RS232 / 9 PIN PLUGS)
3.2 M
6XV1830-0EH10
SIMATIC NET, PB FC STANDARD
CABLE GP, 2-WIRE, SHIELDED,
SPECIAL DESIGN FOR RAPID
INSTALLATION,
MAX. CONSIGNMENT: 1000 M,
MIN. ORDERINGQUANTITY: 20 M
SOLD BY THE METER
6XV1830-0LH10
SIMATIC NET, PB FC FRNC CABLE
GP, BUS CABLE FLAME-RETARDANT
AND HALOGEN-FREE BUS CABLE WITH
COPOLYMER SHEATH, FRNC
SOLD BY THE METER
MAX. CONSIGNMENT: 1000 M
MIN. ORDERING QUANTITY: 20 M
6XV1830-3EH10
SIMATIC NET, PB FC TRAILING
CABLE, PROFIBUS TRAILING CABLE
MAX. ACCELERATION:4M/QS
MIN. OF 3 MILL. BENDING CYCLES
MIN. BENDING RADIUS:
APPROX.120 MM
2-WIRE, SHIELDED, SOLD BY METER
MAX. CONSEIGNMENT: 1000 M
MIN. ORDERING QUANTITY: 20 M
6XV1840-2AH10
SIMATIC NET, IE FC TP STANDARD
CABLE, GP 2X2 (PROFINET TYP A)
TP INSTALLATION CABLE
FOR CONNECTION TO
FC OUTLET RJ45, FOR UNIVERSAL
APPLICATION, 4-WIRE, SHIELDED,
CAT. 5, SOLD BY THE METER
MAX. CONSIGNMENT: 2000 M,
MIN. ORDERING QUANTITY: 20 M
6XV1840-2AU10
SIMATIC NET, IE FC TP STANDARD
CABLE GP, TP INSTALLATION CABLE
FOR CONNECTION TO
FC OUTLET RJ 45, FOR UNIVERSAL
APPLICATIONS, CAT 5,
1000 M
6XV1847-2A
SIMATIC NET FC FO STANDARD
CABLE (62.5/200/230), STANDARD-
CABLE SPLITTABLE, UL-
CERTIFICATION,MAX. LENGTH 1000M
MINIMAL ORDER: 20 M
SOLD BY THE METER
6XV1850-2GH20
SIMATIC NET, IND. ETHERNET
TP CORD RJ45/RJ45, TP CORD
PREASSEMBLED WITH 2 RJ45
CONNECTORS, LENGTH 2 M
6XV1870-3QE50
SIMATIC NET INDUSTRIAL ETHERNET
TP CORD RJ45/RJ45, CAT 6,
TP CABLE 4X2, PREASSEMBLED W.
W. 2 RJ45 CONNECTORS, L = 0.5 M
6XV1870-3QH10
SIMATIC NET INDUSTRIAL ETHERNET
TP CORD RJ45/RJ45, CAT 6,
TP CABLE 4X2, PREASSEMBLED W.
W. 2 RJ45 CONNECTORS, L = 1 M
6XV1873-2A
SIMATIC NET FO STANDARD CABLE
GP(50/125), STANDARD CABLE CAN
BE SECTIONALIZED, UL APPROVAL,
MAX. LENGTH: 1000 M
MIN. ORDER LENGTH: 20 M
SOLD BY THE METER
7. ET & Interfacing Module
MLFB
Specifications
6ES7131-1BL01-0XB0
SIMATIC DP, ELECTRONIC BLOCK
FOR ET 200L,
32 DI, 24V DC
6ES7131-1BL12-0XB0
SIMATIC DP, ELECTRONIC BLOCK
FOR ET 200L, DIGITAL,
32 DI, 24V DC, EXPANDABLE WITH
MAX. 16 CHANNELS W. TERM. BLOCK
TB 16SC OF SMART CONNECT
6ES7131-4BB01-0AA0
SIMATIC DP, 5 ELECTRON. MODULES
FOR ET 200S, 2 DI STANDARD
24V DC, 15 MM WIDTH,
5 PIECES PER PACKAGING UNIT
6ES7131-4BD01-0AA0
SIMATIC DP, 5 ELECTRON. MODULES
FOR ET 200S, 4 DI STANDARD
24V DC, 15 MM WIDTH,
5 PIECES PER PACKAGING UNIT
6ES7131-4BF00-0AA0
SIMATIC DP, 1 ELECTRON. MODULE
FOR ET 200S, 8 DI DC 24V
15 MM WIDTH,
1 PIECE PER PACKAGING UNIT
6ES7132-1BH00-0XB0
SIMATIC DP, ELECTRONIC BLOCK
FOR ET 200L,
16 DO, 24V DC/0.5A
6ES7132-1BL00-0XB0
SIMATIC DP, ELECTRONIC BLOCK
FOR ET 200L,
32 DO, 24V DC/0.5A
6ES7132-4BB01-0AA0
SIMATIC DP, 5 ELECTRON. MODULES
FOR ET 200S, 2 DO STANDARD
DC 24V/0.5A, 15 MM WIDTH
5 PIECES PER PACKAGING UNIT
6ES7132-4BB31-0AB0
SIMATIC DP, 5 ELECTRON. MODULES
FOR ET 200S, 2 DO HIGH FEATURE
DC 24V/2A, 15 MM WIDTH
DIAGNOSIS F. SHORT-CIRCUIT AND
OPEN-CIRCUIT, FIRST-UP SIGNAL
WITH LED SF (GROUP FAULT),
5 PIECES PER PACKAGING UNIT
6ES7132-4BD02-0AA0
SIMATIC DP, 5 ELECTRON. MODULES
FOR ET 200S, 4 DO STANDARD
DC 24V/0.5A, 15 MM WIDTH,
5 PIECES PER PACKAGING UNIT
6ES7132-4BF00-0AA0
SIMATIC DP, 1 ELECTRON. MODULES
FOR ET 200S, 8 DO DC24V/0,5A
15 MM WIDTH,
1 PIECES PER PACKAGING UNIT
6ES7132-4HB01-0AB0
SIMATIC DP, 5 ELECTRON. MODULES
FOR ET 200S, 2 DO RELAY
24V DC – 230V AC/5A,15 MM WIDTH
FIRST-UP SIGNAL WITH LED SF
(GROUP FAULT),
5 PIECES PER PACKAGING UNIT
6ES7133-1BL01-0XB0
SIMATIC DP, ELECTRONIC BLOCK
FOR ET 200L, 16 DI/16 DO,
24V DC/0.5 A
6ES7134-4FB01-0AB0
SIMATIC DP, ELECTRONIC MODULE
FOR ET 200S, 2 AI STANDARD
15 MM WIDE
+/-10 V; 13 BIT + SIGN
+/-5 V; 12 BIT+ SIGN, 1..5V;
12BIT, CYCLE TIME 65 MS/CHANNEL
WITH LED SF (GROUP FAULT)
6ES7134-4FB52-0AB0
SIMATIC DP, ELECTRONIC MODULE
ET 200S: 2 AI HIGH SPEED U,
15 BIT, 15 MM WIDE,
CYCLE TIME OF MODULE: 0.1MS,
WITH LED SF (GROUP FAULT)
6ES7134-4GB01-0AB0
SIMATIC DP, ELECTRONIC MODULE
FOR ET 200S, 2 AI STAND. I-2DMU
15 MM WIDE, 4 .. 20MA; 13 BIT
FOR 2-WIRE TRANSDUCER
CYCLE TIME 65 MS/CHANNEL
WITH LED SF (GROUP FAULT)
6ES7134-4GB11-0AB0
SIMATIC DP, ELECTRONIC MODULE
FOR ET 200S, 2 AI STAND. I-4DMU
15 MM WIDE, +/-20MA;
13 BIT + SIGN,4 .. 20MA; 12 BIT
FOR 4-WIRE TRANSDUCER
CYCLE TIME 65 MS/CHANNEL
WITH LED SF (GROUP FAULT)
6ES7134-4GB62-0AB0
SIMATIC DP, ELECTRONIC MODULE
ET 200S: 2AI HIGH SPEED I-4WIRE
4 – 20MA; 16BIT, 15 MM WIDTH,
FOR 4-WIRE TRANSDUCER,
CYCLE TIME OF MODULE: 0.1MS,
WITH LED SF (GROUP FAULT)
6ES7134-4JB01-0AB0
SIMATIC DP, ELECTRONIC MODULE
FOR ET 200S, 2 AI TC STANDARD,
15 MM WIDE, 15 BIT + SIGN
+/-80MV; CHARACTERISTICS
LINEARIZATION FOR
THERMOELEMENTS OF: B, E, J, K,
L, N, R, S, T TYPES,
CYCLE TIME 65 MS/CHANNEL
WITH LED SF (GROUP FAULT)
6ES7134-4JB51-0AB0
SIMATIC DP, ELECTRONIC MODULE
FOR ET 200S,
2/4 AI RTD STANDARD,
15 MM WIDE, 15BIT + SIGN
PT100 STD; PT100 KL;
NI100 STD; NI100 KL;
150 OHM; 300 OHM; 600 OHM,
CYCLE TIME 110 MS/CHANNEL
WITH LED SF (GROUP FAULT)
6ES7134-4MB02-0AB0
SIMATIC DP, ELECTRONIC MODULE
2 AI I HIGH FEATURE
FOR ET 200S, 15 MM WIDE,
CYCLE TIME PER MODULE: 0.5MS,
+/-20MA; 15 BIT + SIGN,
4 .. 20MA; 15 BIT,
OPERATIONAL LIMITS +/-0.1%
WITH LED SF (GROUP FAULT)
6ES7135-4FB01-0AB0
SIMATIC DP, ELECTRONIC MODULE
FOR ET 200S, 2 AO U,
15 MM WIDTH,
+/-10 V; 13 BIT + SIGN,
1..5V; 12BIT, CYCLE TIME
6ES7135-4GB01-0AB0
SIMATIC DP, ELECTRONIC MODULE
FOR ET 200S, 2 AO I
15 MM WIDE,
+/-20 MA; 13 BIT + SIGN,
4 . .20 MA; 13 BIT
CYCLE TIME
6ES7135-4MB02-0AB0
SIMATIC DP, ELECTRONIC MODULE
2 AO I HIGH FEATURE
FOR ET 200S, 15 MM WIDE,
CYCLE TIME PER MODULE: 0.5MS,
+/-20MA; 15 BIT + SIGN,
4 .. 20MA; 15 BIT,
OPERATIONAL LIMITS +/-0.05%
WITH LED SF (GROUP FAULT)
6ES7138-4CA01-0AA0
SIMATIC DP, POWER MODULE PM-E
FOR ET 200S; 24V DC
WITH DIAGNOSIS
6ES7138-4CB11-0AB0
SIMATIC DP, POWER MODULE PM-E
FOR ET200S,
DC24-48V, AC24-230V,
WITH DIAGNOSTICS AND BACKUP
6ES7138-4CF03-0AB0
SIMATIC DP, POWER MODULE PM-E F
PROFISAFE, FOR ET 200S; 24V DC
USEABLE FOR INSTALLATIONS WITH
UNGROUNDED REFERENCE POTENTIAL
RELAIS FOR FAIL-SAFE SWITCHING
OF VOLTAGE BUSES P1 AND P2
UP TO CAT. 3/ SIL 2 AND
2 FAIL-SAFE DIGITAL OUTPUTS
UP TO CAT. 4/ SIL 3, ALSO
USEABLE IN PROFINET-NETWORKS
6ES7138-4DA04-0AB0
SIMATIC DP, ELECTRONIC MODULE
F. ET 200S, 1 COUNT 24V/100KHZ
15 MM WIDE, OPERATION MODES:
COUNT, MEASURE,
(PERIOD DURATION MEASUREMENT
HIGH RESOLUTION)
WITH CLOCK CYCLIC SYNCHRON.APP
6ES7138-4DB03-0AB0
SIMATIC DP, ELECTRONIC MODULE
F. ET 200S, 1 SSI 25BIT/1MHZ
15MM WIDE
MODULE FOR CONN. OF ABSOLUTE
ENCODERS WITH SSI INTERFACE
SYNCHRONOUS SERIAL INTERFACE
WITH DI AND COMPAR. VALUE
WITH CLOCK CYCLIC SYNCHRON. APP
6ES7138-4FA04-0AB0
SIMATIC DP, ELECTRON. MODULE
F. ET200S, 4/8 F-DI PROFISAFE,
24V DC, 30 MM WIDTH
UP TO CATEGORY 4 (EN954-1)/
SIL3 (62061)
ALSO USEABLE IN PROFINET-
NETWORK WITH IM151-3 HF
6ES7138-4FB03-0AB0
SIMATIC DP, ELECTRON. MODULE
F. ET200S, 4 F-DO PROFISAFE,
DC 24V/2A, 30 MM WIDTH
UP TO CATEGORY 4 (EN954-1)
ALSO USEABLE IN PROFINET-
NETWORKS WITH IM151-3 HF
6ES7138-4HA00-0AB0
SIMATIC DP, DP MASTER INTERFACE
FOR IM 151-7 CPU OR
IM 151-8 PN/DP (ET200S),
MODULE WITH PROFIBUS DP INTERF.
(9 PIN SUB-D, FEMALE)
AS DP MASTER
6ES7151-1AA04-0AB0
SIMATIC DP, INTERFACE MODULE
IM151-1 STANDARD FOR ET200S;
INCL. TERMINATING MODULE
DATA VOLUME 244BYTE FOR EACH
INPUT AND OUTPUT;
MAX. OF 63 PERIPHERIEMODULES
PROFIBUS DP V0 AND V1
UP TO 2M WIDTH CONNECTABLE;
BUS INTERFACING VIA 9-WAY SUB-D
6ES7151-1AA05-0AB0
SIMATIC DP, INTERFACE MODULE
IM151-1 STANDARD FOR ET200S;
INCL. TERMINATING MODULE
DATA VOLUME 244BYTE FOR EACH
INPUT AND OUTPUT;
MAX. OF 63 PERIPHERIEMODULES
PROFIBUS DP V0 AND V1
UP TO 2M WIDTH CONNECTABLE;
BUS INTERFACING VIA 9-WAY SUB-D
6ES7151-1BA02-0AB0
SIMATIC DP, INTERFACE MODULE
IM151-1 HIGH FEATURE F. ET200S;
TRANSMISS. RATE UP TO 12MBIT/S;
DATA VOLUMEN 244 BYTE FOR I/O,
MAX. 63 MODULES CONNECTABLE;
ISOCHRONE MODE,
BUS INTERFACING VIA
9-WAY SUB-D CONNECTOR,
INCL. TERMINATING MODULE
6ES7151-7FA20-0AB0
SIMATIC DP, IM151-7 F-CPU FOR
ET200S, 128KB WORKING MEMORY
WITH INTEGRATED
PROFIBUS DP INTERFACE
(9 PIN SUB-D, FEMALE)
AS DP SLAVE, W/O BATTERY
6ES7151-8AB01-0AB0
SIMATIC DP, IM151-8 PN/DP CPU
FOR ET200S,
192 KB WORKING MEMORY,
INT. PROFINET INTERFACE
(WITH THREE RJ45 PORTS)
AS IO-CONTROLER, W/O BATTERY
MMC REQUIRED
6ES7153-1AA03-0XB0
SIMATIC DP, INTERFACE
IM 153-1, FOR ET 200M,
FOR MAX. 8 S7-300 MODULES
6ES7153-2AR03-0XA0
SIMATIC DP, ET200M-RED.-BUNDLE
CONSISTING OF TWO
IM153-2HF (-2BA02)
AND ONE BUSMODULE IM/IM
6ES7195-7HD10-0XA0
6ES7153-2BA02-0XB0
SIMATIC DP, ET 200M INTERFACE
IM 153-2 HIGH FEATURE
FOR MAX. 12 S7-300 MODULES,
WITH REDUNDANCY, TIME STAMPING
FIT FOR ISOCHRONE MODE
NEW FEATURES:
12 MODULES / STATION
SLAVE INITIATIVE FOR SWITCHES
AND DRIVE ES
EXTENDED DATA FOR HART SECON-
DARY VARIABLES
OPERATON WITH 64PT MODULES
EXTENDES TIMESTAMPS WITH
32 SIGNALS / SLOT
6ES7153-2BB00-0XB0
SIMATIC DP, ET 200M INTERFACE
IM 153-2 FO HIGH FEATURE
FOR MAX. 8 S7-300 MODULES,
WITH REDUNDANCY,
W. INTEGR. FO INTERFACE FOR
CONFIGURING AN OPTICAL LINE
6ES7153-4AA01-0XB0
SIMATIC DP, ET 200M INTERFACE
IM 153-4 PN IO
FOR MAX. 12 S7-300 MODULES,
EXTENDED FUNCTIONS:
ISOCHRONEOUS REALTIME
COMMUNICATION CLASS 1 AND 2,
MODULE EXCHANGE W/O PG,
OPERATION W/O MMC,
MAINTENANCE
NEW IO MODULES ARE SUPPORTED
6ES7360-3AA01-0AA0
SIMATIC S7-300,INTERFACE MODULE
IM 360 IN CENTRAL RACK
FOR CONNECTING MAX.
3 EXPANSION RACKS,
WITH K-BUS
6ES7361-3CA01-0AA0
SIMATIC S7-300,INTERFACE MODULE
IM 361 IN EXPANSION RACK FOR
CONNECTING TO CENTRAL RACK
(IM360),24 V DC SUPPLY VOLTAGE,
WITH K-BUS
6ES7365-0BA01-0AA0
SIMATIC S7-300,INTERFACE MODULE
IM 365 FOR CONNECTING
AN EXPANSION RACK, W/O K-BUS,
2 MODULES + CONNECTING CABLE 1M
6ES7460-1BA01-0AB0
SIMATIC S7-400, IM460-1
TRANSMITTER INTERFACE MODULE,
FOR CENTRALIZED CONNECTION
WITH PS TRANSMISSION W/O K BUS
6ES7460-3AA01-0AB0
SIMATIC S7-400, IM460-3
TRANSMITTER INTERFACE MODULE,
FOR DISTRIBUTED CONNECTION UP
TO 102 M, WITH K BUS
6ES7461-0AA01-0AA0
SIMATIC S7-400, IM461-0
RECEIVER INTERFACE MODULE,
FOR CENTRALIZED CONNECTION
W/O PS TRANSMISSION, WITH K BUS
6ES7461-0AA01-0AA0
SIMATIC S7-400, IM461-0
RECEIVER INTERFACE MODULE,
FOR CENTRALIZED CONNECTION
W/O PS TRANSMISSION, WITH K BUS
6ES7461-1BA01-0AA0
SIMATIC S7-400, IM461-1
RECEIVER INTERFACE MODULE
FOR CENTRALIZED CONNECTION
WITH PS TRANSMISSION, W/O K BUS
6ES7461-3AA01-0AA0
SIMATIC S7-400, IM461-3
RECEIVER INTERFACE MODULE
FOR DISTRIBUTED CONNECTION UP
TO 102 M, WITH K BUS
6ES7463-2AA00-0AA0
SIMATIC S7-400, IM463-2
TRANSMITTER INTERFACE MODULE
FOR DISTRIBUTED CONNECTION TO
SIMATIC S5 EXPANSION MODULES
VIA IM314, UP TO 600 M
6ES7963-1AA00-0AA0
SIMATIC S7-400, IF963-RS232
INTERFACE MODULE W. RS232 IF
FOR PTP CONNECTION TO CP441
6ES7963-2AA00-0AA0
SIMATIC S7-400, IF963-TTY
INTERFACE MODULE W. TTY IF
FOR PTP CONNECTION TO CP441
6ES7963-3AA00-0AA0
SIMATIC S7-400, IF963-X27
INTERFACE MODULE W. RS422/RS485
INTERF. FOR PTP CONNECTION TO
CP441
6ES7964-2AA04-0AB0
SIMATIC S7, IF964-DP
INTERFACE MODULE DP MASTER
FOR S7-400
[/et_pb_text][/et_pb_column][/et_pb_row][/et_pb_section]